How to connect with your community
For people with lived experience of disability, connecting with the community plays a big role in improving wellbeing and happiness. It can help you gain new skills, connect with like-minded people and build a life that you enjoy.
Connecting with your community is all about participating in activities outside your home or virtually through online groups. It includes socialising with people and doing things that interest you.
Everyone has different needs, so it's important to stay connected in a way that suits you. Check out the resources below to get started.
Peer groups
Joining a peer-to-peer disability group is a great way to get extra support and make new friends.
In these regular meetings, people living with disability get together to talk about their challenges and goals. They share useful advice and discuss topics like NDIS services or disability in the workplace.
There are also groups open to family members and carers who provide disability support.
Watch the video to hear from participants what benefits they got out of joining a group.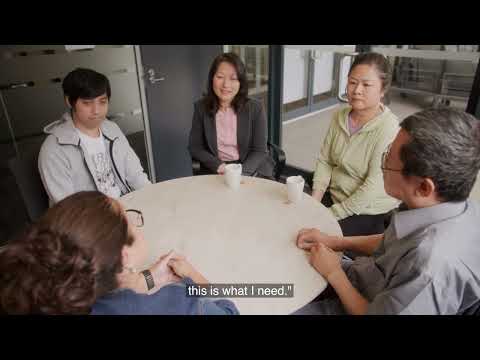 After we arrived in Australia, we were isolated. We didn't know many people, we didn't have much support. I didn't know where to go and after I met these people, like they're now my new home and they're my family, basically here and I can always go up to them and say, 'Oh, I'm having a problem. I need something. I need help.' And they're always there for me. The Multicultural Peer Network (MPN) is a program that has been funded by SSI to provide awareness to the CALD (Culturally and Linguistically Diverse) community regarding creating awareness about disability and a bunch of tools that help them to get that access to the services as well. When my son was having problems with the school, they gave me advice and they asked me if they can support me any further. There are people who can help me with anything they offer support and I'll be like 'Okay, yes, this is what I need.' Usually my son stays at home all the time but I think this time he can talk with other people. What I like about the group is that it is actually a very friendly environment. The conversation actually helped me to be more confident and be more talkable, so I practise like not to be too quiet, how to be more better at social skills. Dealing with a kid with special needs, it gets very overwhelming. The group really helps me restore my confidence, so I can talk to other mums and the facilitators, they tell me to look after myself and take a break. Parents, their feedback is really positive. Some people told me, 'Okay, they are speak up more and things like, got more confidence. That's a real achievement.'
FAQs
What kinds of disability groups are available?
Peer-to-peer disability groups are usually based on different interests or types of disabilities.

For example, one group might be for families caring for someone with a mental illness. Another might be for people living with cerebral palsy. There are also groups that cater to specific languages and backgrounds.

There is no set format, but a trained facilitator is usually present to keep the conversation flowing. Some disability groups meet online, while others meet in person. Some disability groups meet once a week, while others meet every month.

All groups are a great pathway to connect with people who have similar experiences. They can help you understand the NDIS, build a support network and learn new skills.
How can I find a peer-to-peer disability group near me?
Contact an organisation that supports people with disability.
Ask your community organisations or groups, local governments, places of worship or schools.
Search online for local disability groups available in your language.
What support is available to you?
SSI has created helpful fact sheets to support your journey towards connecting with community.

Each fact sheet has information to help people with disability make the most of their lives in their own communities.

You can use them to educate yourself or your friends and family. You could also bring them to your peer-to-peer group to start a conversation.

The factsheets are available in six languages: Arabic, Chinese, Nepali, Hindi, Spanish, and Vietnamese.
Download guide books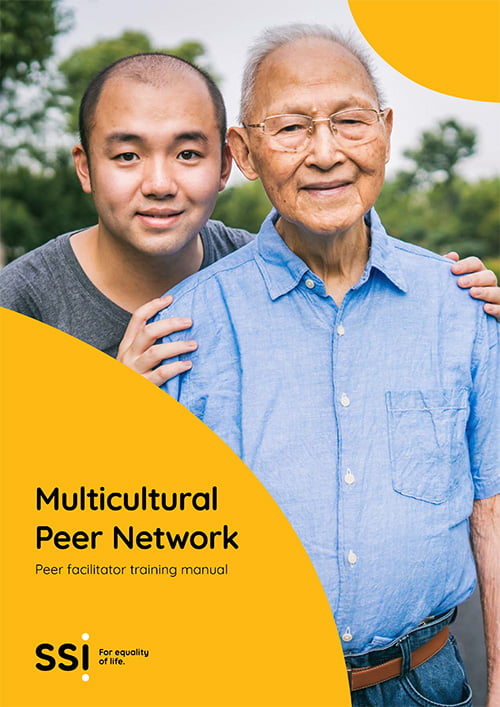 Multicultural Peer Network Facilitator Guide – Book One
How to establish a group, basic facilitation skills, communication techniques, self-care and support systems.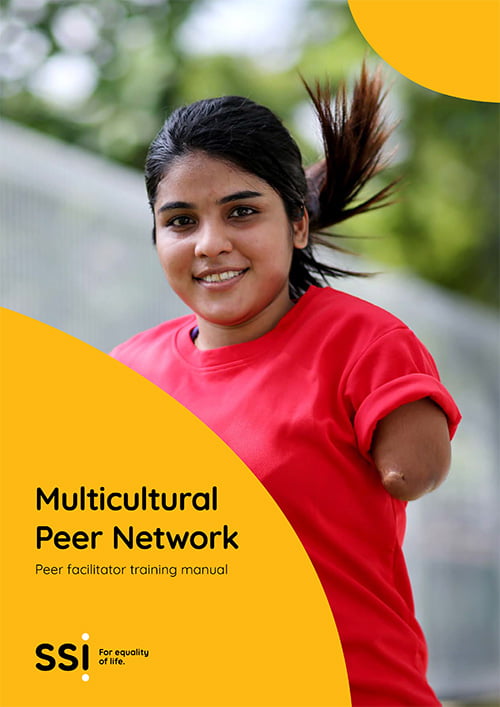 Multicultural Peer Network Facilitator Guide – Book Two
How to help people learn about self-advocacy, circles of support, volunteering, and employment.
Why were these disability support resources created?
In 2020, SSI started running disability support groups in multicultural communities across NSW called the Multicultural Peer Network (MPN). The program was funded through the Department of Social Services (DSS) and ended in early 2023.
After the program ended, SSI sought to empower the disability community to continue to benefit from the resources created during the program. These resources are now publicly available for anyone to use, free of charge.
The MPN was a collection of impactful, peer-led support groups which promoted independence among people with lived experience of disability from multicultural communities, as well as their carers and families.
Helpful links and SSI programs supporting people with disability