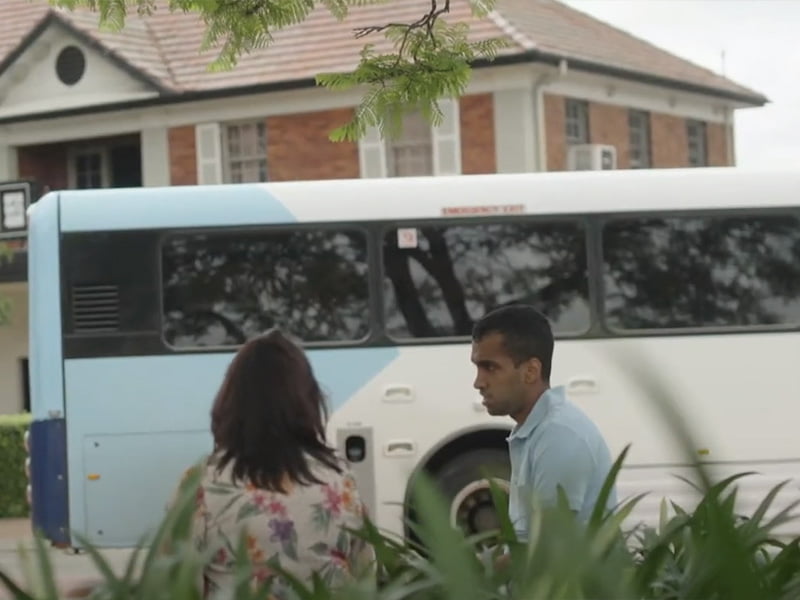 Hi I'm Indu, I'm the local area coordinator, delivering NDIS in your community. Local area coordinators supports participants and their family to reach all their NDIS goals. My name is Bevan, and in 2009 I was diagnosed with Asperger's syndrome which completely changed my life around NDIS and 2017. It has really helped me with managing my disability in both my personal and public life, and it has helped me really overcome many obstacles that I never thought I'd be able to overcome at first. It was about three years ago I met Bevan and majority of the time I had to gather information more from his parents.Because I often have moments of social awkwardness it was awkward at first, but we managed to get a strong trust. And now I feel confident (when I meet with my LAC). It's really important to have that trust. They should have confidence when they are sharing their vulnerability with you.My name is Sama and I am LAC planner. We do a lot of things. I'm involved in meeting participants, supporting them, do their plans, deal with the NDIA and be like a linkage between participants and the NDIA as well as supporting participants to utilise their funding and maximise the benefit out of their NDIS plan by just explaining to them what their support is for and how can they use it.The first time I met Hanan it was like I think two years ago, and as she has mentioned that she, she has really, really a hard life previously because with her disability she was living on a second-floor unit with seven family members. At first I was tired but now I get help from this girl (Sama Mansour). I saw you and you helped me; God bless you.I'm lucky that I'm bilingual. I can speak their language and as well, me coming from the same cultural background has helped understand the issues that Hanan let's say faced in her family.I wish for them to come to you! You help the people and a help is the best help.My name is Shereena Townsend and I lead the intake team. So for participants that are unsure of what supports they need or to maybe even support them access the NDIS, we can point them in the right direction. My favourite part will probably be because I'm so passionate about supporting participants and helping them. Sometimes they don't even know who to turn to and having that skill and knowledge even in intake team to support those participants or give them a bit more reassurance and they give receiving support that they need. If anyone in your family or in your community has disability and you're unsure of how NDIS can help you, we run a lot of workshops and information sessions where you can get more information.
About Local Area Coordination
All Australians have a right to a dignified and meaningful life. The National Disability Insurance Scheme (NDIS) provides funding to eligible people with disability to gain more time with family and friends, greater independence, access to new skills, jobs, or volunteering in their community, and an improved quality of life.
SSI partners with the National Disability Insurance Agency (NDIA) to deliver Local Area Coordination services within two Sydney regions. We support people to access the NDIS and other services and supports in the community.
How we help

We help participants to understand, access and navigate the NDIS and the support available.

We work with you to create, implement and review NDIS plans if eligible, based on your unique circumstances and needs, and help implement approved NDIS plans by connecting participants with services and support networks in your community.

We help people identify and link in with non-funded supports.
Get in touch
SSI delivers Local Area Coordination services to residents in:
Canada Bay, Leichhardt, Marrickville, Strathfield, Ashfield, Burwood, Sydney.
Bankstown, Camden, Campbelltown, Canterbury, Fairfield, Liverpool, Wingecarribee, Wollondilly.
P: 1800 960 975
E: ssilac@ndis.gov.au
If you have any questions or enquiries specifically about the NDIA and not LAC please contact the NDIA Contact Centre on 1800 800 110
If you are experiencing a medical emergency, please dial 000
If you are having thoughts of suicide, please call Lifeline on 13 11 14
FAQs
Does SSI have experience working with people with a disability who are from a cultural and linguistically diverse background?
Yes. Since 2014, SSI has supported people with disability, their families and carers through a number of community-based initiatives such as Ability Links and IgniteAbility Small Business Start ups – a business creation program designed specifically for entrepreneurs with a disability.
Does SSI have experience working with people from an Aboriginal or Torres Straits Islander background?
Yes. SSI has worked with Aboriginal and Torres Strait Islander people through initiatives including Ability Links and the development of the organisation's Reconciliation Action Plan. SSI recognises the importance of engaging with Aboriginal and Torres Strait Islander people through a respectful and collaborative approach. The organisation will continue to seek first-hand guidance to build on our knowledge of First Nations communities to create sustainable, respectful and equitable service delivery.
Does SSI have experience working with people where English is their second language?
Yes. SSI has more than 135 bilingual guides and many bilingual staff. Collectively we speak over 100 languages and dialects and can often provide support – written and spoken – in the language of your choice when you need it. Where possible we aim to provide translated resources and can organise interpreters.
Are you interested in employment opportunities with SSI Local Area Coordination?
We are committed to being an Equal Opportunity Employer and since we work with people from diverse cultural and social backgrounds with varied life experiences, physical abilities and skills we encourage applications from people of culturally and linguistically diverse backgrounds, including people from Aboriginal & Torres Strait Islander heritage and people with lived experience of disability.
If you are interested in applying for a position, please check current vacancies.
Am I eligible to receive NDIS support?
Click here to check your eligibility on the NDIS website. For more information you can contact the NDIS on 1800 800 110.
Program resources
Showing

1

–

2

of 2 program resources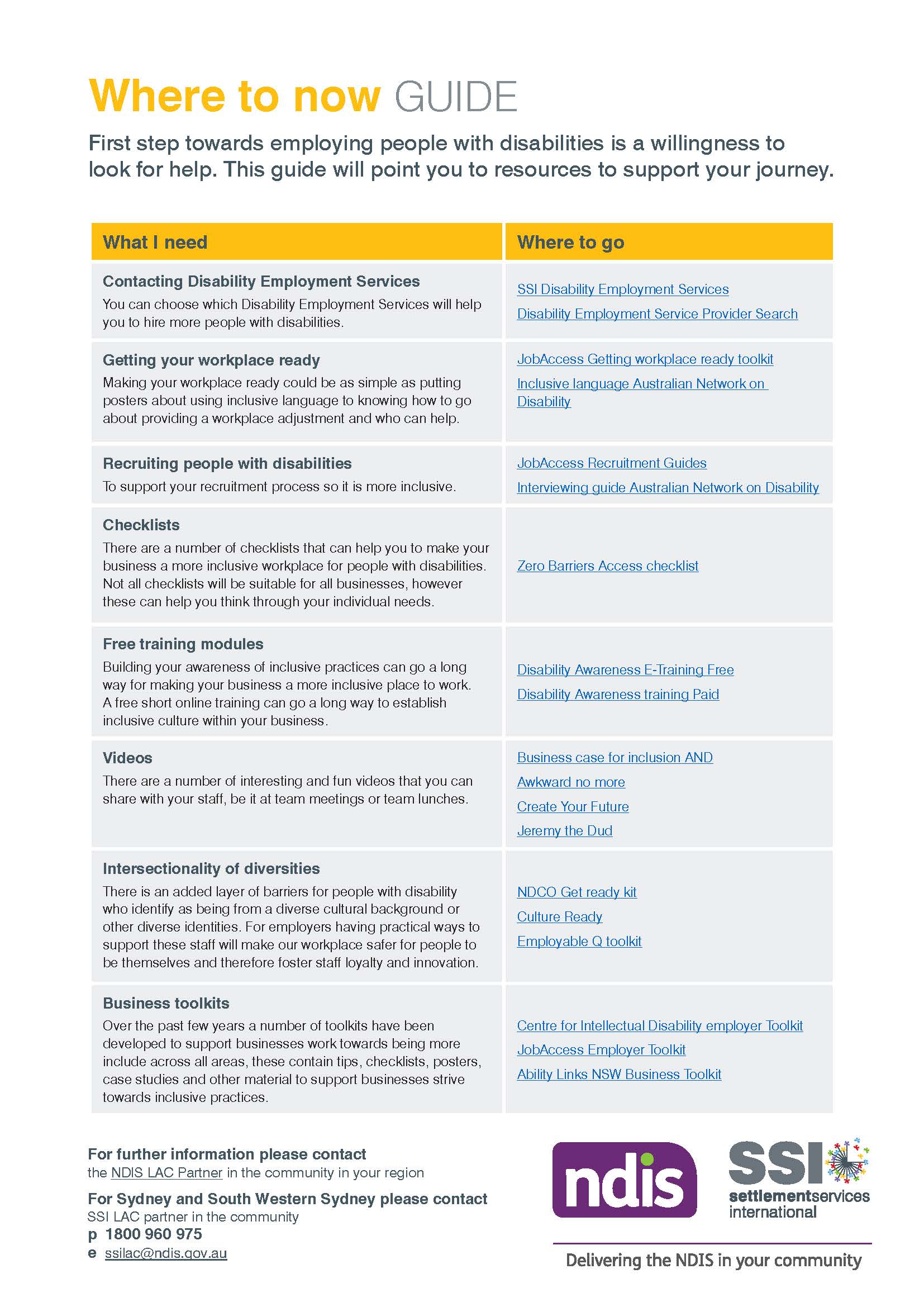 Where to now guide – SSI LAC
Help tip: First step towards employing people with disabilities is a willingness to look for help. This guide will point you to resources to support your journey.
First step towards employing people with disabilities is a willingness to look for help. This guide will point you to resources to support your journey.
Your feedback is important to us. Whether it's a complaint, compliment or a suggestion on how we can improve our service, we want to hear from you.