About HSP
Almost all refugees and asylum seekers who come to our shores have survived personal trauma and social upheaval. The Humanitarian Services Program (HSP) aims to provide them with the structured support they need to adjust to life in Australia and successfully settle into communities.
SSI delivers HSP services on behalf of the Federal government in several locations across NSW. Our case workers work closely with newcomers, connecting them with the skills, support and resources they need to find their feet and develop into independent members of society.
How we help

We welcome humanitarian entrants to Australia and provide support on arrival – including airport pickup, short-term accommodation, health assessments and connect them with education, employment and other services.

Our case workers connect them with support services, local communities, affordable long-term accommodation and the activities they need to thrive.

For six to 18 months, we provide tailored support to help newcomers to learn English, access training or education and gain employment on their way to achieving their full human potential.
Our culturally and linguistically diverse workforce ensures the first words that new arrivals hear are 'welcome to Australia' in their preferred language."
HSP resources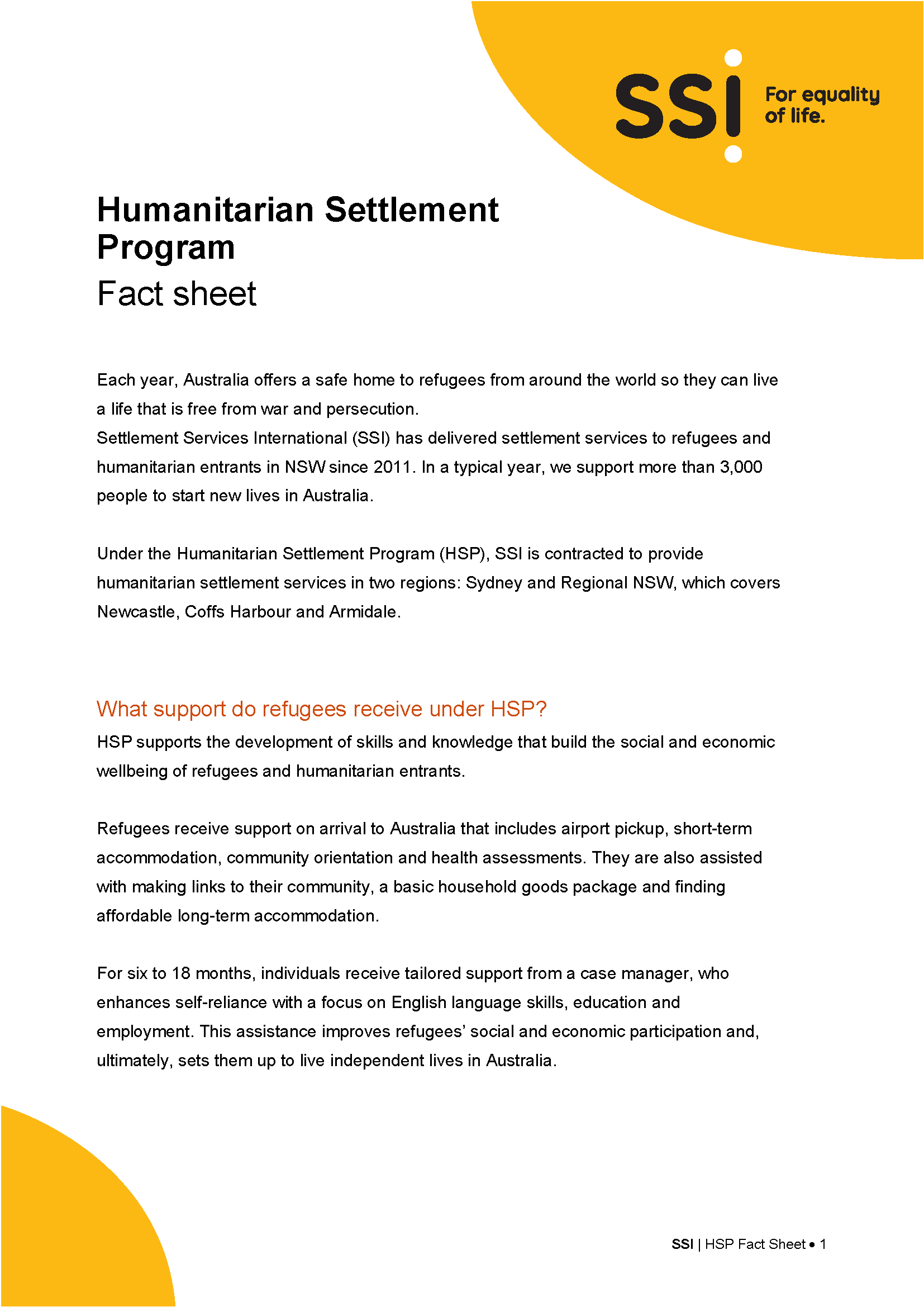 HSP fact sheet
Learn more about SSI's HSP program
About our refugee support services:
Employment support
HSP aims to assist and empower newcomers to gain independence in their new communities. The HSP team proactively looks for opportunities to link newly arrived community members with skills recognition courses to help them get the best start to life in Australia. SSI also offers internal job readiness programs to teach new arrivals about the local employment market and help them prepare to enter the workforce. Our Refugee Employment Support Program also supports refugees to find suitable and skilled employment opportunities.
English language
HSP case managers ensure that learning English is a top priority for all new arrivals by connecting refugees with age-appropriate learning support, such as ESL classes and NAVITAS lessons. Staff members speak more than 80 dialects, so there is a strong focus on in-language support, which sets the foundation for solid relationships between case managers and refugees.
Youth support
All HSP staff receive specialist training enabling them to keep young people motivated and energised when they are at their most vulnerable in the early stages of settlement. Along with a tailored information guide and regular youth activities, SSI offers youth orientation sessions that cover important issues for young people such as health, tenancy rights and obligations, and money management.
Support for women
Supporting vulnerable women to connect with their peers and develop lasting meaningful connections helps to reduce the risk of isolation and anxiety during the early stage of settlement. SSI has a unique Women at Risk service model that includes support from specialised case managers, bilingual guides and mentors; tailored orientation sessions; social groups; and innovative initiatives such as employment workshops and partnerships with external information providers.
Health support
SSI's HSP services focus on the whole needs of the person – including health and wellbeing. As well as offering initial health assessments upon arrival, SSI offers many programs designed to meet new arrivals' specific health needs in partnership with refugee health services.
Settlement timeline
What does a settlement timeline look like with the support of HSP? Read Yassir's story for insight.  
Yassir is a 30-year-old construction worker from Iraq. Along with his wife Dezhin and their three children, he has come to Australia on a humanitarian visa and will be supported by SSI through the first 6–18 months in the country. 
Migrant and refugee FAQs:
What is the difference between a refugee and a migrant?
A migrant is a person who makes a conscious choice to leave their country to seek a better life. They can plan their travel, take their belongings with them and say goodbye to the important people in their lives. They are free to return home at any time if things don't work out or if they get homesick. Refugees are forced to leave their country due to war or persecution. They leave behind their homes, most or all of their belongings, and their family members and friends. They cannot return unless the situation that forced them to leave improves.
What is the difference between a migrant and an asylum seeker?
An asylum seeker is a person who has sought protection as a refugee, but whose claim for refugee status has not yet been assessed. Every refugee has at some point been an asylum seeker. Those asylum seekers who are found to be refugees are entitled to international protection and assistance. Refugees who have come to Australia by boat or plane seeking asylum are usually placed on protection visas that entitle them to different support than refugees who come to Australia as part of the offshore humanitarian program.
Will refugees contribute to our community?
Refugees make important social contributions to their new communities, including offsetting ageing populations and reviving regional schools. There is also an economic benefit to resettling refugees in regional communities due to the related population growth. In the Victorian town of Nhill, for example, the net monetary gain of resettling 160 refugees over a five-year period exceeded $41 million.
Where will refugees work?
The arrival of refugees will actually create jobs. The more a town or city's population grows, the more services and businesses are required to meet its expanding needs, which leads to job creation. Refugees come from all walks of life — they're farmers, teachers, bakers and tradespeople. They have skills and experience that can be of great value to the community.
What do we know about the new arrivals?
Everyone who comes to Australia as a refugee must pass a series of rigorous health, character and security checks before being granted a visa. These are just regular people who, through no fault of their own, have been forced to leave behind their homes and everything they know in search of safety.
Who will help them settle?
SSI will provide settlement support to refugees. This includes airport pick-ups, short-term accommodation, health assessments, linkages to education, English and employment support providers, and orientation to the local community. Refugees are also encouraged to take part in a range of social and community engagement activities to help them integrate into the community. By supporting refugees through the early days in Australia, SSI aims to improve their social and economic participation and, ultimately, sets refugees up to live independent lives in Australia.

SSI works hand-in-hand with the community and local organisations to help refugees to settle. Continued support from the community is critical to ensuring refugees feel at home in Armidale. This support can take many forms. It might be volunteering with SSI, offering a friendly smile at the supermarket, or holding an event to welcome refugees to their new home.

How can I get involved?
At SSI, we recognise the critical role the community plays in successful settlement. Community groups who want to learn more about refugees and extend a gesture of welcome, such as a picnic or an excursion to a favourite local site, are encouraged. To ensure these activities are meaningful and suitable for newcomers, please check-in with SSI during the planning phase.

Community members are also encouraged to get involved with refugee resettlement by volunteering with SSI. Our volunteers:
* Provide social support
* Help with English practice
* Assist with events and excursions
* Provide employment mentoring
* Create social connections
* And much more!

To get involved, visit: www.ssi.org.au/support-ssi/volunteer

Get in touch
NSW
SSI delivers HSP services to newcomers in metropolitan Sydney and in the NSW regional centres of Armidale and Coffs Harbour. To learn more about these programs, please contact the relevant HSP NSW office.
Newcastle:
Location: 8 Chaucer St, Hamilton 2303
Phone: 02 49693399
Coffs Harbour:
Location: Suite 6, 1 Duke Street, Coffs Harbour, NSW 2450
Phone: 0470 337788
Armidale:
Location: 1/86 Beardy Street, Armidale NSW 2350
Phone: 02 9057 5673