Ukrainian refugee and former TV host leading the way for Ukrainians to settle in regional Australia
Ukrainian refugee Yurii Chuchenko and his heavily pregnant wife Inna arrived in Australia from Thailand after Russia invaded their homeland earlier this year.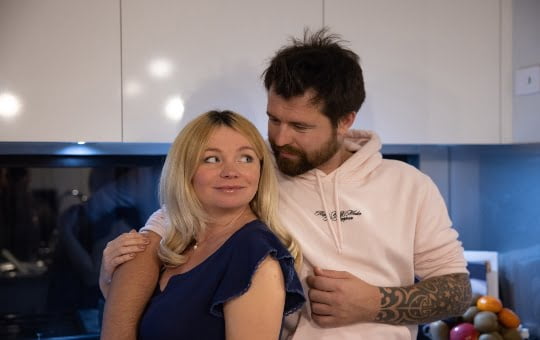 Ukrainian refugees Yurii and Inna Chuchenko settled in Fern Bay in April this year.
When their visas in Thailand expired, the couple were working in Thailand and expecting their first child and their families back home begged them not to return to Ukraine with Inna due to soon give birth.
"Our families wanted to protect us from terror and desperation back home," Mr Chuchenko said.
After Port Stephens couple Mark and Jenni Chapple shared a post with their Instagram followers and learned about Yurii and Inna's situation, they immediately contacted them, offering support.
Mr Chapple arranged flights and temporary visas for the Chuchenkos to fly to Australia away from the devastation in Ukraine.
The Chapples are keen to assist Ukrainian refugees in securing jobs and starting new lives in northwestern NSW, where the cost of living is cheaper and industries have dire needs for workers.
Like other Ukrainian refugees, the Chuchenkos received support from Settlement Services International through the Australian Government's Humanitarian Settlement Program funded by the Australian Government Department of Home Affairs* to access essential services and integrate into Australian life.
When the Chuchenkos settled in Fern Bay in April, they were still on their 600 visas which gave them limited access to local services, and they were connected to SSI to help them access 449 visas.
SSI Humanitarian Settlement Program Regional Coordinator for Newcastle and the Hunter Helen Larkin said that the Chuchenkos now have a better footing to start their new lives.
"The Chuchenkos are extremely self-sufficient, but with SSI's support to access mainstream services and AMEP classes, they're able to steamroll ahead in starting new lives here in Australia." Mr Chuchenko said he is grateful for the whole-of-community support they've received from the Chapples, SSI and other community groups and members.
"Mark and Jenni, they saved us. They are now like our mother and father.
"Organisations like SSI are so important when you arrive in Australia as a refugee, and you have no prior knowledge of anything in the country."
The Chapples' proposal for a pathway to assist Ukrainians to settle in regional NSW – the CH2 project – is something that the Chuchenkos highly endorse and are supporting.
Mr Chuchenko said he was eager to raise awareness about the benefits of refugee resettlement in regional Australia with the Ukrainian community.
"As newly arrived refugees in Fern Bay, we've had such a positive experience so far and want to share our insights with other Ukrainians across Australia.
"This is why we started the CH2 Project to provide a fluid, secure and efficient pathway for Ukrainian Nationals to a life in Regional NSW.
"Our first project is to build this pathway to the regional cities and townships within the Upper Hunter, Liverpool Plains and New England areas."
*For information about Australia's settlement program, visit https://homeaffairs.gov.au/