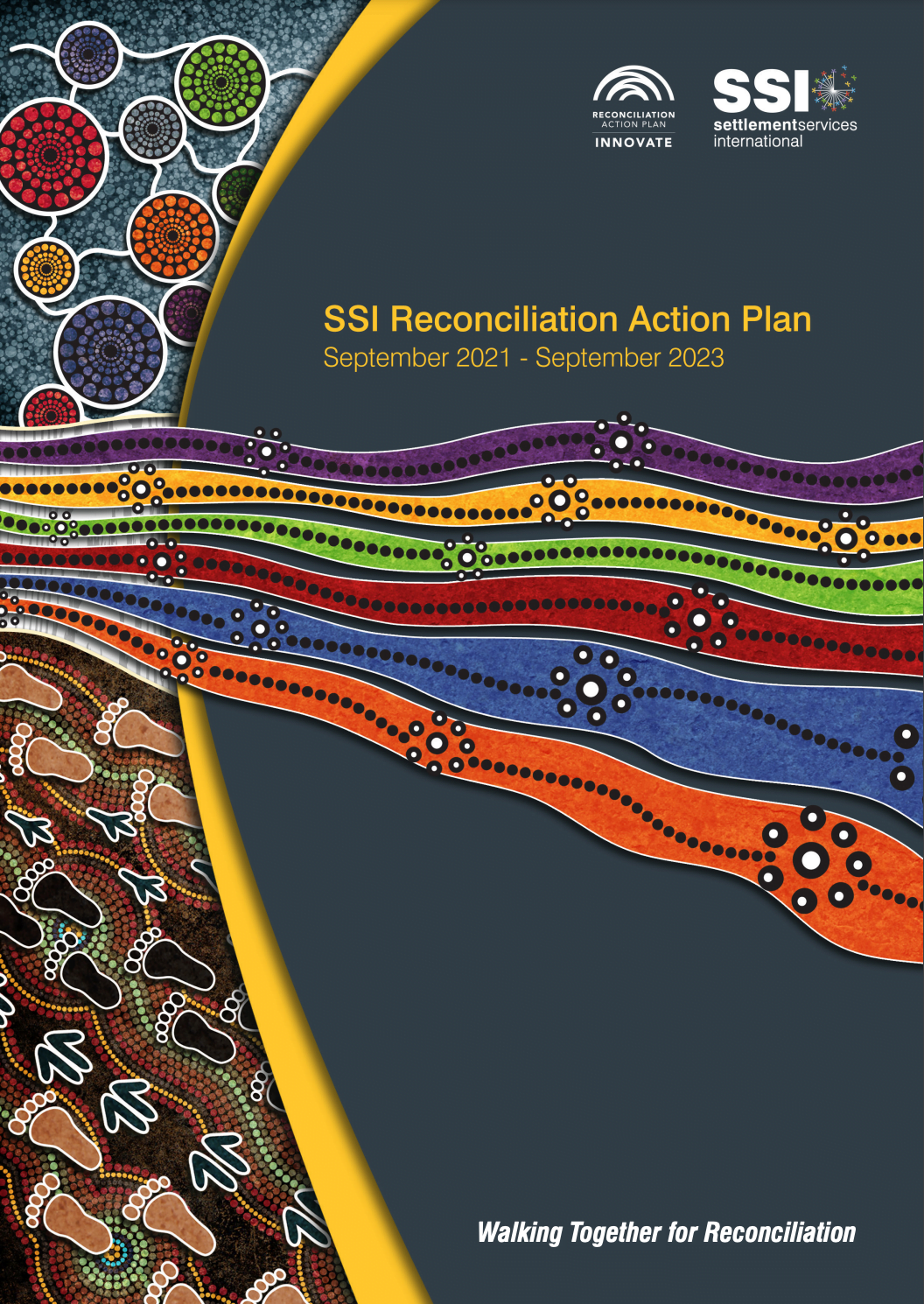 SSI Reconciliation Action Plan
In 2019 we established a Reconciliation Action Plan (RAP) working group called Walking Together to focus attention on developing our first RAP. It was officially launched in February 2022. Artwork by Julie Ruttley, a Gomeroi woman from Northern NSW, and former SSI staff member.
Our RAP was launched on 23 February 2022. Watch our video from that day below: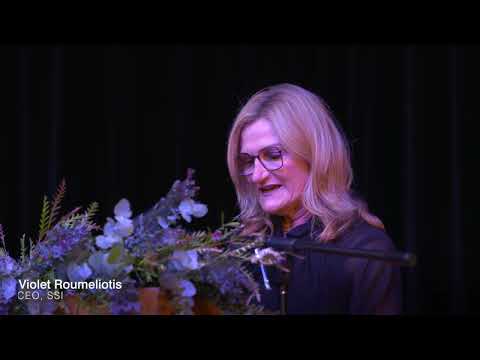 I am Kamilaroi person from Gunnedah and that is my land. I'm the master of ceremonies today. So I just want to welcome you all I would like to acknowledge the Wangal people of the Eora Nation I pay my respects to elder's past, present and emerging always was always will be Aboriginal land. I would like to invite uncle Brendan Kerin from the Metropolitan Local Area Land Council to do welcome to country.The land that we gather on here today is Wangal land. And Wangal makes up one of the 29 clans of the Eora Nation. So on behalf of myself and on behalf of Metropolitan Aboriginal Land Council, I'd like to welcome everyone here this morning. For me, it's always humbling and I'm always honoured to perform both smoking and a welcome ceremony. If we look at the history of Aboriginal people 10 years ago, we would never have had the opportunity or the platform to perform a welcome to country or a smoking ceremony, let alone acknowledge country so I just like to remind people when you see that welcome the country or that smoking ceremony, just stop and reflect a little bit on the journey that we've come.I'm extremely proud to be standing here today launching our innovate Reconciliation Action Plan. What is a RAP? A RAP provides a framework to directly improve relationships and respectful advocacy between Aboriginal and Torres Strait Islander peoples and other Australians. It's a commitment to learn and understand more about First Nations people to acknowledge their unique place as the world's oldest living culture and to create opportunities together, both inside our organisation for employees and within the broader community.When we saw the Reconciliation Plan in 1992, and the ideas behind that the eight major steps of how we're gonna make sure that there's some equity and justice for all of us, it was exciting. Then it took time. Then it took time, then it took time. And as the time increased, we thought well, let's put it up to one of the earlier proposals put to us and this is where SSI comes in. When they approached me to read the policy and I looked at it and it was all of the ideals of what we as a family spoke about way back when and it gave us an opportunity or gave me an opportunity to make an impact. And that's what I tried to do. I looked at that programme, I have so many good things to say about it. The RAP plan is not only a visually pleasing document, thanks to the artwork and beautiful artwork, and a lot of the statements in it statements that really impact on our life, our justice, our cry for justice, and our cry for equity. I thank you very much the team, they've worked on it. You've done a brilliant job, and hopefully going in the future we'll be able to make sure that we get them implemented.To me, reconciliation is about connection to community. It is about the strong connection between Aboriginal and Torres Strait Islanders and their language, culture and identity. I firmly believe that we cannot be truly connected as a community and we can't create a future that is inclusive, that is just cohesive and proud without reconciling with our past.If ever there was a time to think about reconciliation and hope it is now if we don't find hope. If we don't find love, if we don't find forgiveness. What do we have we have what I have spent my life reporting on. I know what it's like when history and identity and vengeance curdles the blood. What is a world without the potential for forgiveness? I thought back to Nelson Mandela and Desmond Tutu after the fall of apartheid in South Africa, Nelson Mandela, who'd been brutalised and spent 25 years in prison who came out and said, No, I'm not going to endlessly prosecute the past. I'm going to build a future and they had a Truth and Reconciliation Commission where forgiveness was the highest virtue. SSI needs to be congratulated for taking this step with the RAP. Australia is in so many ways, one of the most remarkable places on the planet. The fact that we can meet here together, the fact that we don't blow up synagogues and mosques and churches, that there is something to build on. And yet we also know that we live in a country where the people who suffered invasion and war and dispossession, and exclusion are the people who still die 10 years younger than the rest of the population where 50% of all juveniles and detention at 90% in some states, are Indigenous kids, for all the greatness that's the measure of who we are. And that's why things like this report, to make hope real, to make it something we've worked for to set higher order of justice is the journey that we should all be on.We say hello to all the traditional owners right across Australia, and especially to Wangal people for allowing us to be on their country. I'm Auntie Munya and this is Carla, my co director of Evolve communitiesIn a room of 30 people, statistically in Australia, only one of those is going to be an Auntie Munya, is going to be Aboriginal or Torres Strait Islander. So what we're about is providing the skills for people like myself, to have the confidence to be an ally.And we're really proud to be a partner because we're all about creating a kinder, more inclusive Australia. And of course, what many people don't realise is we're the experts at multiculturalism as aboriginal people. You look at how many nations that are right across Australia. What happens d you think in our hearts and our minds when we see each one as family you know, people that we previously seen as being different from us, perhaps their skins a different colour to us? Maybe they have strange markings on their face? Or paintwork? Maybe their eyes are differently shaped or they wear strange garb on their heads. And we don't understand why they do that. Perhaps they've got different political opinions like Auntie Pauline there, but she's still part of the family too, as well. Uncle Donald Trump. What happens do you think in our hearts and our minds, when we see them as family, I think we've become much more forgiving. I think we've become much more compassionate. And that's what's missing in the world today. And that's what we at Evolve are trying to remind people to come back to the basics of being Aboriginal and relating to each other now. It's time for us all.We've had some wonderful speakers today, here to launch this RAP. And I'm really proud of the work that we have done so far to get here. However, now it's time for us to roll up our sleeves. But please remember it's for the greater good. It's for reconciliation, self determination of First Nations people. And as people at SSI know the work that we do means something and I know that in our hearts, you guys know that we need to do it right. More than 80 actions. Sounds really big. But if you think about it, it simply is a commitment to a First Nations voice in everything that we do. Thank you to those who've already walked alongside me, I want to express my gratitude. And thanks to our CEO Violet, I want to thank the RAP working group for the work that you've done to get us to this point. I want to acknowledge Julie, amazing artists who created this beautiful artwork for SSI that incorporates walking together for reconciliation. Last year, we started tradition to recognise one of our First Nations employees each year for going above and beyond at the SSI group. Cassie, who's our masters of ceremony, our aboriginal access officer for the local area coordinator team won the award. She has been instrumental in the recruitment and cultural support for Aboriginal and Torres Strait Islander people and went above and beyond her role to help us SSI understand the cultural needs of First Nations people and help other programs recruit and support First Nations people. She also is an active member for the SSI group, gender and sexual diverse Working Group and often supports both First Nations and GSD community members. Well on Cassie, I've got an award up here that I'd like to present you.Thank you so much. I couldn't have done all the things the previously mentioned without my team and SSIs NDIS program values and the support of cultural safety and community excellence. So thank you very much. I always feel very supported. and culturally safe and SSI and the LAC program. That brings us to the end of our formal proceedings today, I'd like to invite you to save some refreshments provided by the caterers Calico and enjoy the didgeridoo performance. Thank you so much for attending everyone. Okay, bye.