Community Hubs were the place to be for families in turbulent 2021
The multicultural cooking programs at the Community Hubs in Marsden State School,
Woodridge North State School and St Pauls are in full swing with delicious and healthy food
from a range of cultures.
The network grew considerably, with 20 new hubs commencing operations in 2021, bringing the total number of hubs to 94 across metropolitan and regional areas in New South Wales, Queensland, South Australia and Victoria.
Across the network, hubs connected nearly 10,000 families with hundreds of services.
Each hub responded to its local community's needs and continued to be the "place", in person or online, for families to enjoy a variety of opportunities, including joining in the fun of playgroup, practising conversational English in activities such as gardening, walking, or crafting groups, learning new vocational skills, or simply having the chance to chat over a cuppa.
The hubs' ability to adapt in the face of changing COVID-19 regulations was extraordinary, said Dr Sonja Hood, CEO of Community Hubs Australia.
Last year was also a big year for SSI's Community Hubs program with 18 hubs in NSW and 10 hubs in Queensland becoming one team within SSI's Health and Community Services team.
A wide range of programs and activities were run despite COVID-19 implications, including playgroups, English classes, certificate courses, exercise and nutrition programs, sewing and cooking sessions and many links and connections with health, education and family support services.
The SSI hubs have strong and trusting relationships with families, which has enabled them to walk alongside families to ensure they are linked in with services that support families' needs.
The past year saw connections made to services including:
GPs, paediatricians, and the Early Childhood Approach for pre-NDIS support
schools, special schools, kindies, Early Childhood Development Program and the Child Development Program
allied health supports such as occupational therapy, speech therapy, psychological supports, oral health and domestic and family violence support
Centrelink, emergency relief and food relief
The team also worked closely with families to support their parenting, offered practical strategies to families that they could use at home, and offered certificate courses to upskill parents in areas such as First Aid and Certificate III courses.
Another important component of the work was working with external services to ensure they had a culturally responsive approach and advocated around where the gaps and unmet needs were.
Moving into 2022 the SSI hubs plan to improve the equity for children accessing kindy/preschool services as well as improve accessibility to health services, in particular paediatric services.
Cooking programs build confidence and expertise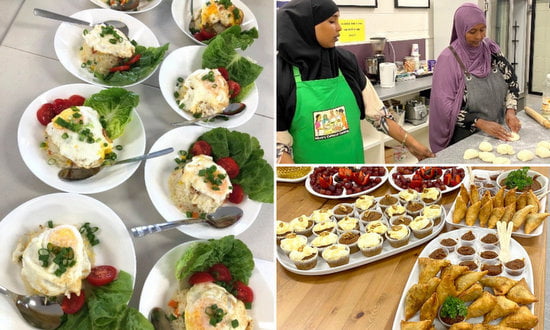 Community hubs create invaluable space and support for families to build confidence, social connections, improve educational outcomes and increase employment potential.
A Deloitte Access Economics evaluation concluded that hubs generate nearly $34 million in benefits to Australian society. They not only create lifelong impacts for families, they also add real benefits to the whole community.
An example of this is cooking programs that have taken off in SSI's Logan Hubs in Queensland thanks to partnerships with Metro South Health and the First 5 Forever program at Logan City Council Libraries.
Six mothers have been employed in the hubs and trained up in nutrition and food handling to deliver cultural cooking programs across three hubs.
The women have built their confidence and expertise in adapting traditional recipes to be healthier and then teaching these dishes to other women in the hubs.
Feedback included:
The training was wonderful. We had the chance to meet each other and share our thoughts.
I like meeting Mums from different cultures.
I learnt many new things and loved all the food. Kym is a very good teacher.
The community hub is very supportive and always helpful.
I loved learning how to use more veggies in cooking, like adding mixed grated veggies in meat patties for burgers.
I loved all the food! My kids would love the chicken nuggets and burgers and I loved the healthy salads and learning how to make salad dressing.
Some of the women are commencing with the Certificate III course in hospitality this year and hope to start their own business once they graduate.
The hubs continue to build a range of partnerships that help meet the needs of local families.