About SSI Legal
SSI Legal, fully owned by SSI, emerged following the recent acquisition of trusted Melbourne-based immigration law practice, Mary Hanna Lawyers.
SSI Legal offers dedicated support and cost-effective solutions to immigration legal matters, with a fully qualified and experienced team.
Law can be hard to understand at times, and the process can be overwhelming. SSI Legal has a client-focused approach that helps guide clients to find the best solutions for their circumstances. SSI Legal is led by the same values and principles as the wider organisation – respect, accountability and inclusion. We are ethical and committed to providing strategic, timely and cost-effective solutions to your immigration legal matter and honest advice at the outset about the prospects of success.
Contact us with your immigration query, to make an appointment or find out more about SSI Legal's services.
Get in touch
Phone: +61 3 9077 6362
Mobile: 0428 234 979
Email: ssilegal@ssi.org.au
Address: SSI, Level 2/100 Drummond Street, Carlton VIC 3053, Australia
About The Rights Path (TRPP) project
This project is designed to deliver robust choice and control focused outcomes for culturally and linguistically diverse (CALD) people with disability through an approach that draws on their own experiences. SSI will work closely with NDIS participants and providers across NSW, Queensland and Victoria to consult, co-design, test and disseminate resources.
The purpose of this project is to develop resources in Vietnamese, Khmer, Punjabi, and Urdu to:
Strengthen NDIS participants' understanding of their rights and the quality they should expect of NDIS service providers.
Improve participant knowledge of how to make a complaint when they are not satisfied with services they receive.
Work with NDIS providers to assist in meeting their responsibilities under the NDIS Quality and Safeguarding Framework.
Encourage providers to connect, collaborate and form partnerships, share best practice, to strengthen their feedback and complaints pathways and promote participants rights by using the resources developed in this project.
Share your experience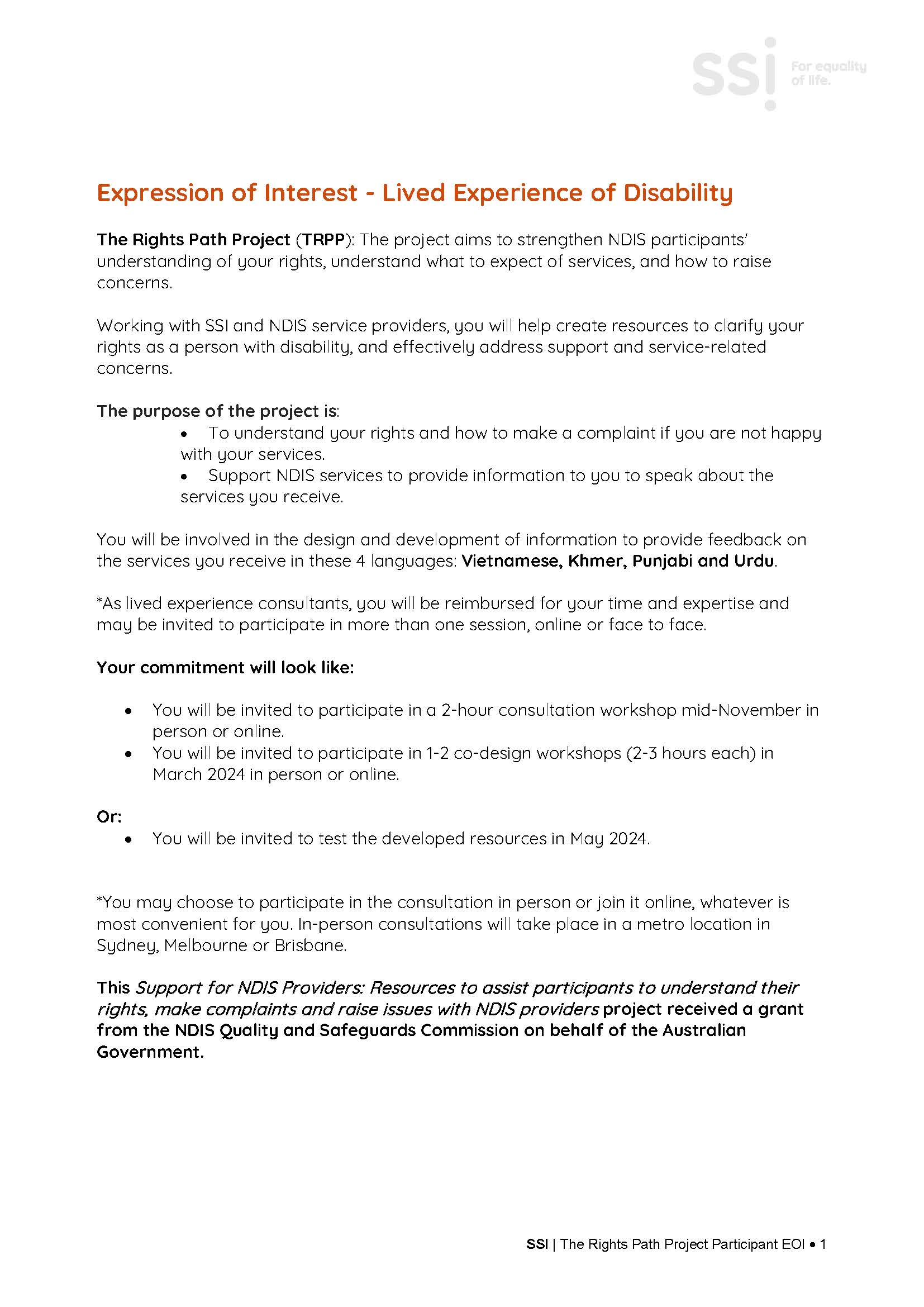 The Rights Path project – Expression of Interest
Working with SSI and NDIS service providers, you will help create resources to clarify your rights as a person with disability, and effectively address support and service-related concerns.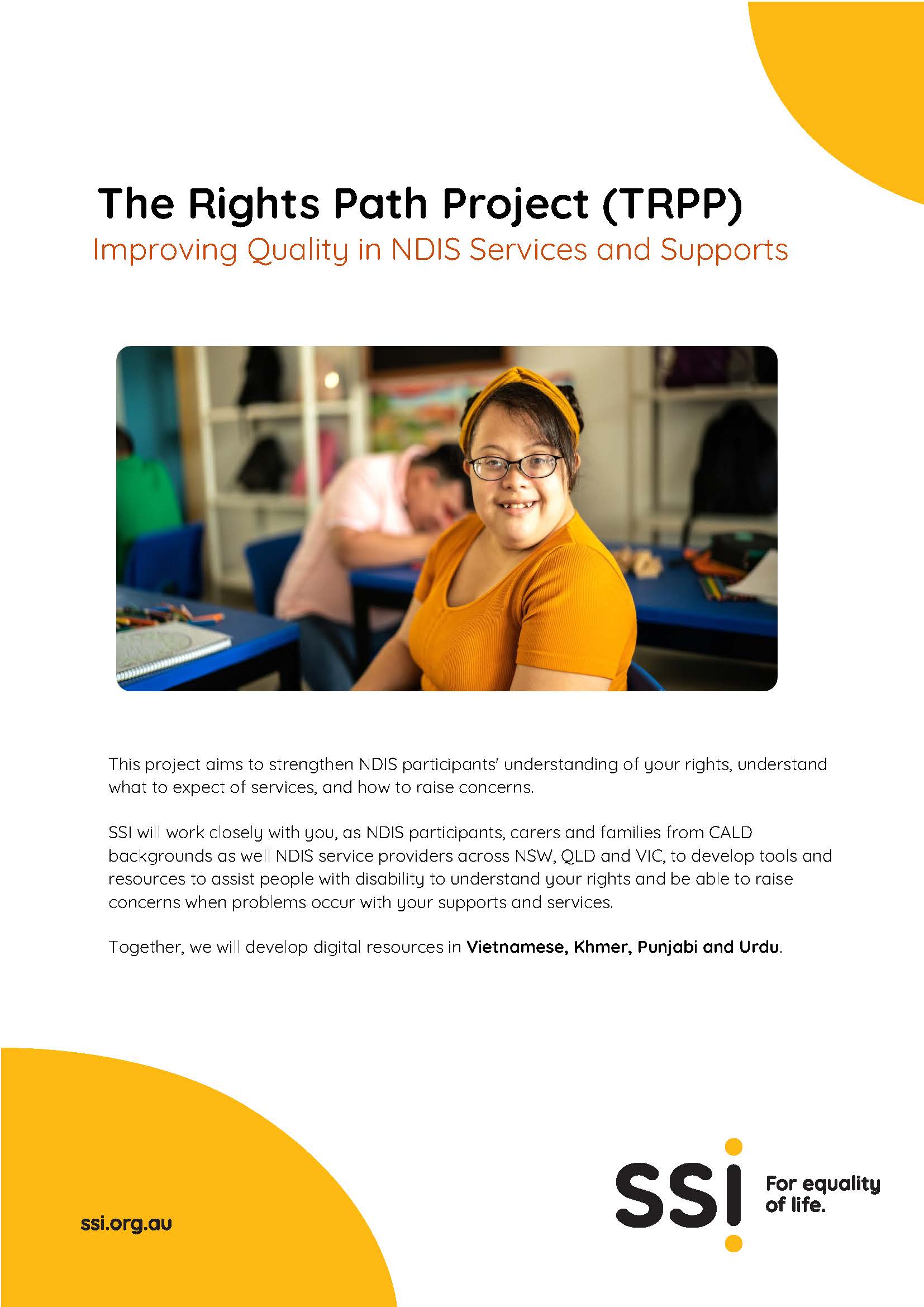 The Rights Path project – flyer
This project aims to strengthen NDIS participants' understanding of your rights, understand what to expect of services, and how to raise concerns.
Apply now
Thank you for your interest in The Rights Path Project (TRPP). If you are a person with disability, speak one of these languages (Vietnamese, Khmer, Punjabi, and Urdu) and are based in Melbourne, Sydney/Newcastle, or Brisbane, please complete this form and our team will be in touch with you.
About the opportunity
You will be working with SSI as a lived experience consultant to help create in language resources to be aware of your rights as a person with disability and share support and service-related feedback.
*As a lived experience consultant, you will be paid for your time and expertise.
Your commitment will look like:
You will be invited to take part in a 2-hour consultation and 1-2 co-design workshops (2-3 hours each) in person or online.
Or:
You will be invited to test the developed resources in May 2024 as a member of the Resource Advisory Group.
Get in touch
Consultations will take place in Melbourne, Sydney/Newcastle, and Brisbane.  
Email: trpp@ssi.org.au
This project was funded by the Australian Government through the Support for NDIS Providers Grants Program administered by the NDIS Quality and Safeguards Commission.

About YTS program
Starting a new life in a new country is a challenge. Young refugees and vulnerable refugees, humanitarian entrants, and migrants often need extra help and support to become and stay connected in their new community. The Federal Government's Youth Transition Support scheme is intended to help.
SSI delivers YTS services within Logan, Queensland for newcomers up to 24 years old and living in the local area.
How we help
We connect with youth from diverse backgrounds and help them connect with the community.

Staff provide educational, employment and vocational support including career counselling.

We create connection through sports and recreational activities, such as sports tournaments.
Download YTS flyer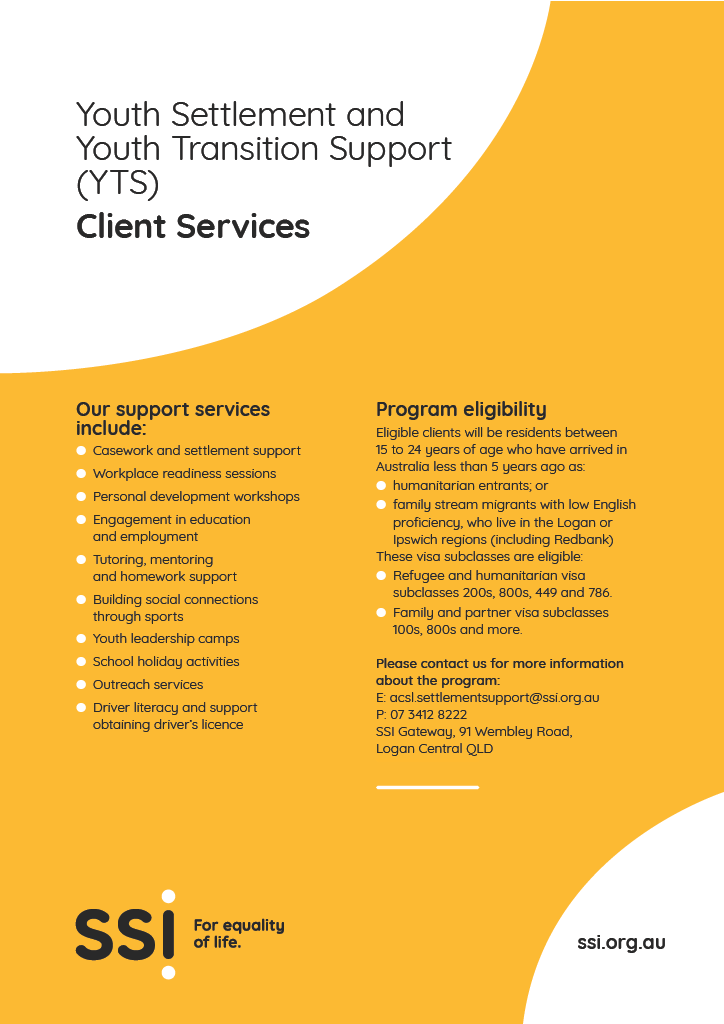 Youth Transitions Support (YTS) flyer
Get in touch
If you would like to know more information about the Youth Transitions Support program in Queensland, you can contact the team at:
E: acsl.settlementsupport@ssi.org.au
P: (07) 3412 8222
About SETS program
Refugees, asylum seekers and migrants who enter Australia without strong family and community support face major hurdles in adapting to their new lives. The Settlement Engagement and Transition Support (SETS) Queensland program aims to provide such newcomers with the skills they need to engage in society, to achieve emotional wellbeing and to gain economic independence.
Delivered by SSI and operating in the Logan and Ipswich regions of Southern Queensland, the program has two streams.
Client Services aims to provide newcomers with advice, advocacy and assistance related to settlement.
Capacity Building helps new and emerging community groups and organisations support their specific communities.
How we help
We work with humanitarian entrants and family stream migrants with low English proficiency

Staff provide settlement services complementing the Humanitarian Settlement Program (HSP), including case work and help with employment and training

We also work with community groups, empowering them to help newcomers in the long term
Download SETS flyer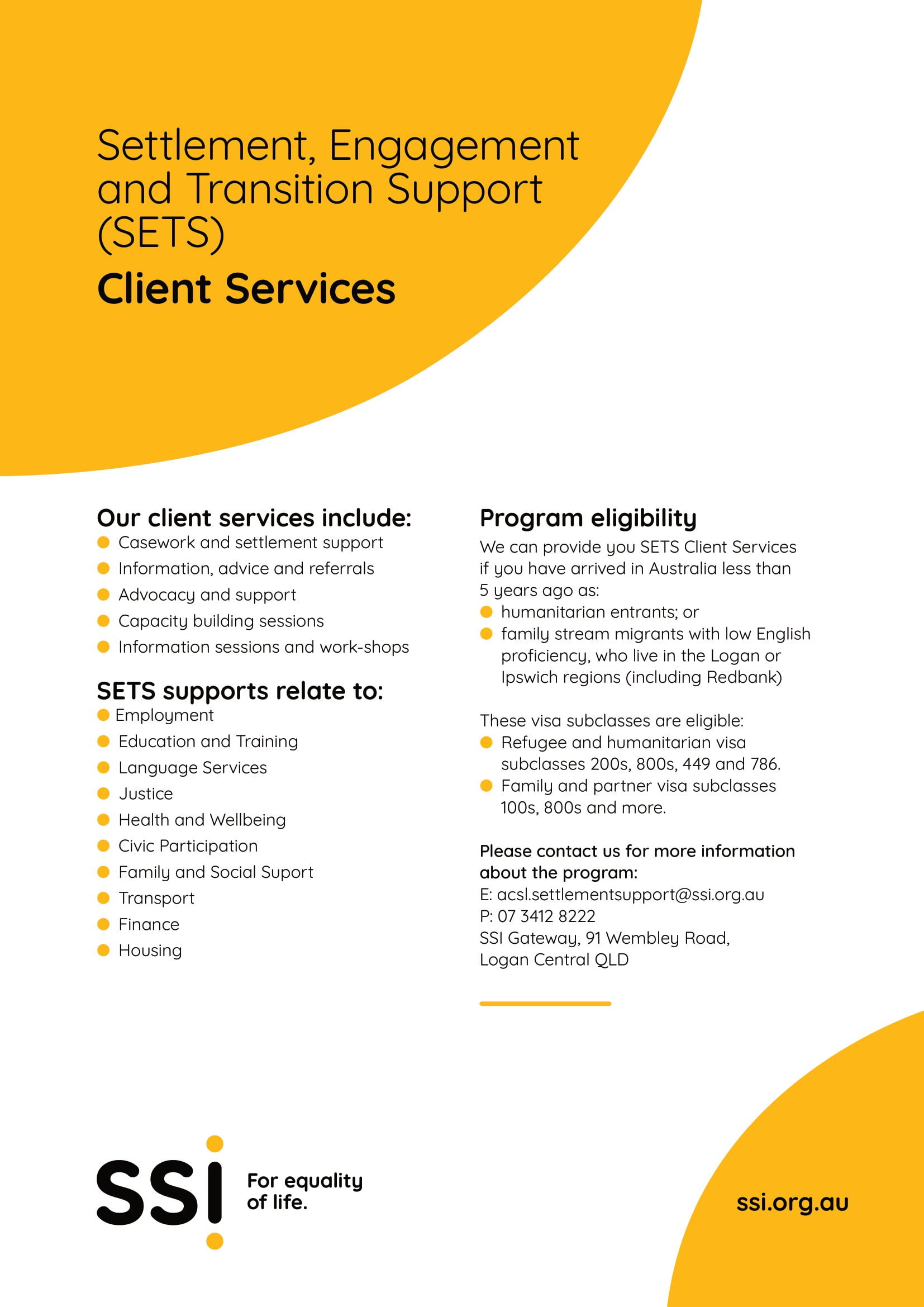 Get in touch
For more information on the Settlement Engagement and Transition Support (SETS) Queensland program, email acsl.settlementsupport@ssi.org.au or phone 07 3412 8222.
We are located at the SSI Gateway
91 Wembley Road, Logan Central, Queensland.
About Skilling Queenslanders for Work
For many unemployed and underemployed individuals, a lack of foundational skills, job readiness, and support significantly hinders their ability to attain sustainable and meaningful employment.  Skilling Queenslanders for Work (SQW) is a suite of targeted skills and training programs that help Queensland jobseekers to enter and succeed in the workforce.  
Funded by the Queensland Government, SSI delivers multiple SQW programs that equips participants with knowledge, skills, connections, and transitional support to unlock fulfilling career opportunities. 
How we help

We equip you with the skills and training required to pursue your career aspirations and transition to further education, training, or employment.

Our tailored support addresses your unique barriers to employment, helping to build your confidence and job readiness.

We help you unlock local job opportunities with personalised assistance in your job search journey.
Our programs
Community Foundational Skills – Townsville and Logan
Community Work Skills offers tailored assistance to people who need to improve their reading, writing, maths, or computer skills to equip them with the knowledge and confidence necessary to take on further education, training or enhance employment opportunities. 
With a customised training plan and guidance from an SSI mentor, program participants are supported to develop foundation skills that help them meet their full potential.  
Ready for Work – Logan
Ready for Work helps equip Queensland jobseekers with the practical skills and support needed to get job-ready and successfully find employment.  
Over the course of 6-8 weeks, the program focuses on job hunting and preparing for employment, including resume preparation, job interview skills, job search advice, and understanding employer expectations. Additionally, participants are provided the opportunity to network with local businesses and employers. 
Eligibility criteria
You may be eligible for Skilling Queenslanders for Work programs if you are a Queensland resident and are either:
Ineligible for Australian Government employment services or assistance,
Require additional support due to significant barriers to learning and employment, or
Have been receiving Australian Government services for more than six months and remain unemployed.
This Skilling Queenslanders for Work project is proudly funded by the Queensland Government. 
Get in touch
Logan office – Ready for Work and Community Foundation Skills 
Address: 91 Wembley Road, Logan Central QLD 4114
Townsville office – Community Foundation Skills  
Address: Level 1, Suite F9, 340 Ross River Road Aitkenvale QLD 4814   
家庭护理职业生涯
「家庭护理工作人员支持计划」(Home Care Workforce Support Program)欢迎您的加入,为居家老人提供优质护理,让他们的生活焕然一新。据报导,超九成的澳洲老年人希望能在自家安享晚年,而非养老院。您的参与,能帮助我们实现这个愿景,帮助更多老人实现在家享受长寿的心愿。
您是否
具有同情心和耐心等软技能?
喜欢与老年人相处?
居住在新南威尔士州或澳大利亚首都特区,或者可以前往这些地区工作?
您是否在寻找……
一份有助于改变生活、富含意义的工作?
灵活的工作时间和工作地点?
自主性强的工作?
长期职业生涯?
持续学习,提升技能?
转换职业?
一份长期稳定的工作?
成为一名家庭护理工作人员
无论您是想投身家庭护理,建立职业生涯,抑或提升个人医护技能,我们都能提供协助。
一旦您参与SSI的家庭护理工作人员支持计划,您将享有一系列的福利和支持,这包括:
帮助您制作简历
免费的就业前检查
免费的急救培训
与潜在雇主建立联系
面试准备
就业前培训与技能提升
全职、兼职和临时工作机会
专业指导及职业生涯指导
免费的认证和非认证培训
免费的12个月NRMA Blue会员资格
我们将全程陪伴您,协助您建立起一份能为澳洲老年人提供护理的富有意义的职业生涯。
我们的团队将协助您接触潜在雇主、教育机构及职场培训,以增强您的就业实力,为您争取就职机会,并提供持续的支持。
关于家庭护理工作人员支持计划
SSI正于新南威尔士州(NSW)与澳洲首都特区(ACT)推行政府资助的「家庭护理工作人员支持计划」(HCWSP),帮助澳洲老年人在家中安全、独立地生活。
此计划旨在塑造、提升、培训及支持一队以老年人的安全与优质护理为首要任务的护理团队。
此计划完全免费,并对所有渴望投入到这项有意义的工作、以专业方式支持老年人的人士敞开大门。
حياة مهنية في مجال الرعاية المنزلية
برنامج دعم القوى العاملة في مجال الرعاية المنزلية متاح للأفراد الذين يرغبون في إحداث فارق في حياة كبار السن من خلال توفير رعاية جيدة لهم في المنزل. وبناءً على التقارير، فإن أكثر من 90 في المائة من كبار السن في أستراليا يرغبون في البقاء بمنازلهم بدلاً من التوجه إلى الرعاية داخل المؤسسات. يمكنك مساعدتنا في تحويل هذه الرغبة إلى واقع وتوفير الدعم لعدد أكبر من كبار السن للبقاء في منازلهم لفترة أطول.
اكتشف ما إذا كانت مهنة الرعاية المنزلية ملائمة لك:
هل؟
تمتلك مهارات شخصية مثل التعاطف والصبر؟
تستمتع بصحبة كبار السن؟
تعيش أو يمكنك العمل في نيوساوث ويلز أو مقاطعة العاصمة الأسترالية؟
هل تبحث عن…
عمل هادف يغيّر حياتك؟
المرونة فيما يتعلق بساعات العمل ومكان العمل؟
عمل مستقل؟
حياة مهنية طويلة الأجل؟
تعزيز المهارات والتعلم على نحوٍ مستمر؟
تغيير وظيفي؟
وظيفة ثابتة تستمر للمستقبل؟
التحق بالعمل في مجال الرعاية المنزلية
إذا كنت ترغب في العمل في مجال الرعاية المنزلية أو بناء حياة مهنية أو تعزيز مهارات الرعاية الصحية أو الدعم والرعاية، فيمكننا مساعدتك.
عند التسجيل في برنامج دعم القوى العاملة في مجال الرعاية المنزلية التابع لمنظمة خدمات الاستقرار الدولية (SSI)، يمكنك الوصول إلى مجموعة من المزايا وخدمات الدعم، بما في ذلك:
تطوير سيرتك الذاتية
فحوصات مجانية قبل التوظيف
تدريب مجاني على الإسعافات الأولية
التواصل مع أصحاب العمل المحتملين
التحضير لمقابلة العمل
التدريب وتنمية المهارات قبل التوظيف
فرص العمل بدوام كامل أو جزئي أو عرّضي
التوجيه المهني والتدريب المهني
التدريب المجاني المعتمد وغير المعتمد
عضوية مجانية في برنامج NRMA Blue لمدة 12 شهرًا
سنقدم لك الدعم في كل خطوة تخطوها في طريقك لمساعدتك في بناء حياة مهنية هادفة لرعاية كبار السن في أستراليا.
سيعمل فريقنا على توصيلك بأصحاب العمل المحتملين ومُقَدِّمي الخدمات التعليمية والتدريب في مكان العمل لتكون مؤهلاً للعمل، وربطك بالفرص المهنية، وتقديم الدعم المستمر.
أو أرسل لنا رسالة بريد إلكتروني على homecare@ssi.org.au مع كتابة اسمك وأي من النقاط أدناه التي تحتاج إلى أن نساعدك فيها.
الانضمام إلى برنامجكم
معرفة المزيد عن البرنامج
الحصول على وظيفة في مجال رعاية المسنين
لمحة عن برنامج دعم القوى العاملة في مجال الرعاية المنزلية
تقدم منظمة خدمات الاستقرار الدولية (SSI) برنامج دعم القوى العاملة في مجال الرعاية المنزلية (HCWSP) الذي تموِّله الحكومة في نيوساوث ويلز ومقاطعة العاصمة الأسترالية لمساعدة الأستراليين من كبار السن على التمتع بحياة آمنة ومستقلة في منازلهم.
نهدف من خلال هذا البرنامج إلى تطوير قوى عاملة في مجال رعاية المسنين وتعزيز مهاراتها وتدريبها ودعمها لتقديم رعاية آمنة وعالية المستوى تضع حياة الأستراليين من كبار السن في المقام الأول.
البرنامج مجاني ومتاح لأي شخص يرغب في بناء حياة مهنية هادفة لدعم كبار السن.
家庭護理職業生涯
「家庭護理工作人員支援計劃」(Home Care Workforce Support Program)歡迎您的加入,為居家老人提供優質護理,讓他們的生活煥然一新。據報導,超九成的澳洲老年人希望能在自家安享晚年,而非養老院。您的參與,能幫助我們實現這個願景,幫助更多老人實現在家享受長壽的心願。
您是否?
具有同情心和耐心等軟技能?
喜歡與老年人相處?
居住在新南威爾士州或澳大利亞首都領地,或者可以前往這些地區工作?
您是否在尋找……
一份有助於改變生活、富含意義的工作?
靈活的工作時間和工作地點?
自主性強的工作?
長期職業生涯?
持續的技能提升和學習?
轉換職業?
一份長遠可持續的穩定工作?
成為一名家庭護理工作人員
無論您是想投身家庭護理,建立職業生涯,抑或提升個人醫護技能,我們都能提供協助。
一旦您參與SSI的家庭護理工作人員支援計劃,您將享有一系列的福利和支持,這包括:
幫助您製作履歷
免費的就業前檢查
免費的急救培訓
與潛在雇主建立聯繫
面試準備
就業前培訓與技能提升
全職、兼職和臨時工作機會
專業指導及職業生涯指導
免費的認證和非認證培訓
免費的12個月NRMA Blue會員資格
我們將全程陪伴您,協助您建立起一份能為澳洲老年人提供照護的富有意義的職業生涯。
我們的團隊將協助您接觸潛在雇主、教育機構及職場培訓,以增強您的就業實力,為您爭取就職機會,並提供持續的支援。
關於家庭護理工作人員支援計劃
SSI正於新南威爾士州(NSW)與澳洲首都領地(ACT)推行政府資助的「家庭護理工作人員支援計劃」(HCWSP),幫助澳洲老年人在家中安全、獨立地生活。
此計劃旨在塑造、提升、培訓及支援一隊以老年人的安全與優質護理為首要任務的護理團隊。
此計劃完全免費,並對所有渴望投入到這項有意義的工作、以專業方式支援老年人的人士敞開大門。
ਘਰ ਵਿੱਚ ਦੇਖਭਾਲ ਦਾ ਕਰੀਅਰ
ਮ ਕੇਅਰ ਵਰਕਫੋਰਸ ਸਪੋਰਟ ਪ੍ਰੋਗਰਾਮ (ਘਰ ਵਿੱਚ ਦੇਖਭਾਲ ਕਰਨ ਵਾਲੇ ਕਰਮਚਾਰੀਆਂ ਲਈ ਸਹਾਇਤਾ ਪ੍ਰੋਗਰਾਮ) ਉਹਨਾਂ ਵਿਅਕਤੀਆਂ ਲਈ ਖੁੱਲ੍ਹਾ ਹੈ ਜੋ ਬਜ਼ੁਰਗਾਂ ਨੂੰ ਘਰ ਵਿੱਚ ਉੱਚ ਗੁਣਵੱਤਾ ਵਾਲੀ ਦੇਖਭਾਲ ਮੁਹੱਈਆ ਕਰਕੇ ਉਹਨਾਂ ਦੇ ਜੀਵਨ ਵਿੱਚ ਤਬਦੀਲੀ ਲਿਆਉਣਾ ਚਾਹੁੰਦੇ ਹਨ। ਰਿਪੋਰਟਾਂ ਦੇ ਅਨੁਸਾਰ, ਆਸਟ੍ਰੇਲੀਆ ਵਿੱਚ 90 ਪ੍ਰਤੀਸ਼ਤ ਤੋਂ ਵੱਧ ਬਜ਼ੁਰਗ ਰਿਹਾਇਸ਼ੀ ਦੇਖਭਾਲ ਵਿੱਚ ਜਾਣ ਦੀ ਬਜਾਏ ਆਪਣੇ ਘਰਾਂ ਵਿੱਚ ਰਹਿਣਾ ਚਾਹੁੰਦੇ ਹਨ। ਤੁਸੀਂ ਇਸ ਨੂੰ ਅਸਲੀਅਤ ਬਣਾਉਣ ਵਿੱਚ ਸਾਡੀ ਮੱਦਦ ਕਰ ਸਕਦੇ ਹੋ ਅਤੇ ਵਧੇਰੇ ਬਜ਼ੁਰਗਾਂ ਦੀ ਲੰਬੇ ਸਮੇਂ ਤੱਕ ਘਰ ਵਿੱਚ ਰਹਿਣ ਵਿੱਚ ਸਹਾਇਤਾ ਕਰ ਸਕਦੇ ਹੋ।
ਪਤਾ ਲਗਾਓ ਕਿ ਕੀ ਘਰ ਵਿੱਚ ਦੇਖਭਾਲ ਦਾ ਕਰੀਅਰ ਤੁਹਾਡੇ ਲਈ ਹੈ:
ਕੀ?
ਤੁਹਾਡੇ ਕੋਲ ਹਮਦਰਦੀ ਅਤੇ ਧੀਰਜ ਵਰਗੇ ਨਰਮ ਹੁਨਰ ਹਨ?
ਤੁਹਾਨੂੰ ਬਜ਼ੁਰਗਾਂ ਦੀ ਸੰਗਤ ਚੰਗੀ ਲੱਗਦੀ ਹੈ?
ਤੁਸੀਂ NSW ਜਾਂ ACT ਵਿੱਚ ਰਹਿ ਜਾਂ ਕੰਮ ਕਰ ਸਕਦੇ ਹੋ?
ਕੀ ਤੁਸੀਂ ਇਹ ਲੱਭ ਰਹੇ ਹੋ…
ਜੀਵਨ ਬਦਲਣ ਵਾਲਾ, ਅਰਥਪੂਰਨ ਕੰਮ?
ਕੰਮ ਕਰਨ ਦੇ ਸਮਿਆਂ ਅਤੇ ਸਥਾਨ ਵਿੱਚ ਲਚਕਤਾ?
ਸਵੈ-ਨਿਰਭਰ ਕੰਮ?
ਲੰਬੇ ਸਮੇਂ ਦਾ ਕਰੀਅਰ?
ਹੁਨਰਾਂ ਨੂੰ ਲਗਾਤਾਰ ਸੁਧਾਰਨਾ ਅਤੇ ਸਿੱਖਣਾ?
ਕਰੀਅਰ ਵਿੱਚ ਤਬਦੀਲੀ?
ਭਵਿੱਖ ਵਿੱਚ ਇੱਕ ਸਥਿਰ ਨੌਕਰੀ?
ਹੋਮ ਕੇਅਰ ਵਰਕਰ ਬਣੋ
ਭਾਵੇਂ ਤੁਸੀਂ ਘਰ ਵਿੱਚ ਦੇਖਭਾਲ ਦਾ ਕੰਮ ਕਰਨਾ ਚਾਹੁੰਦੇ ਹੋ, ਕਰੀਅਰ ਬਣਾਉਣਾ ਚਾਹੁੰਦੇ ਹੋ ਜਾਂ ਆਪਣੇ ਸਿਹਤ ਸੰਭਾਲ ਜਾਂ ਸਹਾਇਤਾ ਅਤੇ ਦੇਖਭਾਲ ਦੇ ਹੁਨਰ ਨੂੰ ਵਧਾਉਣਾ ਚਾਹੁੰਦੇ ਹੋ, ਅਸੀਂ ਤੁਹਾਡੀ ਮੱਦਦ ਕਰ ਸਕਦੇ ਹਾਂ।
SSI ਹੋਮ ਕੇਅਰ ਵਰਕਫੋਰਸ ਸਪੋਰਟ ਪ੍ਰੋਗਰਾਮ ਵਿੱਚ ਨਾਮ ਦਰਜ ਕਰਾਉਣ ਵੇਲੇ, ਤੁਹਾਨੂੰ ਕਈ ਲਾਭਾਂ ਅਤੇ ਸਹਾਇਤਾ ਤੱਕ ਪਹੁੰਚ ਮਿਲਦੀ ਹੈ, ਜਿਨ੍ਹਾਂ ਵਿੱਚ ਸ਼ਾਮਲ ਹਨ:
ਤੁਹਾਡਾ CV ਤਿਆਰ ਕਰਨਾ
ਮੁਫ਼ਤ ਪੂਰਵ-ਰੁਜ਼ਗਾਰ ਜਾਂਚਾਂ
ਮੁਫ਼ਤ ਫਸਟ ਏਡ ਸਿਖਲਾਈ
ਸੰਭਾਵੀ ਰੁਜ਼ਗਾਰਦਾਤਾਵਾਂ ਨਾਲ ਰਾਬਤਾ
ਨੌਕਰੀ ਦੀ ਇੰਟਰਵਿਊ ਲਈ ਤਿਆਰੀ
ਰੁਜ਼ਗਾਰ ਤੋਂ ਪਹਿਲਾਂ ਦੀ ਸਿਖਲਾਈ ਅਤੇ ਹੁਨਰ ਵਿਕਾਸ
ਫੁੱਲ, ਪਾਰਟ-ਟਾਈਮ ਅਤੇ ਅਸਥਾਈ ਰੁਜ਼ਗਾਰ ਦੇ ਮੌਕੇ
ਪੇਸ਼ੇਵਰ ਸਲਾਹ ਅਤੇ ਕਰੀਅਰ ਕੋਚਿੰਗ
ਮੁਫ਼ਤ ਮਾਨਤਾ ਪ੍ਰਾਪਤ ਅਤੇ ਗ਼ੈਰ-ਮਾਨਤਾ ਪ੍ਰਾਪਤ ਸਿਖਲਾਈ
ਮੁਫ਼ਤ 12-ਮਹੀਨੇ ਦੀ NRMA ਬਲੂ ਮੈਂਬਰਸ਼ਿਪ
ਆਸਟ੍ਰੇਲੀਆ ਵਿੱਚ ਬਜ਼ੁਰਗਾਂ ਦੀ ਦੇਖਭਾਲ ਕਰਨ ਵਿੱਚ ਇੱਕ ਅਰਥਪੂਰਨ ਕਰੀਅਰ ਬਣਾਉਣ ਵਿੱਚ ਤੁਹਾਡੀ ਮੱਦਦ ਕਰਨ ਲਈ ਅਸੀਂ ਹਰ ਕਦਮ 'ਤੇ ਤੁਹਾਡੀ ਸਹਾਇਤਾ ਕਰਾਂਗੇ।
ਸਾਡੀ ਟੀਮ ਤੁਹਾਨੂੰ ਸੰਭਾਵੀ ਰੁਜ਼ਗਾਰਦਾਤਾਵਾਂ, ਨੌਕਰੀ ਲਈ ਤਿਆਰ ਹੋਣ ਵਾਸਤੇ ਸਿੱਖਿਆ ਪ੍ਰਦਾਤਾਵਾਂ ਅਤੇ ਕੰਮ ਵਾਲੀ ਥਾਂ 'ਤੇ ਸਿਖਲਾਈ ਨਾਲ ਜੋੜੇਗੀ, ਤੁਹਾਨੂੰ ਕਰੀਅਰ ਦੇ ਮੌਕਿਆਂ ਨਾਲ ਜੋੜੇਗੀ ਅਤੇ ਲਗਾਤਾਰ ਸਹਾਇਤਾ ਪ੍ਰਦਾਨ ਕਰੇਗੀ।
ਜਾਂ ਸਾਨੂੰ homecare@ssi.org.au 'ਤੇ ਆਪਣੇ ਨਾਮ ਦੇ ਨਾਲ ਈਮੇਲ ਭੇਜੋ ਅਤੇ ਇਹ ਦੱਸੋ ਕਿ ਤੁਸੀਂ ਹੇਠਾਂ ਦਿੱਤੇ ਨੁਕਤਿਆਂ ਵਿੱਚੋਂ ਕਿਹੜਿਆਂ ਵਿੱਚ ਸਾਡੇ ਤੋਂ ਮੱਦਦ ਲੈਣੀ ਚਾਹੁੰਦੇ ਹੋ।
ਸਾਡੇ ਪ੍ਰੋਗਰਾਮ ਵਿੱਚ ਸ਼ਾਮਲ ਹੋਣਾ
ਪ੍ਰੋਗਰਾਮ ਬਾਰੇ ਹੋਰ ਜਾਣਨਾ
ਏਜਡ ਕੇਅਰ ਦੇ ਅੰਦਰ ਨੌਕਰੀ ਪ੍ਰਾਪਤ ਕਰਨੀ
ਹੋਮ ਕੇਅਰ ਵਰਕਫੋਰਸ ਸਪੋਰਟ ਪ੍ਰੋਗਰਾਮ ਬਾਰੇ
ਆਸਟ੍ਰੇਲੀਆ ਦੇ ਬਜ਼ੁਰਗ ਨਿਵਾਸੀਆਂ ਦੀ ਘਰ ਵਿੱਚ ਸੁਰੱਖਿਅਤ ਅਤੇ ਆਤਮ-ਨਿਰਭਰ ਜੀਵਨ ਦਾ ਆਨੰਦ ਲੈਣ ਵਿੱਚ ਮੱਦਦ ਕਰਨ ਲਈ SSI ਨਿਊ ਸਾਊਥ ਵੇਲਜ਼ (NSW) ਅਤੇ ACT ਵਿੱਚ ਸਰਕਾਰ ਦੁਆਰਾ ਫ਼ੰਡ ਕੀਤਾ ਹੋਮ ਕੇਅਰ ਵਰਕਫੋਰਸ ਸਪੋਰਟ ਪ੍ਰੋਗਰਾਮ (HCWSP) ਪ੍ਰਦਾਨ ਕਰ ਰਿਹਾ ਹੈ।
ਇਸ ਪ੍ਰੋਗਰਾਮ ਦੇ ਜ਼ਰੀਏ, ਸਾਡਾ ਟੀਚਾ ਬਜ਼ੁਰਗਾਂ ਦੀ ਦੇਖਭਾਲ ਕਰਨ ਵਾਲੇ ਕਰਮਚਾਰੀਆਂ ਨੂੰ ਵਧਾਉਣਾ, ਉਹਨਾਂ ਦੇ ਹੁਨਰ ਨੂੰ ਸੁਧਾਰਨਾ, ਉਹਨਾਂ ਨੂੰ ਸਿਖਲਾਈ ਅਤੇ ਸਹਾਇਤਾ ਦੇਣਾ ਹੈ ਜੋ ਆਸਟ੍ਰੇਲੀਆ ਦੇ ਬਜ਼ੁਰਗਾਂ ਨੂੰ ਪਹਿਲ ਦੇਣ ਵਾਲੀ ਸੁਰੱਖਿਅਤ, ਉੱਚ-ਗੁਣਵੱਤਾ ਵਾਲੀ ਦੇਖਭਾਲ ਪ੍ਰਦਾਨ ਕਰਦੇ ਹਨ।
ਇਹ ਪ੍ਰੋਗਰਾਮ ਮੁਫ਼ਤ ਹੈ ਅਤੇ ਹਰ ਉਸ ਵਿਅਕਤੀ ਲਈ ਖੁੱਲ੍ਹਾ ਹੈ ਜੋ ਬਜ਼ੁਰਗਾਂ ਦੀ ਸਹਾਇਤਾ ਕਰਨ ਵਾਲਾ ਇੱਕ ਅਰਥਪੂਰਨ ਕਰੀਅਰ ਬਣਾਉਣਾ ਚਾਹੁੰਦਾ ਹੈ।
Contact us in your preferred language
Arabic | العربية
أرسل إلينا بريدًا إلكترونيًا يحتوي على اسمك متضمنًا أي من النقاط أدناه التي تريد منا مساعدتك فيها.
1. الانضمام إلى البرنامج
2. معرفة المزيد عن البرنامج
3. الحصول على وظيفة في مجال رعاية المسنين
Bengali | বাংলা
আপনার নাম সহ আমাদের একটি ইমেল পাঠান এবং নীচের কোন পয়েন্টগুলিতে আপনি আমাদের সহযোগিতা চান তা উল্লেখ করুন৷
আপনার প্রোগ্রামে যোগদান করুন
প্রোগ্রাম সম্পর্কে আরও জানুন
বৃদ্ধাশ্রমে একটি চাকরি পাওয়া
Chinese (Simplified) | 简体中文
请向我们发送电子邮件,注明您的姓名,以及您希望我们为您在以下哪一方面提供帮助。
加入计划
了解该计划的更多相关信息
在老年护理部门找到一份工作
Chinese (Traditional) | 繁體中文
請將姓名及下列資料以電郵方式傳送,以便我們協助您。
加入個人計劃
了解計劃詳情
覓得長者護理服務方面的工作
Hindi | हिन्दी
अपने नाम के साथ हमें ई-मेल भेजें और यह बताएँ कि निम्नलिखित में से कौन से विषयों के संबंध में आप चाहते/ती हैं कि हम आपकी मदद करें।
आपके कार्यक्रम से जुड़ना
कार्यक्रम के बारे में और अधिक जानना
एजेड केयर (वयोवृद्ध देखभाल) में नौकरी प्राप्त करना
Macedonian | Mакедонски
Пратете нѝ имејл со вашето име и презиме, и наведете за кои од следните нешта би сакале да ви помогнеме.
Да се вклучам во вашата програма
Да дознам повеќе за програмата
Да работам во негата на стари лица
Nepali | नेपाली
हामीलाई तपाईंको नाम सहितको एउटा इमेल पठाउनुहोस् र निम्न कुराहरू मध्ये कुनमा तपाईं हाम्रो मद्दत चाहनुहुन्छ त्यो समावेश गर्नुहोस्।
आफ्नो कार्यक्रममा सामेल हुनुहोस्
कार्यक्रमबारे थप जान्नुहोस्
वृद्ध हेरचाहमा काम गर्नुहोस्
Sinhalese | සිංහල
ඔබේ නම සහිත ඊමේල් පණිවුඩයක් එවා පහත දැක්වෙන කරුණු වලින් කවරක් සඳහා ඔබට අපගේ සහාය අවශ්‍ය ද යන්න එහි ඇතුළත් කරන්න.
ඔබේ වැඩසටහනට සම්බන්ධ වීමට
වැඩසටහන ගැන වැඩිදුර දැන ගැනීමට
වියපත් රැකවරණ ක්ෂේත්‍රයේ රැකියාවක් ලබා ගැනීමට
Spanish | Español
Envíenos un correo electrónico con su nombre e incluya en cuál de los puntos siguientes desea que le ayudemos.
Unirme a su programa
Saber más sobre el programa
Trabajar en el sector de cuidado de adultos mayores
Tamil | தமிழ்
உங்கள் பெயரைக் குறிப்பிட்டு எங்களுக்கு மின்னஞ்சல் அனுப்பவும், அத்துடன் கீழே உள்ள விவரங்களில் எதில் நாங்கள் உங்களுக்கு உதவ வேண்டுமென நீங்கள் விரும்புகிறீர்கள் என்பதைச் சேர்க்கவும்.
உங்கள் திட்டத்தில் சேர்வது
திட்டத்தைப் பற்றி மேலும் அறிந்து கொள்வது
முதியோர் பராமரிப்பில் ஒரு வேலை பெறுவது
Ukrainian | Українська
Надішліть нам електронного листа з вашим ім'ям та вкажіть, з якими з наведених нижче пунктів ви б хотіли, щоб ми вам допомогли.
Долучитися до вашої програми
Дізнатися більше про цю програму
Влаштуватися на роботу у сфері догляду за літніми людьми