Iraqi newcomer balances community work with volunteering and claims 'volunteering is good for the soul!'
International Volunteer Day, held annually on December 5, is an opportunity to celebrate the important role volunteers, like Welcome Ambassador Ms. Alaa Al Karam, play in connecting communities and enhancing people's lives.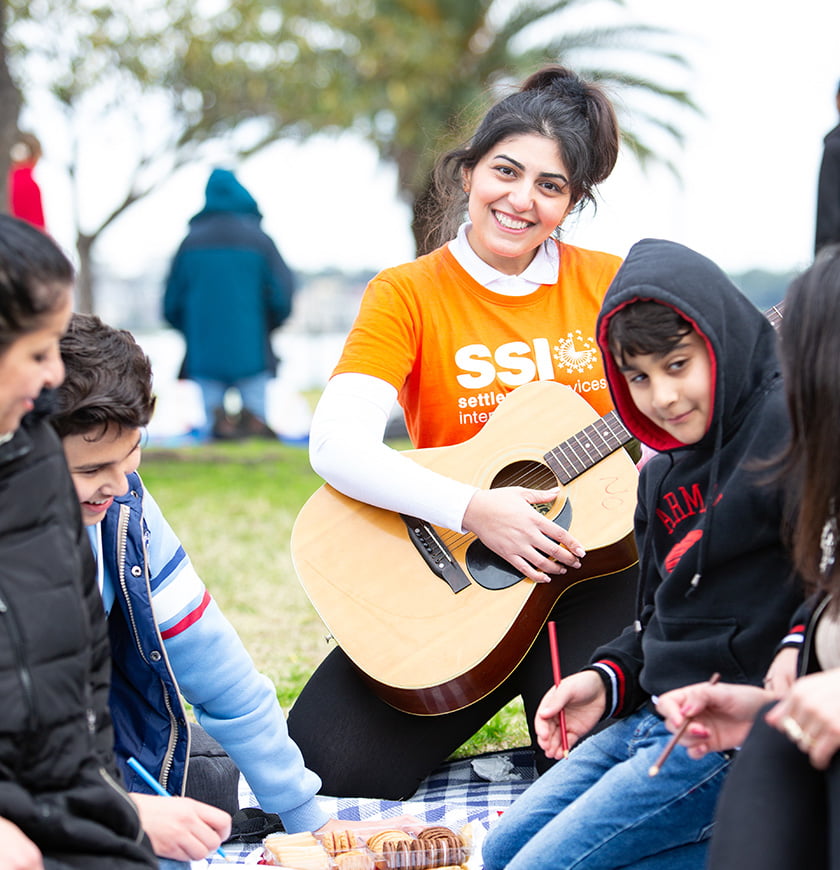 Ms. Al Karam started volunteering with SSI just three years after moving to Australia from Iraq.
"Australia gave me and my family the opportunity to live our lives safely, study and work, so I wanted to give back to the community," Ms. Al Karam said.
Since she first began volunteering in 2019, Ms. Al Karam has contributed her time and skills in roles varying from administration, language support and facilitating, to roles as a festival and project assistant.
She now volunteers as a Welcome Ambassador for SSI's Welcome Program, which supports refugees and asylum seekers by connecting them with established locals to make them feel safe and welcome in their new home.
Welcome Ambassadors play a key role in building newcomers' sense of belonging, connection and confidence.
Although she is motivated by supporting others on their settlement journey, Ms. Al Karam said that she has also gained a lot in the process.
"Giving back to the community and volunteering makes me feel happy and less stressed," she said.
"It is such a great treatment for the soul — that satisfaction and achievement you feel after doing welfare work for others! The little support we provide makes a huge difference in people's lives."
She said that the opportunities she has gained through volunteering with SSI and other community organisations has helped her to widen her skillset and meet like-minded people.
"It has been a great way to grow my social network from diverse backgrounds and build on my skills," she said.
Ms. Al Karam's volunteering gradually landed her a part-time role with SSI as a bilingual guide – a job she now balances with her position with Parramatta Council as part of the events and public activities crew. Despite now working across two organisations, she continues to make time to volunteer as a Welcome Ambassador.
In recognition of her commitment, dedication and persistence to support and empower refugees and migrant communities, Ms. Al Karam was nominated for the 2020 NSW Training Awards by TAFE NSW and the NSW Humanitarian Awards by STARTTS.
She encouraged others thinking about volunteering to take the leap and give it a go.
"It provides you with a high and healthy self-confidence, life satisfaction, discovering new job fields and opportunities, new skills and diverse friends. It also improves your wellbeing and keeps you young!"
"Don't waste your time in too much thinking or hesitating, just do it. After each step in volunteering, you will look back and count the benefits."
Volunteer with SSI
Volunteers at SSI are an important part of the team involved in a wide range of programs and services that support communities' SSI services, including recently arrived refugees and humanitarian entrants. Our volunteers are committed to SSI's vision and mission to support newcomers and other Australians to prosper.
Volunteer opportunities are available in metropolitan Sydney, Newcastle, Wollongong, Armidale and Coffs Harbour.
Learn more about volunteering with SSI and explore current SSI volunteer opportunities.