From the CEO: Voice to Parliament referendum will signal our appetite for listening and accountability
First Nations' communities are incredible advocates and thought leaders, grounded in an ancient wisdom and deep connection to ancestry, land and sea.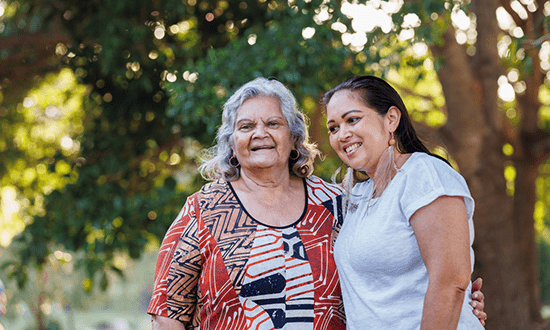 When the powerful voices of First Nations people have been respected and listened to, this country has taken tremendous steps forward and we've seen great change happen. The challenge has always been whether decision-makers are prepared to heed those voices.
The referendum on the Voice to Parliament later this year will set up a mechanism to make decision-makers consider those voices. So it's not just a vote about a voice – it's a vote about whether we're prepared to listen.
If we look at recent history, we can see the great progress that has been achieved when we have been led by Aboriginal and Torres Strait Islander voices in delivering change for their communities.
Think of the powerful advocacy of Meriam people of the Torres Strait in the 1980s, who fought for native title rights in this country and secured a landmark victory through the 'Mabo decision' which made 'terra nullius' a legal fiction.
Or even look at the history of NAIDOC Week, which we are marking this week as a celebration of First Nations' culture, communities and history. Its roots go back to the 1920s, when Aboriginal rights groups sought to bring attention to the mistreatment of Indigenous Australians. By the 1970s, this had evolved to a dedicated, First Nations-led committee, which established the week of remembrance and celebration that we now know as NAIDOC week.
For millennia, First Nations communities have used their voices to share stories and wisdom across generations. The Voice to Parliament is a once-in-a-lifetime opportunity to ensure our policymakers can benefit from these rich insights and wisdom as well.
So when we head to the voting booth later this year, we're not just voting on a 'voice'. We're signalling, as a country, our willingness to listen.
This is so important, because policy is best informed and shaped by those who it affects. It is a simple but transformative insight.
It's something I've seen time and time again in my work as the CEO of a non-profit organisation, SSI, that works with communities to overcome issues of inequality. Our services are most effective when they are designed with the communities they're meant to serve.
That's not just a one-off listening exercise. It's an iterative process of continually seeking and listening to feedback to ensure that the voices of people with lived experience are meaningfully involved in decisions that affect them.
The reality is that even with the best intentions, governments and parliamentarians alone cannot provide lasting solutions without working with First Nations community leaders. A Voice to Parliament would ensure that Aboriginal and Torres Strait Islander people have the ear of government when important decisions are being made that affect their communities.
Enshrining a Voice to Parliament in the Constitution is not the only thing that needs to be done to promote reconciliation, healing and unity, but it's an important practical step forward.
Aboriginal and Torres Strait Islander communities have great strength and wisdom that must be harnessed in order to address issues of inequality and access they face. It's important that we work together to achieve a shared vision of a fairer future for all Australians.