Untapped Potential: Research Launch Event
Please join us for the launch of Untapped Potential research, conducted by NATSEM at the University of Canberra, in collaboration with SSI, which explores trends and disparities in the economic participation of migrant and refugee women in Australia. A policy brief, Unlocking Potential, will also be launched which outlines ways to unlock the potential of migrant and refugee women.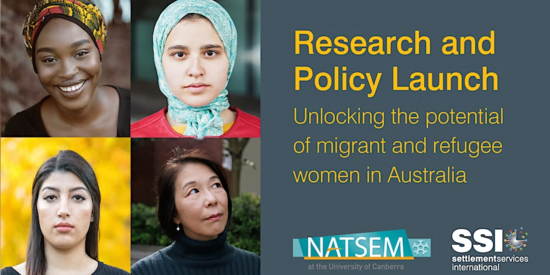 You will hear:
The key findings from the research and key policy asks

The perspectives of a moderated panel discussion
Senator the Hon Katy Gallagher, Minister for Finance, Women and the Public Service and Shabnam Safa, Co-Chair of the National Refugee-led Advisory and Advocacy Group (NRAAG) will speak at the event.
The live panel discussion with Q&A will be moderated by SBS Journalist, Omar Dehen. The panellists include:
• Gabriela D'Souza, Economist and Researcher
• Heba Batainah, Assistant Professor, Canberra School of Politics, Economics and Society and Research Partner, National Centre for Social and Economic Modelling (NATSEM)
• Mohammad Al-Khafaji, Chief Executive Officer, Federation of Ethnic Communities' Councils of Australia (FECCA)
• Astrid Perry, Head of Women, Equity and Domestic Violence, Settlement Services International
Please register to join this live-streamed event; registration is free but essential. Register here
Date: Wednesday, 7 December 2022
Time: 2:30 pm – 4:00 pm AEDT
Location: Online, you will be provided with a link to join this event once you have registered
The Untapped Potential Occasional Paper research was commissioned by Settlement Services International and conducted by the National Centre for Social and Economic Modelling (NATSEM).