SSI celebrates renewal, shared purpose and a year of achievements
Renewal, shared purpose and reflection were at the heart of SSI's 2022 Annual General Meeting, which brought together more than 160 staff and community members to celebrate the past year.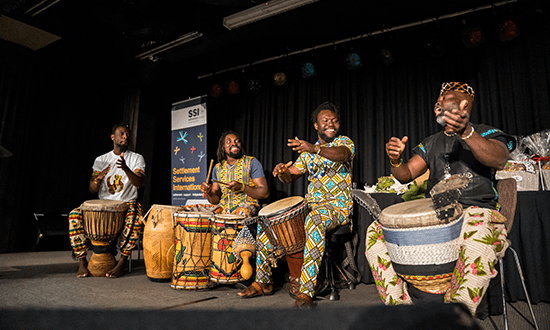 Speaking at the AGM in Sydney last week, SSI Chair Voula Messimeri said that the conclusion of the 2022-23 financial year had brough a renewed sense of optimism, as the world began to shake-off the lingering effects of the pandemic.
"One of the defining changes for SSI during the financial year was the re-opening of Australia's international borders in February 2022, ending almost two years of uncertainty for offshore humanitarian entrants," she said.
"Refugee resettlement is one of SSI's largest programs, so the re-opening of the borders marks the end of a challenging chapter for the organisation and the communities we support."
Ms Messimeri said with the conclusion of the financial year, SSI had prioritised the development of its new Impact Strategy, which would govern the organisation's strategic activities over the coming three years.
"While we are certain to be tested again, I am confident that SSI will rise to the challenge and continue its good work, delivering life-changing human and social services that help individuals and families realise their full potential," she said.
Also speaking at the event, SSI CEO Violet Roumeliotis said a particularly significant change during the 2022-23 financial year was the organisational transformation that streamlined reporting lines where duplicates had arisen following its merger with Access Community Services in 2018.
"FY2022 was a time of great change but also one of renewal. Through our organisational transformation, we moved beyond siloes to reach a point of shared leadership, divisions and -importantly – a shared purpose," she said.
"With the completion of this realignment, all functions are now grouped together across all sites and states, with staff reporting to a single manager. This has brought teams together and created opportunities for learning, collaboration and growth that transcends state boundaries."
Ms Roumeliotis said SSI strived for a culture of continuous improvement, and highlighted numerous achievements in service delivery and enabling functions, which are set out in more detail in the 2021-2022 Integrated Report.
"I'm incredibly grateful to all our staff for their work this year. It has been particularly encouraging to see such great commitment to a common vision that has enabled us to work in a way that is more efficient, collaborative and -importantly – impactful for the clients and communities we support," she said.
"In reflecting on the year that has passed, one thing is very apparent to me: SSI's achievements would not have been possible without support from our staff, the community, our member organisations, funders, and other partners in the community, corporate and academic sectors."
The AGM brought together SSI's members, Board, Executive and staff for a colourful celebration of renewal and achievement, with particular recognition of key contributors through a series of awards that recognised community members, volunteers, staff and service users.