Sharing stories of migration and displacement through art
"We have all left behind various homelands where someone decided or was forced to leave, crossing the ocean that separates Australia from the rest of the world, by whatever means of transport available, migrated and took refuge on this land and called it home."- Dr Sanaz Fotouhi, Writer and Filmmaker
Last week marked the conclusion of Motherland – Exile/Refuge – Migration (repeat), a multifaceted exhibition exploring the concepts of migration, and displacement, that was displayed at the Australian National Maritime Museum from January 6 to 27, 2021.
Maher Al Koury – Photo by Anna Kucera.
The series was the first major initiative between SSI and the Australian National Maritime Museum since the beginning of a flagship partnership between the two organisations, which aims to build awareness of peoples experiences of migration to Australia.
The exhibition brought together a diverse range of artists to explore the many facets and layers of migration through performance art, painted works, sculpture, embroidery, virtual reality, punch needling and more.
Artists in the initiative include the Rohingya Womens Collective, Sayd Abdali, Hedar Abadi, Carlos Agamez, Maher Al Khoury, Damon Amb, Shivanjani Lal, Nasaphah Nasaphah, Jane Théau and Lynette Wallworth in collaboration with Indigenous Elder Nyarri Nyarri Morgan and Curtis Taylor.
One of the artists, Maher Al Koury said that he was very proud to be participating in the show, particularly as it was one of his first exhibitions since relocating to Australia and his first at a major cultural institution.
"I want to share my story and my art with Australian people. I am proud to be doing this work because I want to share my experience and my country, Syria's, civilisation with Australians. I think this is important because Australia is a peaceful place," he said.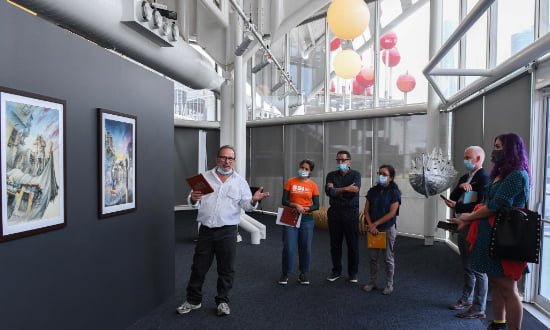 Maher speaking at the Australian Maritime Museum – Photo by Anna Kucera.
Maher Al Khoury arrived in Australia as a refugee from his home in Syria four years ago. He is a visual artist and teacher specialising in painting and drawing. He has been a regular participant in SSI Arts & Culture's Creative Pathways initiative since 2018.
For Maher, art is an essential part of life—supporting the discovery of self and the exploration of the future. This is especially valuable during times of war, when there is little else to keep hope alive. It is also a vital tool for communicating his story.
"I find it difficult to express myself or describe things and my story in words. I am an artist, so I am far better at expressing [ideas] through my pictures," Maher said.
His two piece artwork 'Ground Zero,' was commissioned for the exhibition. It paints a picture of his journey as an artist, losing everything due to the destruction of his homeland and arriving in Australia in search of new memories. His two paintings explore new ways of seeing, the tragic poetry of a life destroyed and visions, of hope for a new future for himself and his family.
Mahers artwork, and the other pieces in the exhibition encompass rich visual and conceptual approaches to the often-conflicting understandings of migration. We invite you to find out more in the exhibition catalogue here.