Multi-ethnic creative performing artist encourages female musicians to apply for SSI's delegation at Australian Women in Music Awards, promising 'it's not about competition, it's about sisterhood'
"Our delegation was made of women of all ages, cultural backgrounds, and disciplines of music. But we had one thing in common: we are passionate about what we do and we've all have been fighting to do it," Marina said.
"Every other woman had been going through the same struggles, we've been fighting to come out with our voices. The delegation was not about competition, it was about sisterhood. We are still in touch to this day."
Marina was part of a ground-breaking initiative where SSI, BEMAC and AWMA joined forces to invite female artists from diverse backgrounds across NSW and Queensland to take part in a carefully curated program. The program included workshops and industry talks, and culminated in attendance at the AWMA ceremony and concert.
As the applications open today to form this year's delegation, Marina encouraged emerging artists to apply.
"I would tell all female musicians from all ages and cultural backgrounds that just by applying you are supporting all of us," she said.
"Apply and if you get chosen that's a gift. You will connect with a wonderful family of women supporting each other. You will connect with people who understand your journey and struggles. It's an experience I find hard to put into words because it's profound on so many levels."
The aim of the delegation is to promote diversity and equality in the Australian music industry by empowering diverse emerging artists to develop their artistic practice, connect with each other, and network with Australia's most established female musicians.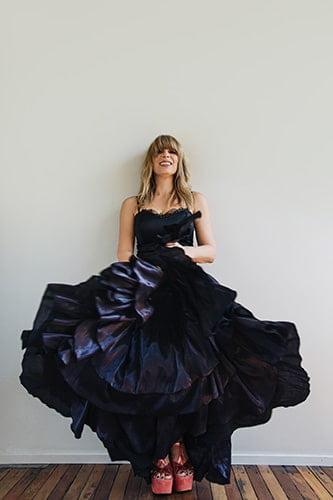 Marina noted that although she has sometimes felt alone as a musician from a diverse background, the experience left her feeling a renewed sense of empowerment, ready to build her next show that is 'all about women'.
"I come from a Croatian background, I grew up in New Zealand, then migrated to Australia, then the UK, and Italy. In each of these places, I learned about their customs and language. My whole life has been adapting to different cultures and listening to different languages, trying to fit in," Marina said.
"Being part of the delegation and AWMA gave me an opportunity to be acknowledged by representing myself and women like me by being a delegate. It was also empowering for younger women to see an older female artist being showcased and uplifted in this way."
"Women like us, diverse women from every background, shouldn't be invisible."
How to apply
Applications to be part of the next delegation are now open and close at midnight on 2 June. We welcome applications from emerging, female-identifying, or non-binary artists from diverse cultural backgrounds in NSW and Queensland.
Apply using this form, which gives more details on what's included and who can apply.