Love of art ignites business success
Bridget Kelly is living her dream life as an artist and business owner, thanks to the support of her family and Ignite Small Business Start-Ups.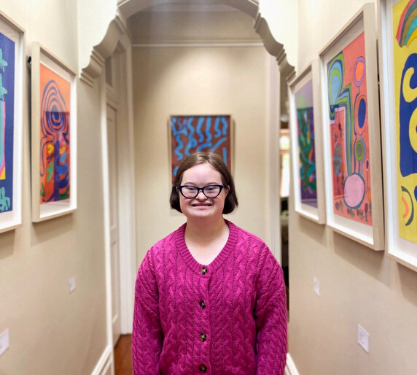 Bridget at her recent home exhibition.
Working across the mediums of drawing, painting and screen-printing, her edgy and colourful abstract designs are in high demand.
Bridget is a young woman with Down syndrome who is supported by Ignite, an SSI social enterprise, to help her art business flourish. In just 18 months, the 25-year-old has established an impressive home-based art business with big plans for 2023.
According to Bridget's mum, Kate, art has been an ongoing passion since her daughter's early teens as well as a powerful form of communication. So, it was no wonder that when asked what she wanted to do when she completed school, Bridget had a firm one-word answer – art.
"We really just followed her lead on that," said Kate. "So she went to an art group and she got an art tutor, and the group put her in an art exhibition."
Bridget takes inspiration from everywhere, taking a sketch pad with her and filling it with drawings of outlines of what she sees, before bringing the artworks to life with unique colour combinations.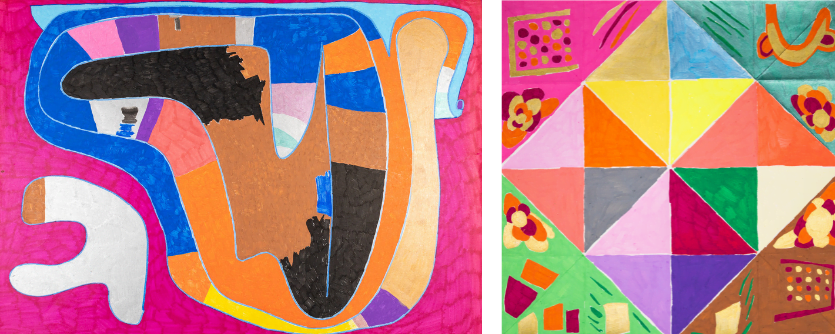 So imaginative are Bridget's artworks that she won the emerging Artist Prize category in the Blooming Arts Exhibition at Chrissie Cotter Gallery. The prize was a mentorship to Sydney College of the Arts to study print media.
It was a careers advisor at Uni2Beyond who mentioned SSI's Ignite, and its tailored program for people with disability, IgniteAbility. Passionate entrepreneurs are offered one-on-one support and advice around how to run a successful small business.
While Bridget was planning a two-week solo exhibition at Chrissie Cotter Gallery in June 2021, lockdown threatened to derail her plans. Refusing to let Bridget's solo exhibition dreams end, Bridget and her family reached out to her IgniteAbility facilitator, Alexis, for advice about sharing Bridget's artworks virtually through videos on social media.
Alexis has also provided support around Bridget's logo design, social media presence, re-designing Bridget's website and establishing an online shop.
"On a purely business side, she's got a lot more exposure now and a lot more followers on social media, and a lot more people coming to see her and buy her art," said Kate.
While the art is 100% Bridget, the business is now a beautiful family collaboration, with her sisters helping to manage Bridget's branding and digital presence, mum Kate assisting on the business side, and dad Matthew helping with framing.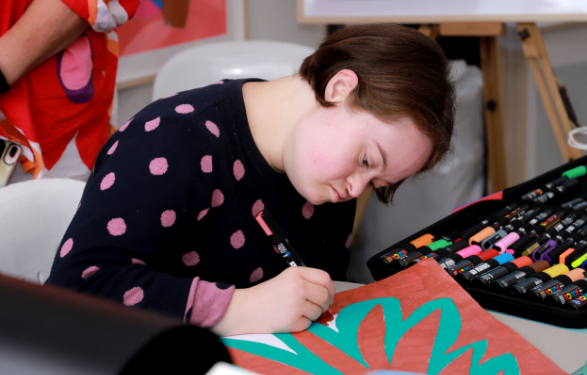 Although Bridget Kelly Art provides Bridget with an income, it also does much, much more.
"We realised that her art could also help her meet all of her NDIS goals, which were about raising her self-esteem, increasing her independence and helping her to be understood in the world," said Kate.
"Bridget's art is mainstream and it gives her a valued role in the mainstream as an artist – and that's really the main purpose of this business – to help Bridget meet her goals in life."
Building upon the success of her first virtual exhibition, Bridget recently had a very successful home exhibition, displaying 60 of her artworks throughout the family home and having around 100 people come through over one weekend. She sold many artworks and thrived interacting with visitors so the family have decided to make a permanent exhibition by appointment.
"We all want a job that gives us satisfaction, and happiness as well as a wage, and being an artist with the success that Bridget is getting is giving her all of those things," said Kate.
Bridget's career and business is only just beginning, as she and her family continue to work with IgniteAbility to bring Bridget's dreams to life. Goals for 2023 include increasing Bridget's abilities to take on more in her business. A stall at local markets is also planned to increase awareness of Bridget and her art in the community and a mid-year a solo exhibition is scheduled at the Dougherty Community Centre in Chatswood.
"Bridget had a lot of health issues when she was younger, many of which are ongoing. It's been so amazing to see that you can have an intellectual disability, and be successful in a mainstream space, without neglecting that part of your identity.
"Bridget has grown so much more comfortable with herself, which is a result of her finding her own place that allows her to be proud of both her disability, and her artistic abilities," said Kate.
Find out more about Bridget via the Bridget Kelly Art website.