Iraqi sisters secure employment and further education during first year in Australia
Diana Hassan has a part-time job at Tassal Tassie Salmon.
The sisters have only been in their new country for a short time, arriving in Australia in August 2019. They sought refuge in Jordan for four years before this, due to Iraq's political instability.
Diana Hassan is finishing her Certificate 4 in Interior Design at TAFE and has a part-time job at Tassal Tassie Salmon.
Similarly, 22-year-old Sandra Hassan completed a Nursing Assistant Course at TAFE and is employed part-time at Lebanese restaurant, La Mono.
Both sisters are fluent in English, as, during their time in Jordan, they were diligent in acquiring speaking proficiency in the language.
"We couldn't study or work there (in Jordan), we were just waiting to travel… So I worked on my English language before I came to Australia. Speaking English has made me more confident to do things here," Diana Hassan said.
Ms Hassan's ambition and fluent English led to her employment at Tassal, where she works two days a week.
"I actually got this job from the SSI staff, a caseworker. She sent me to see if I'm interested and I said yes because I want to get any work experience I can in Australia.
"I like to try something new… Especially because it's about seafood and I had no idea what kind of work that is," she said.
For Ms Hassan, her work at Tassal is more than a source of income. It is enabling her interpersonal and professional skills.
"I'm working under pressure, that's the biggest skill I'm learning. We have to pack the seafood and measure them to a specific scale. We have to work very fast.
"I can use these skills in a future job: dealing with people, communicating in a new country and working with people from different cultures. I think it's good for me in my future employment," she said.
Her younger sister Sandra Hassan, who also has advanced English skills, is succeeding in her new workplace, La Mono, a restaurant her SSI case manager scouted for her in the hospitality industry in November.
"The people there are kind and help me a lot.
"The skills are useful to me. I'm on the cashier, so I'm becoming more comfortable with money. It's going to become much easier for me to speak with people… To get more confident talking with different people from other cultures," she said.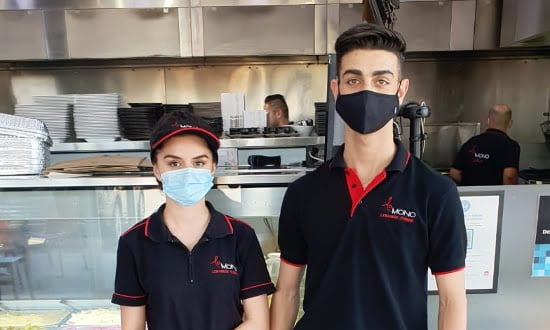 Sandra Hassan is employed part-time at Lebanese restaurant, La Mono.
While the sisters are flourishing in their respective workplaces, they are also enrolled in tertiary education programs to foster their future career plans.
Following a creative pursuit, Diana Hassan is in the final stages of her Certificate 4 in Interior Design at TAFE. She later plans to complete a Diploma in this field, followed by a Bachelor of Arts Degree.
"I found out it's better to learn new skills at TAFE first, because it's more practical, especially when learning about software and 3D designs… Once I finish that I will do what I want at university.
"I hope to be an interior designer. After I did my Certificate 4, I got more information about interior design and learnt more details about how I can work in the industry."
For Sandra Hassan, since completing her Certificate 3 in Nursing Assistance at TAFE, her future career plan is also focused on seeking higher education.
"The first thing I want to do is to keep studying, even if I finish a BA of Nursing, I then went to study more to learn more about it.
"I really like to take care and spend time with people who are old and children. I like to care for people who need and want help. I think nursing is the thing that includes everything I like."
The duo is showing signs of a successful and dynamic future. Both of the women attributed their early success in Australia to the support of SSI.
"SSI has helped us a lot as a family at the beginning. Everything we want, we just call them, and they answer," said Sandra Hassan.
"I feel there's someone or people are behind me supporting me whenever I feel I don't know where to go," said Diana Hassan.
*The women's surname has been changed to protect their anonymity.
*Go to https://homeaffairs.gov.au/ for more information.