Ignite graduate makes art to educate, inspire and heal
It was obvious from a young age that Tyler Stackman was artistic, but a chance meeting last year helped transform his talent into a business.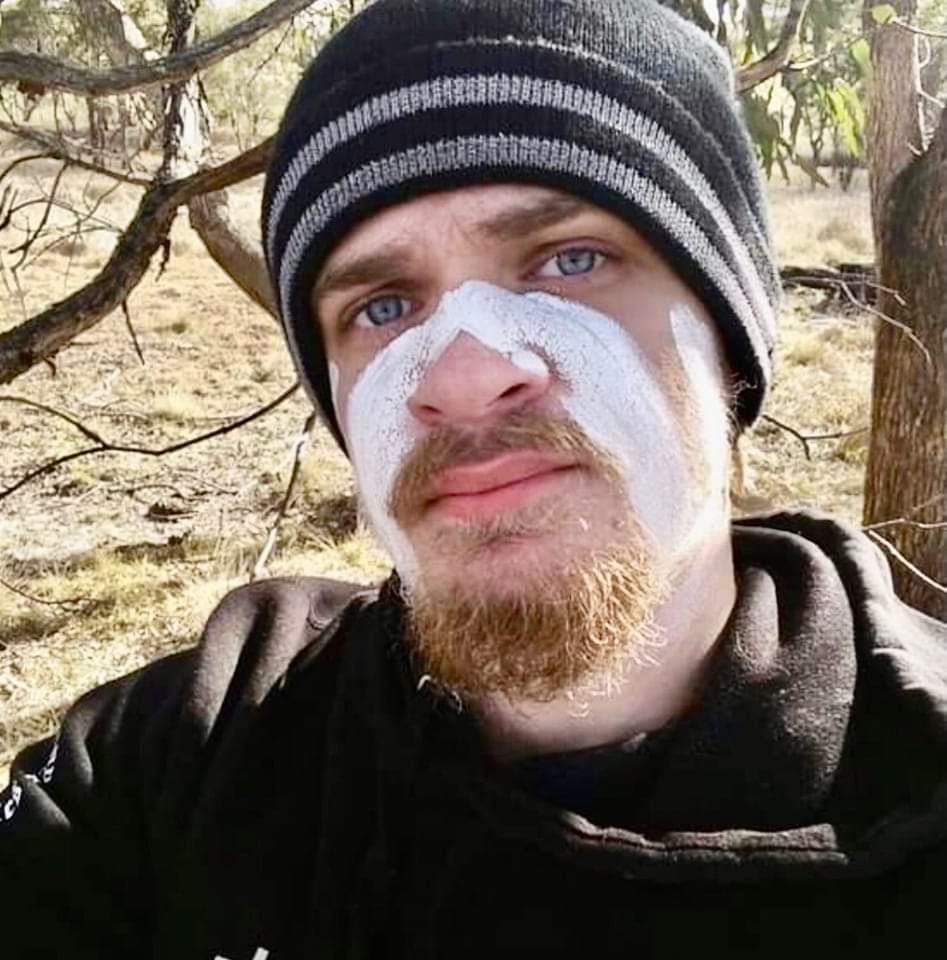 "One of my earliest memories is me sitting there with a pen in my hand,' said the 24-year-old Thunghutti man from Walcha, a small town on the NSW Northern Tablelands. 'I was right into art since I was about 8 or 9."
Mr Stackman started drawing with ink and paper, progressed to acrylics, then later took up woodwork, crafting boomerangs and other cultural tools. He has just finished a magnificent cloak made out of kangaroo skin.
"My dad was the one who pushed me to do better with my artwork," he said. When he died two years ago, Mr Stackman poured his grief into his art.
"I picked up a brush and painted for about two weeks straight – I was doing 3 paintings a day," he said. "All of a sudden all of this artwork had accumulated, and I thought I may as well sell it."
He had some of his pieces exhibited at the local Aboriginal Culture Centre and Keeping Place, and it was from here that he was introduced to the regional facilitator of the Ignite Small Business Start-up Program, Maggie Cairns.
Ignite is an initiative of Settlement Services International (SSI) that supports First Nations people, those with disability, refugees, migrants and others from culturally and linguistically diverse communities to establish or expand a small business.
"I listened to her talk," he said. "And I thought – what's the worst that can happen?"
Mr Stackman says Maggie took him 'under her wing', supporting him to set up his online business Garruka Arts and connecting him to exhibition opportunities in Sydney. It has been a whirlwind 18 months since then.
While his artwork is known locally, this year was the first time it has been showcased in the big smoke.
Mr Stackman was invited to showcase his artwork at SSI's annual New Beginnings Festival.
In September, he was one of four Ignite client artists to feature in the First Nations led exhibition 'Tribal Bloodline Connection' at the Stirrup Gallery in Marrickville. The exhibition was a partnership between Ignite and Addison Road Community Centre.
Soon, Mr Stackman will take over as artist in residence at the Aboriginal Culture Centre and Keeping Place in Armidale, facilitating art exhibitions and running artist and culture workshops.
"The big thing that I want is to be able to make artwork and a living, but also to teach people about Aboriginal culture," he said.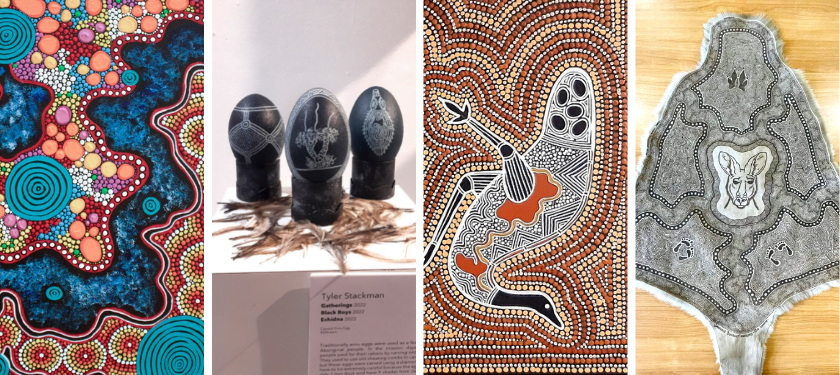 He loves talking to people about his paintings, drawings and objects and has plans to develop toolkits consisting of boomerangs, axes and other First Nations weapons made from local timber and stones, as a way to educate young people about traditional culture.
The kangaroo cloak, on display at the culture centre, has also been a great talking point and an opportunity for people to learn more about the local Aboriginal people.
"I like to describe it as a multipurpose rug as well as a cloak," he said. "It's a jacket, ground cover, it can also wrap up babies.
"In Aboriginal culture men made their own tools and weapons and you made your own cloak from scratch. It is practical in that it keeps out the sun and the cold, but it can be spiritual too and you can personalise it.
"It is a really good thing to teach people about because not a lot of people make them anymore."
Mr Stackman has just launched his social media and his website – and is now planning an online store.
His artwork is a mix of traditional and contemporary Aboriginal art which varies in style, colour and medium. Mr Stackman creates with bright, vibrant colours through to traditional earthy tones, dots, linework, ink drawings and carvings of traditional weapons and tools used by the Thunghutti people.
If you are in the Armidale area, be sure to pop into the culture centre to view the artwork and have a yarn.
So far, the Ignite Small Business Start-up program has helped establish more than 245 businesses. For more information about the program or to make an enquiry please visit the Ignite website.

This month is Indigenous Business Month, an opportunity to showcase, support and acknowledge Indigenous businesses.
Beyond our Reconciliation Action Plan, SSI remains committed to supporting and empowering Indigenous businesses and communities in our day-to-day practice.
The SSI Ignite Small Business Start-Ups initiative's engagement with the local Anawan community in Armidale has deepened their practice and led to the development of a tailored program in partnership with, and supporting, First Nation's entrepreneurs – the IgniteFirst program.  Working hand in hand with the local community, the purpose of the IgniteFirst program is to walk beside First Nation-led organisations, communities, and people to build their capacity to create self-employment opportunities and economic independence through enterprise.
This Indigenous Business Month, SSI would like to thank the Aboriginal-led businesses that allow SSI and Ignite to support their business journey. We are proud to take this occasion to showcase some of these First Nations entrepreneurs and to celebrate and acknowledge their hard work.