How Tatjana harnesses her experience of forced migration in her support of entrepreneurs
For Tatjana, the experience of leaving her life behind and rebuilding it in a new country has highlighted the importance of leveling the playing field for people who are displaced from their homelands.
Tatjana now channels this passion into her work with SSI as Project Officer and Facilitator for Ignite® Small Business Start-ups and Ignite Ability where she supports our entrepreneurial clients to build their capacity and lives.
Tatjana, her children and husband in 2021 (left). Tatjana as a baby with her family in 1977 (right).
Tatjana was born in the late 1970s in the small town of Brčko, in former Yugoslavia, or what is now Bosnia and Herzegovinia.
She explained that life was good in every way until her mother passed away in 1991, and the Yugoslav civil war broke out in 1992, shortly before her 13th birthday.
"I was too young to understand what was happening. I just remember one day in April 1992, our father packed us up and sent us to Serbia. where my mum's family would look after us until he was able to join," said Tatjana.
Tatjana and her siblings lived with family in Serbia for j a year, hoping they would be able to return home, but it was not to be.
In 1993, with no end of war in sight, the family sought asylum in Germany.
"I didn't speak a word of German when we arrived. I remember feeling out of place and scared of going to school without knowing the language or having friends," she said.
Tatjana learned a bit of the language and was enrolled in a local school in the German village of Burgthann.
To her surprise, three other children from refugee backgrounds were enrolled in her school, two of which whom were from her hometown of Brčko.
The family lived in Germany for six years, during which Tatjana attended Berufsschule, a form of education, equivalent to vocational training.
"I graduated in 1998 and remember feeling very proud to have passed all my exams in German," she said.
In a turn of fate, Tatjana was also lucky enough to meet her now husband, who was an American soldier stationed in the country, while seeking refuge in Germany.
"At the time we met, he had just returned from my country where he was on a peace keeping mission. As destiny would have it, he was sent to Brcko. Three days after his return, we met," she said.
This year the couple celebrated 22 years of marriage.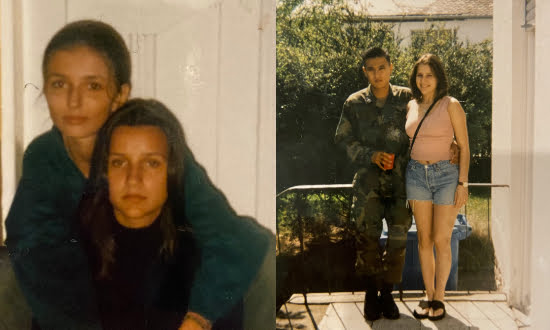 Tatjana in Serbia in 1993 (left). Tatjana and her husband in Germany in 1998 (right)
In early 1999, Tatjana and her family were granted a humanitarian visa to come to Australia. They left Germany quickly after, excited to start their new lives.
"I am grateful for everything Australia offered us and while I will never forget my roots and my home, Australia is my home now."
Tatjana said that her experience as a refugee has made her realise how quickly the things we know and take for granted can be taken away from us. This has given her a unique insight into the challenges and complexities our clients can face.
She uses this experience to assist her to build connections with Ignite ® entrepreneurs, many of which are from refugee backgrounds, and encourage them to harness their potential and believe in their inner value.
"I can relate to our clients on a personal level. I hope to inspire them to realise that where there is a will, there is a way, and that focusing on now and the future will not erase the past," said Tatjana.
"I encourage them to see our pasts as the strength they need to realise what we are capable of, and that if we can overcome losing everything and starting over, nothing is impossible."