A dental dilemma: Sadia navigates barriers to reclaim her career
With more than six years practising dentistry in a clinic, and seven years lecturing at a dental faculty, Sadia was hopeful she would have the opportunity to continue her career in Australia. But she has faced a maze of barriers to achieving her goal.
Sadia undertook the complex and expensive process of having her overseas qualifications recognised with the guidance and support of SSI's Refugee Employment Support Program (RESP). Her efforts came to a standstill after she was unable to attain one of the government documents from her country of origin, which is required to sit the Australian Dental Council (ADC) exam.
In the meantime, Sadia searched for employment in dental clinics across Sydney so she could earn a living and maintain a connection to her career.
"I applied for dental assistant jobs in the meantime but was declined because I did not have Australian experience," Sadia said.
To resolve this, Sadia asked to sit in at a local clinic two days a week as a volunteer 'observer' while she completed her English language course at TAFE.
After several months of hard work and frustration, Sadia's situation took a positive turn. In December 2022, she was offered a part-time role at Auburn Road Dental Surgery, and with the support of RESP, she was able to track down alternative documentation to sit her dental exam.
Sadia is now juggling working at the clinic two days a week while caring for her two young children and working towards refining her professional English language skills.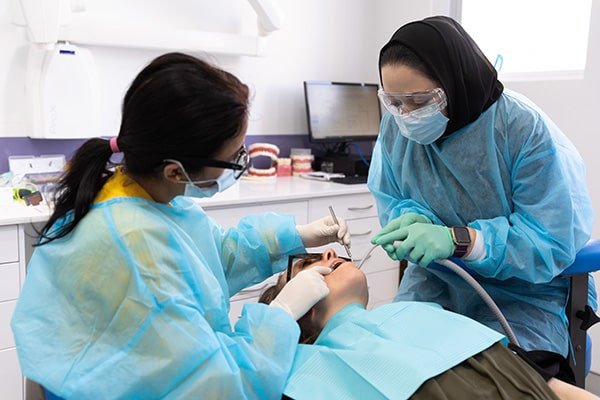 She plans to sit her ADC exam in early 2024 and is determined to be able to utilise her years of experience and expertise in Australia.
Refugee women have been shown to have the same or higher participation in higher education as Australian-born women, and more than a fifth of refugees work in the healthcare sector.
By removing the additional barriers professionals like Sadia have in utilising their skills in their new homes, Australia can unlock a skilled workforce that will positively contribute to our economy and society.
"I have dedicated almost 20 years of my life to my profession – I cannot leave it behind. I dream of working again as a dentist, but it's incredibly difficult," Sadia said.