Culturally diverse music and artists unite cultures at Australian Women in Music Awards 2023
Seven multi-talented female music professionals representing seven cultural backgrounds recently came together as part of SSI's delegation at Australian Women in Music Awards (AWMA) culminating in a glamorous ceremony at the heart of Meanjin/Brisbane.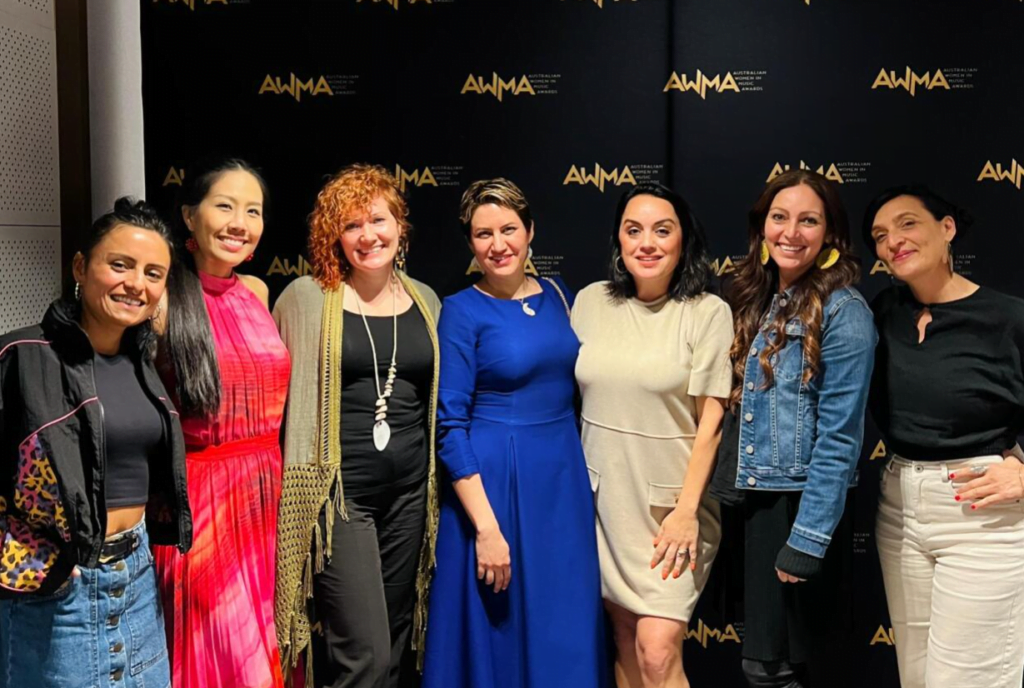 The delegation included women from completely different cultural and musical backgrounds who, from the first meeting, united for their common passion for music and its power in driving equality.
As one of the SSI delegates, Slavic folk singer-songwriter Innessa Hook, reflected, "Music generally unites people. Culturally diverse music unites cultures."
AWMA's two-day conference program and awards became a vibrant celebration of creativity, courage, and the influential role women play across all facets of music and creativity. Brilliant minds ignited compelling, thought-provoking, and honest conversations, while some of the most phenomenal women in the Australian music industry electrified the stage on awards night.
In its fourth year, SSI, through our SSI Arts and Culture program and supported by our subsidiary Brisbane Multicultural Arts Centre (BEMAC) and AWMA, we again joined forces to invite female artists from diverse backgrounds across New South Wales and Queensland to take part in this carefully curated program with the aim of empowering emerging artists to develop their artistic practice, connect with each other, and network with Australia's most established female musicians.
For this year's delegation, this experience included meeting icons such as Vanessa Amorosi; grooving in the front row of the spectacular First Nations Women's music showcase, and taking over the black carpet at the awards ceremony.
When asked about their experiences as part of the SSI delegation, hip-hop journalist and writer Simone Amelia Jordan said, "It's been a very exciting trip, and I'm really happy to be here in the year that has so many great performers and great new awards."
"I've met so many different women with such different career paths. This is a new opportunity and chance for me to understand a bit of more of the music world," Ana Maria, Colombian Sydney-based DJ, added.
You can see some of the highlights as experienced by the SSI delegates DJ Oroana, Lily Guerrero, Innessa Hook, Peranya Visitchantaragoon, Maral Esfand, Simone Amelia Jordan, and Lolo Lovina here.
Beyond the delegation, SSI's partnership with AWMA included curating a panel to go deep into the topic of diversity in the arts to challenge the status quo, especially for women from diverse backgrounds. Led by Athésia, a talented multilingual jazz singer-songwriter, this panel brought together Zela Margossian, an Australian pianist of Armenian heritage; Vyvienne Abla, the Director and Executive Producer of Vyva Entertainment; and Gloria Kolya, a singer, songwriter, and dancer based in Gadigal/Sydney.
Another highlight on awards night was when Samira El Koussa, an acclaimed Lebanese singer, composer, songwriter, and musician who was part of SSI's delegation last year, returned to perform on stage with Greta Kelly and Elie Gomah. Her captivating voice left the audience in awe and proved Australia's music scene is stronger when we amplify diverse voices and talent.
In the words of SSI delegate Peranya Visitchantaragoon, classical Thai musician, "Different ideas from different people can create something new to music industry."
Cerisa Benjamin was the proud recipient of SSI's Diversity in Music Award at AWMA for her exceptional work driving positive change within the music industry as First Nations Programs Lead at Support Act, a charity providing crisis relief, mental health and wellbeing support to musicians, managers, crew, music workers and organisations across all genres of music.