Cultural leader named Third Sector's Influencer of the Year
Bashar Hanna received the Influencer of the Year Award at the 2021 Third Sector Awards.
This year's awards, presented at a ceremony at Four Seasons Hotel Sydney on the November 4, highlighted innovative and progressive sector leaders and organisations.
Nominees were judged based on their social impact, outcomes measurement, social innovation, collaboration, leadership and systems thinking.
Mr Hanna, founder of the Australian Mesopotamian Cultural Association, was named Influencer of the Year.
Mr Hanna, who migrated to Australia in 1998, is an artist, musician and community builder who uses his firsthand experience and academic expertise to help other people from migrant, refugee and asylum-seeking backgrounds find a home in Australia.
Having worked intensively with newly-arrived refugees and being deeply involved with arts and community cultural development projects in south-west Sydney, he established an Arts and Community Development Centre in 2014, which tackles social challenges faced by diverse emerging Australian communities.
In 2019, he established The Australian Mesopotamian Cultural Association (AMCA), which aims to enrich the cultural diversity of modern Australia through the contribution of Mesopotamian arts and culture.
In the same year, he was awarded a Community Innovation Fund grant with Settlement Services International to implement an innovative program teaching newly arrived refugees English through song.
The Peacemakers Ensemble (aka Choir of Love), a music therapy group, supports healing, language development and social inclusion for refugees and newly arrived migrants through the power of music and creative arts.
Throughout the pandemic Mr Hanna has collaborated with Sydney's creative community to develop Arabic language videos or the public, to support their wellbeing and reduce stress during COVID-19. The work connected people virtually throughout south-west and western Sydney through videos and dialogues with experts on practical pandemic health issues, wellbeing and mental health, and supporting English language learning for adults during the crisis.
He has continued running the Centre for Arts and Community development and the Community Engagement and Empowerment Program, which works with people from refugee and asylum-seeking backgrounds to help them increase their capability and build their capacity to find a job.
He has also run projects with torture and trauma specialist STARTTS to develop mental health and wellbeing videos.
Read more about Mr Hanna here.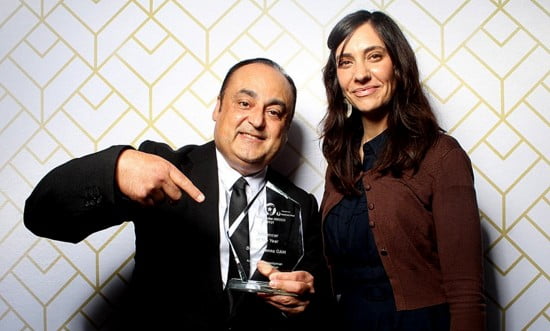 Bashar Hanna with his nominator, SSI Community Engagement Manager, Kat O'Neill.