Afghan refugee finds work and opportunities in Australian construction industry
Mohammad Jawid Rezaei arrived in Australia from Kabul, Afghanistan, in October 2021 after the Taliban takeover and now works with Southern Steel Supplies Pty Limited in Milperra.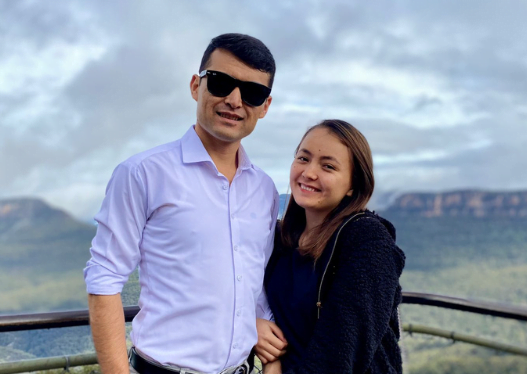 His wife, studying marketing at university, arrived in Australia from Afghanistan with her family four years ago.
"I now live with my wife in Guildford in Western Sydney," Mr Rezaei said.
Mr Rezaei, like other Afghan evacuees, received immediate support from SSI to access essential services and integrate into Australian life.
Mr Rezaei said that he had completed his Bachelor's degree in building construction management back in Afghanistan, and after arriving in Australia, he faced several employment barriers.
"I didn't know about transport, work culture, the local job market and interview process."
Mr Rezaei was confronted with what career to pursue in an unfamiliar environment and was referred to SSI's Refugee Employment Support Program (RESP), a state-based initiative that supports refugees like Mr Rezaei living in NSW to access pathways to secure, long-term employment.
"They help me a lot," he said.
The Hon. Alister Henskens, NSW Minister for Skills and Training, and Minister for Science, Innovation and Technology, announced in July 2022 that the five-year pilot program had been extended by 18 months until December 2023.
In five years, RESP has assisted up to 8,000 refugees and 2,000 people seeking asylum in western Sydney and the Illawarra, where most refugees have settled in NSW.
RESP supported Mr Rezaei in identifying his employment goals and barriers, and was enrolled in work-ready development workshops to learn about Australian work culture, find employment, professional networks, interview skills, and apply for jobs online.
"SSI help me update my resume and apply for a job as a machine operator," he said.
As a direct result, Mr Rezaei secured full-time permanent employment with Southern Steel Supplies Pty Limited in Milperra and has been working there since May 2022.
"I like working there; it's a good work environment!
"I have learn a lot of things in steel manufacturing, such as operating the machines, delivery, working with the customers and taking their paperwork."
Mr Rezaei said that working on the job has accelerated his English language skills.
"My English has improved there, and I'm also studying at TAFE and doing my Cert 3 in English," he said.
When asked about his future goals, Mr Rezaei said he wanted to complete his studies locally in building construction.
"I want to be a good citizen in Australia, and I'd like to continue my study in building and engineering as I already have my Bachelor's degree in building construction.
"I also want to help my family in Afghanistan as the situation is not good. They are not happy, and I'm hoping I can help them."
SSI's Refugee Employment Support Program helps unlock employment potential for refugees and asylum seekers, aiming to place them in secure, long-term jobs.
The RESP program involves local employers, organisations and non-government agencies to connect eligible people with training, support and jobs.
The program is flexible and responsive to the individual needs of each participant, taking into account their skills, experience and employment goals.
For more information, visit the RESP webpage.