Refugee Week campaign tells new arrivals Australia is 'Where You Belong'
Bus shelters and digital billboards across Brisbane and Logan have been adorned with the images of six employees from Access Community Services, a subsidiary of Settlement Services International, in support of Refugee Week 2022.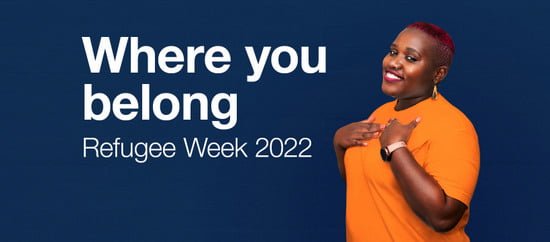 The Where You Belong campaign will be showcased throughout Refugee Week, Sunday June 19 to Saturday June 25, which is Australia's peak annual activity to inform the public about refugees and celebrate positive contributions made by refugees to Australian society.
Violet Roumeliotis AM, CEO of Settlement Services International (SSI), said the Where You Belong campaign was a message of welcome to all new arrivals.
"It is reinforcing the idea that the responsibility lies with all of us to ensure people feel they belong, regardless of where they have come from, their backgrounds, orientation, ability or religion," Ms Roumeliotis said.
"When people feel they belong, they can achieve their goals and contribute to a socially cohesive society."
To get this important message across, SSI and Access interviewed six employees who worked directly with clients and community, and asked them, "Why do you do what you do?"
Their responses, photoshoots and interviews formed the basis of the Where You Belong campaign, offering valuable insights from those who are most experienced in supporting new arrivals.
Campaign hero Racheal Kirabo has been supporting communities and vulnerable youth since 2018.
Ms Kirabo, from Uganda, said she joined the campaign because it was an opportunity to tell people how important her role was for the people she worked with – people with whom she empathised.
"Working in community services and community engagement is an opportunity to give back to the country that helped me when I first arrived," she said.
"Now I can show young people how to overcome the challenges that I faced when I first arrived in Australia."
Ms Kirabo works with young people and parents from refugee and asylum seeker backgrounds to help them understand the education system and communicate with schools using appropriate services.
She said belonging was very important for young people.
"Feeling a sense of belonging brings them comfort and security. They don't have to keep looking behind their backs. It helps them to know they have a stable home and a stable family."
She said, "Refugee Week is a time when our background is recognised, when we can celebrate our origin and our achievements are not forgotten.
"During Refugee Week we work alongside all Australians to show we are welcome in Australia as refugees."
Ms Roumeliotis said, "Supporting Refugee Week has become an integral part of who we are. The campaign aims to deliver a cohesive message of belonging with a strong call to action to join our community and support a welcoming society that strives to provide equal opportunities for all.
"In addition to delivering support, we are committed to changing the narrative on new arrivals by celebrating refugees for all the ways they enrich our society."