Dandenong investment reinforces safety net for local community
Dandenong community members will have access to additional local services to improve access and equality following the local office opening of non-profit organisation SSI, which provides life-changing human services to 50,000 people around the country every year.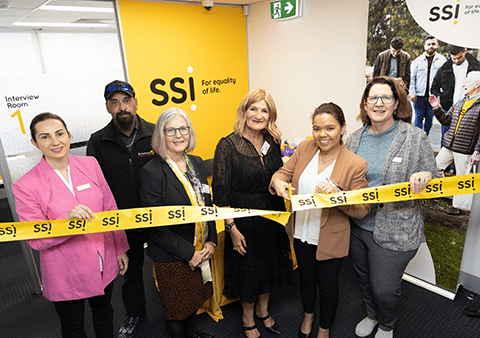 The office was officially opened on 27 September by the Mayor for Greater Dandenong, Cr Eden Foster and local councillors.
SSI CEO Violet Roumeliotis said it was heartening to see the show of support for the new office, which would provide much needed resources to the local community and complement the suite of existing services in the area.
"Working collaboratively with all levels of government is one of the best ways we can ensure community needs are reflected in everything from federal policy to local council decision-making," she said.
"At SSI, community is at the heart of everything we do. We are committed to offering place-based solutions that empower individuals, children, families and communities to access equal opportunities and achieve their potential in life.
"We are investing additional resources in order to strengthen support for people seeking asylum, single parents, people living with disability, and more in the Dandenong region."
More than 20 SSI staff will reside in the new office space, providing a local point of contact for the community.
"Through our existing work in the region, we have strong partnerships with local councils, community groups, religious leaders, NGOs and government services. We hope to create a wrap-around eco-system of support for individuals and families," said Ms Roumeliotis.
"We are looking forward to strengthening these partnerships and investing more resources to ensure that all members of the Dandenong community have the opportunity to realise their full potential."
SSI has worked in Victoria since 2018. In addition to overseeing state-run programs such as the Status Resolution Support Services (SRSS), which provides temporary needs-based support to eligible people seeking asylum, SSI delivers a range of services in Victoria. These include multicultural foster care, multicultural gambling harm prevention services and exclusive support to culturally and linguistically diverse (CALD) people living with a disability, as well as deliver culturally responsive, trauma informed training.
About SSI:
Settlement Services International (SSI) delivers a range of human services that connect individuals, families, and children from diverse backgrounds with opportunities – including settlement support, disability programs, community engagement initiatives and training and employment pathways. At the heart of everything we do is a drive for equality, empathy, and celebration of every individual.
Media enquiries:
Hannah Gartrell, Head of Executive Communications and Media
M: 0423 965 956 E: hgartrell@ssi.org.au