Bankstown Arts Centre presents 'Homelands' for Refugee Week
Bankstown Arts Centre will celebrate Refugee Week 2022 with "Homelands", a free, family-friendly festival, on Saturday, June 25.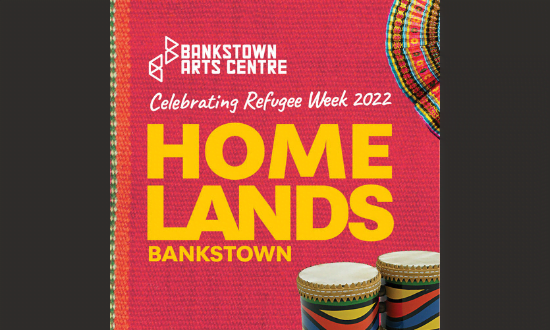 Presented in partnership with Settlement Services International (SSI), Bankstown Arts Centre and Create NSW, Homelands Bankstown brings together refugee communities from Western Sydney and the wider community in a celebration through song, dance, live music, workshops, market and food stalls.
City of Canterbury Bankstown Mayor Khal Asfour said that Homelands Bankstown promoted the talents, vitality and diversity that people from refugee and migrant backgrounds from Sydney's West bring to Australia's creative sector.
"The festival provides a unique opportunity for everyday Australians to gain an insight into the unique talents of artists and performers from refugee communities"
"By joining forces with SSI, we have the strengths of both organisations in showcasing artists from emerging and former refugee communities to mainstream audiences," he said.
SSI Arts & Culture Manager Laura Luna said Homelands Bankstown would strengthen community ties in Western Sydney and foster messages of inclusion.
"Homelands brings artists and communities together in creative and meaningful ways that promote social cohesion and unity," she said.
Iraqi band Azadoota is the only band worldwide that performs for mainstream audiences in the Assyrian language, the native tongue of Iraq's Indigenous people, classified by UNESCO as "Definitely Endangered".
Founder Robin Zirwanda is recognised throughout the diaspora as a goodwill ambassador for his little-known nation and sings catchy originals in his native Assyrian Aramaic. He said that Azadoota was thrilled to be performing for the occasion.
"Refugee communities have so much to contribute to Australian society, including unique skills, cuisines and cultures," he said. "We're looking forward to sharing our talents and encouraging intercultural understanding among the broader community."
Homelands program:
Jannawi Dance Clan (performance)
Zeadala (performance)
Azadoota (performance)
Fadi and Fabian (performance)
Street Dynamicz Academy (performance)
Rinchen Dorjee (performance)
Putrika (performance)
Jess Paraha (MC) Marina da Silva (workshop)
Bibi Goul Mossavi (workshop)
Australia Rohingya Women's Development Organisation (exhibition)
Secure your spot today, register here: www.eventbrite.com.au/e/homelands-bankstown-tickets-347735986697
---
Media enquiries: SSI Senior Communications Officer Rebeka Selmeczki; 0468 998 300 rselmeczki@ssi.org.au