Australian NGO casts light on gender inequality at UN Women conference
As part of its commitment to advancing women and girls' empowerment at local, national and international levels, Settlement Services International (SSI) is to host a virtual panel to a global network, "Women's Economic Empowerment Across Borders – A new age of entrepreneurship".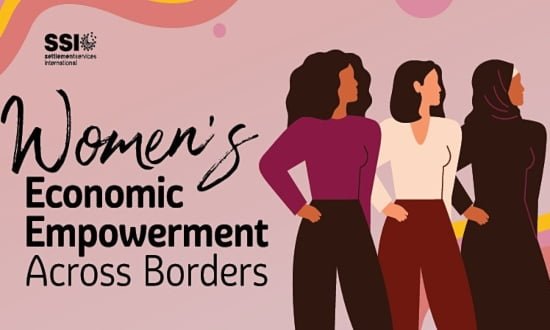 The women's panel forms part of the 66th session of the United Nations Commission on the Status of Women's (CSW66) schedule of online events, with diverse speakers, including Maggie Cairns, Aunty Rose Lovelock, Ancestry and Development Colombia's International Business Developer, Erik Rojas Arenas, and panel moderator Juliana Nkrumah AM.
SSI Head of Women, Equity and DFV, Astrid Perry, said that the panel would discuss the economic empowerment of migrant and refugee women globally while highlighting the critical work of SSI in supporting minority women.
"SSI's experience is that refugee women are less likely to have career progression opportunities," she said.
"Most refugee women remain under-represented in organisations that do not focus on women and gender issues and are also disadvantaged by unequal access to resources needed to become effective leaders.
"Our panel will deep dive into how women can achieve entrepreneurship goals and improve livelihoods."
With SSI's support through its social enterprise, Ignite Small Business Start-ups, Yazidi refugee and entrepreneur Sabeeha Hameed Abdo started a unique cooking school in Coffs Harbour. Ms Abdo's love of cooking stems from a childhood in Northern Iraq mainly spent at home due to profound deafness.
"You don't see people with disabilities in Iraq. They were kept at home.
"I feel it is lovely that I can share my Iraqi cooking skills with the Australian people."
SSI Ignite Global Manager Dina Petrakis said that it had been a pleasure working with Sabeeha to start and grow her business in Australia.
"She is unlocking her full potential because she is doing something she loves. Sabeeha is living independently, participating in and contributing to the economic and social fabric of her new country," she said.
As part of CSW66, SSI will moderate a live discussion at its New Beginnings Festival (Australian National Maritime Museum, March 19), focusing on how global communities can achieve gender equality in the evolving context of climate change. SSI CEO Violet Roumeliotis said that the impacts of climate change were not gender-neutral.
"The role of women is crucial to climate action as women are often leaders in communities responding to climate change," she said.
"Not only are women more adversely affected by climate devastation, they are also the ones supporting communities to become more resilient."
Register here for Women's Economic Empowerment Across Borders – A new age of entrepreneurship.
Register here for Gender Equality in the Context of Climate Change.
Media enquiries: SSI Senior Communications Officer Rebeka Selmeczki; 0468 998 300 rselmeczki@ssi.org.au