Allianz and Settlement Services International expand award-winning scholarship program to support refugee and migrant education
Allianz Australia and Settlement Services International (SSI) proudly celebrated 37 new refugee scholarship recipients at the Allianz SSI scholarships ceremonies in Sydney, Brisbane and Melbourne yesterday.
The scholarships will again support recipients in New South Wales and, thanks to additional funding from Allianz in 2022, will this year also support recipients in Queensland and Victoria.
The award-winning partnership between Allianz and SSI has been delivering new education and career opportunities for refugees and migrants since 2016. The scholarships are designed to directly support people from refugee backgrounds to minimise the financial barriers they experience in secondary school, vocational education and training, university, skills and qualifications recognition.
To date, more than 200 (214) refugee education scholarships, totalling more than $400,000, have been awarded via the partnership, and 36 refugees have been supported into permanent employment with Allianz in a variety of skilled roles across Finance, Human Resources, Claims, IT, Underwriting, Workers Compensation and Marketing.
Allianz Australia Managing Director Richard Feledy said, "At Allianz, our purpose is to help secure the future for our customers, employees and the community. As part of this, we are committed to supporting a diverse and inclusive society. The more we can bring together people with different experiences, ideas, and backgrounds, and create environments in which people can use their unique skills and perspectives, the stronger both businesses and societies will be.
"Quality education is a critical step in the journey of all young Australians to establish rewarding careers, however, many young people of refugee backgrounds are facing significant financial barriers to accessing that education. I am so proud of the work that Allianz and SSI are doing together to support these deserving young people in their journey to learn and achieve their goals."
SSI CEO Violet Roumeliotis said Allianz had again demonstrated its commitment to creating a meaningful, two-way partnership that did more than just tick a corporate social responsibility box: "Allianz understands that supporting individuals who have a refugee experience is not just about providing material aid and assisting people to survive," she said.
"It's also about making sure there are opportunities to learn, work and thrive. This is particularly important in the aftermath of the COVID-19 pandemic, where education has been interrupted by lockdowns. The pandemic has also highlighted the digital divide that affects refugee communities.
"As schools and other education institutes moved online over the last two years, we saw how a lack of access to technology or digital literacy was negatively affecting newly arrived students. With the help of organisations like Allianz and other partners in the community, we hope to close that divide and support students as they continue their education."
A scholarship recipient from NSW, former Beverly Hills Girls High School student Roaa Ahmed, finally found safety in Australia after being forced to leave Egypt and then China.
"As a refugee and as a person who didn't have basic human rights such as the right to live and express my opinions freely, I am strongly determined to study journalism," she said.
"Our world is full of injustices and it's now the time to give humans and specifically women and children the ability to practise their basic human rights, including access to education and living without fear."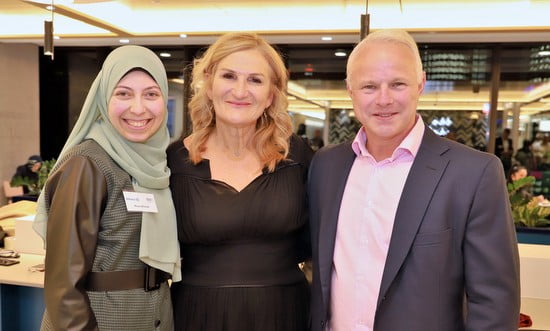 Scholarship recipients, their families and friends, supporters, teachers and volunteers, including representatives from community organisations and education providers, celebrated together yesterday via a livestreamed event across Allianz's Sydney, Brisbane and Melbourne offices.
The Allianz and SSI partnership has been recognised by the Australian Human Rights Commission, awarded the Australian Human Rights Commission Business Award in 2017. For more information on the Allianz and SSI partnership, visit www.allianz.com.au/about-us/community/inclusive-society/.