Saying goodbye: When foster children go home
Saying goodbye to the children Afet has fostered is never easy. Over the years she's learnt to appreciate the positive parts of that final farewell.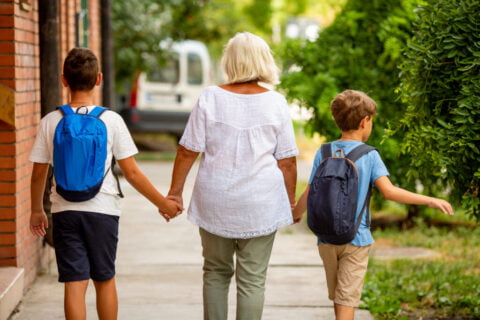 Afet* has lost count of how many goodbyes she's had with the kids who have passed through her Sydney suburban home.  
The Turkish-Australian retiree started fostering five years ago, choosing to be a temporary carer for children in need of a shorter-term stay.  
"I'm not in a rush, they can stay as long as they like with me, until they have the right place, a really excellent place for them," she says.  
"One kid has been with me for 4 years now, others leave after a few weeks. I don't mind – as long as I'm healthy, I'll be here." 
While Afet's older age meant a permanent placement wasn't on the cards, saying goodbye to the children she's fostered is never easy. Over the years she's learnt to appreciate the positive parts of that final farewell.  
Afet hopes more carers can find solace at this stage. 
"For me, I think the quicker they go, the better it is for them," she explains.  
"If it's family, it's better for them to have more time to connect. If they move to another carer, it means a long-term place. I know both are good for the children." 
Impact doesn't have a time limit  
The goal of family reunification means foster carers always face the possibility of goodbye. 
Though some stays might be shorter than others, even long-term foster placements come with an understanding the time spent forming a bond with a child could be temporary.  
For Afet, understanding that the scale of influence on a child's life isn't always tied to the time spent with them has helped her see fostering in a new light.  
"Two of the kids have never forgotten me, they still ring every year and say, 'happy birthday anne'," she says, referring to the Turkish word for 'mother'.  
"Many of the others have been too little to remember, but I'm still happy because I know in my heart that I've helped them." 
The power of perspective  
Even as a short-term carer, Afet knows the emotions in a farewell aren't all positive. She remembers moments on the drive home as especially difficult.  
"I miss them, I always miss them," she says.  
Letting herself feel the loss is part of the process but focusing on the big picture is what gets her through.   
It's this mindset shift that Tari Mapfumo, who manages SSI's Multicultural Foster Care program, says carers should hold on to.  
"We are human beings; we're built for connection. If a carer is looking after a child, the next thing that's going to happen is a connection," she explains.  
"It's really hard to send that child back home, but when you look at it from the broader perspective of what's actually in the best interest of the child, that's the big question that we need to be driven by." 
Separating personal feelings from the child's interests and taking a long-term perspective on their life can help you to view goodbyes as positive progress.  
Afet takes this approach to her own fostering experience and likes to imagine how she'll feel when it inevitably comes to an end.  
"I'll be thinking that I did a great job for those kids who needed help," she says. 
"If they learn something from me or if they remember, of course I will be very happy, but I'm already happy I could give care when they needed it." 
If Afet's story has piqued your interest in becoming a foster carer, you can learn more here. 
*Names have been changed and stock image used to protect the privacy of individuals.