When Iranian-born Mary Logan sought refuge in Australia, she hoped to continue her work in hair and beauty. However, her overseas experience and qualifications were not recognised, forcing the salon owner and manager to begin again as an apprentice.
(more…)
Afghan refugee Zabiullah Ahmadzai, a former NATO employee, recalls his first experience of Australia. Fearing for his family's safety, Mr Ahmadzai left his home with five family members, arriving here in January this year.
(more…)
Arriving in Australia as a refugee last year, Hamid Ahmad Sarwary knew firsthand how hard it can be to settle into a new country.
(more…)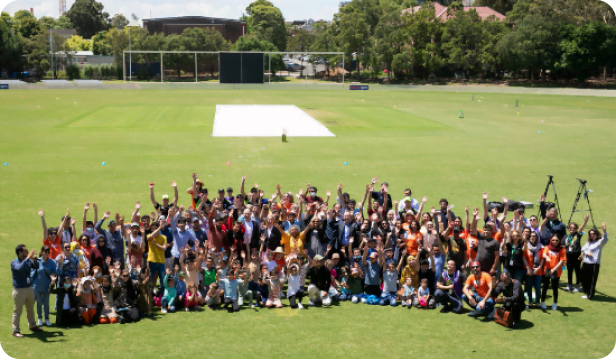 29-year-old Afghan professional cricketer Javed Ahmadi is a right-handed batsman and bowls right-arm off break.
For 29-year-old Afghan professional cricketer Javed Ahmadi, the refugee experience isn't new as the opening batsman was born in a refugee camp in Peshawar, Pakistan.
Following the recent Taliban takeover of Afghanistan, Mr Ahmadi and his wife and four children were granted their humanitarian visas to Australia.
"I was born in that camp, and my family lived there for 25 years," he said.
"So, this isn't my first time as a refugee, but living in that camp is totally different to here in Australia."
Mr Ahmadi said that his wife and children are settling well at their short-term accommodation in Campbelltown.
"My children are enjoying Australia; they are looking around for people with kids.
"They are very happy and are receiving lots of toys. Every day is Christmas for them!"
Mr Ahmadi arrived in Sydney with his family in October and, like other Afghan evacuees, received immediate support from Settlement Services International through the Australian Government's Humanitarian Settlement Program funded by the Australian Government Department of Home Affairs* to access essential services and integrate into Australian life.
Cricket career
After growing up in the refugee camp in Pakistan, Mr Ahmadi received a call from his eldest brother in London, encouraging him to return to Afghanistan for the under-15 trials, igniting his cricket career and eventual appearance for Afghanistan in the Cricket World Cup.
"My brother saw me as a good cricket player when I used to play with a tennis ball and bat, and he supported me financially to travel to Kabul," he said.
"I started in 2005 as a youth player and was only 13 years old. Then later, in 2007, I played two tours in under-19.
"Cricket changed my life and helped me find my way, but it also helped my whole family get out of the camp from Pakistan back to Afghanistan."
Mr Ahmadi is a right-handed batsman and bowls right-arm off break. He first represented the Afghanistan under-19 side in the 2010 World Cup in New Zealand.
"At that same time in 2010, I joined the national team in a game against Scotland," he said.
"In 2012, I played in the under-19 in the World Cup and was also captain of that tour."
Joining the Afghanistan national cricket team was a game-changer for Mr Ahmadi, as it was then that his cricket career ramped up.
"Between 2010 and 2012, I was very busy all the time because I joined the national team," he said.
"I played for lots of clubs. In Bangladesh, Pakistan and Dubai cricket leagues."
Mr Ahmadi had travelled to Australia three times during his cricket career before his recent move to Sydney.
"The first time I came to Australia was in 2012 for the under-19 World Cup.
"I came again in 2014 for a preparation camp before the 2015 World Cup, held in Australia and New Zealand."
Along with playing in three World Cups, Mr Ahmadi has also played three test matches.
"When we went for the 2015 World Cup, playing against Scotland (we won), and I made some runs for our team, 60 runs," he said.
"In history, Afghanistan beat Scotland for the first time. After this win, we haven't beat any team in the World Cup."
Life in Australia
When asked whether he was given the option to come to Australia over other countries, Mr Ahmadi said he was and chose Australia due to its cricket culture.
"I'd been to Australia, and I really like it here. The UK life, they have small homes. In Australia, the weather is better," he said.
"Cricket is different here. I can find a good contract here.
"The main reason to come here is cricket."
Mr Ahmadi said that although he is confident that he will build himself and his family a good life in Australia, his wife is still getting used to living in a new country.
"She's happy, but she's worried about home and kids' education.
"She's thinking, 'How long will it take to make us a new home?' and I say, 'God is with us.'"
"I tell my wife, 'Stay patient, the right time will come.'"
Mr Ahmadi said that he's well aware of the world-renowned refugee settlement services here in Australia.
"We are very lucky. A lot of people from Afghanistan are going to the UK or US. And I heard, they are first in the camp, and how do they receive service, in a camp?"
"SSI, especially my case manager, Layla, asks about my family, food, everything. That is really amazing for me," he said.
"When I was in Melbourne, in quarantine, she asked about education and children.
"I was really happy when they asked us about education for my children."
Getting a good contract as a professional cricket player is one of Mr Ahmadi's first goals in his new home.
"I haven't played for four months, and I really miss it!
"I need four weeks to get my sportsman energy and technique back."
*Go to https://homeaffairs.gov.au/ for more information.