(Knock knock) Hello! Hey Tiang!Hi Darryl!Hi Firouzeh. I've got them.Hi Tiang! Hi. How are you? Good.Your lips.Darryl! What's been happening? Not much, but I can't get this thing to work.How we doing? You ready? Yeah. OK, let's go.And not a hair out of place.You can do it. Very good. You can do it.I just want to play some music. Turn this on.Yay! I did it! Very good.What do you think?That's it! That's the song. I love that song.Make a difference with every door you open. Become part of the Home Care Workforce Support Program with SSI.
About the Home Care Workforce Support Program
We are delivering the government-funded Home Care Workforce Support Program (HCWSP) in New South Wales (NSW) and the ACT to help Australia's seniors enjoy a safe and independent life at home.
Through this program, we aim to grow, upskill, train and support an aged care workforce that delivers safe, high-quality care that puts seniors first.
The program is free and open to anyone who wants to build a meaningful career supporting seniors.
Why it matters
Australia needs 110,000 more support workers in the next 10 years to support our seniors live at home for longer.
Through the Home Care Workforce Support Program, the Federal Government has allocated more than $91 million nationally to address the combined challenge of an ageing population and talent shortage in the aged care sector by supporting well-qualified, well-supported personal care workers to enter and remain in the workforce.
At SSI, we are proud to deliver the program in NSW and the ACT to boost the much-needed at-home aged care workforce by 4,400 personal care workers by mid-2024.
Become a home care worker
Make a difference with every door you open and build a career in aged care.
The Home Care Workforce Support Program is open to everyday heroes who want to provide quality care for seniors in their homes. Whether you want to start a career in at-home aged care or boost your skills, we can help you.
Home care workers vary in age, gender, background and level of qualifications but what unites them are common characteristics.
See if a career in home care is for you:
Do you?
Have soft skills like empathy and patience?
Enjoy the company of seniors?
Live or can work in NSW or the ACT?
Are you looking for…
Life-changing, meaningful work?
Flexibility with work hours and location?
Autonomous work?
Long-term career?
Ongoing upskilling and learning?
A career change?
A steady job into the future?
Build a meaningful career
Embark on a career where you can make a difference with every door you open.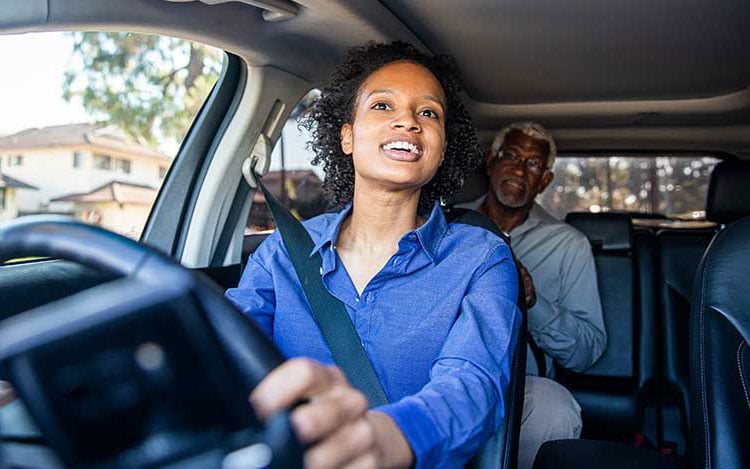 A new way of working from home, whenever and wherever suits you.
Steady work into the future
Build a long-term career with ongoing support and training.
If you have a passion for making a difference, we can help turn that into a long-term career in at-home aged care.
There are abundant rewarding employment opportunities to support our seniors today and into the future as Australia's population ages and with reports showing that more than 90 per cent of older Australians want to remain in their homes instead of moving into residential aged care.
Learn more about a career in home care with our Home Care Career Roadmap: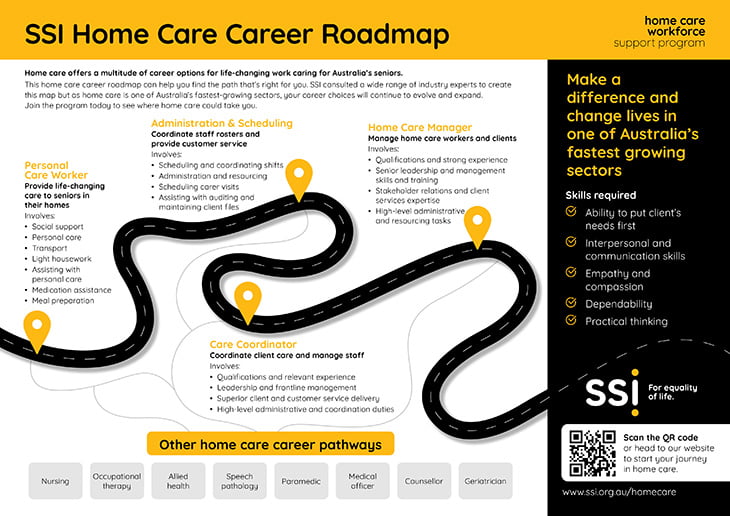 Home Care Career Roadmap
Download our Home Care Career Roadmap to see where home care can take you.
Your Home Care career journey with SSI
We will support you every step of the way to find a meaningful career caring for seniors.
Our team will connect you with education providers and workplace training to be job ready, link you with career opportunities and provide ongoing support.

Care Career Passport
The Care Career Passport is designed to guide you throughout your journey to become a care and support worker, as well as invite you to explore the wide range of growth opportunities available.
It provides you with tangible proof to show to potential employers and demonstrate your skills and qualifications as a care worker.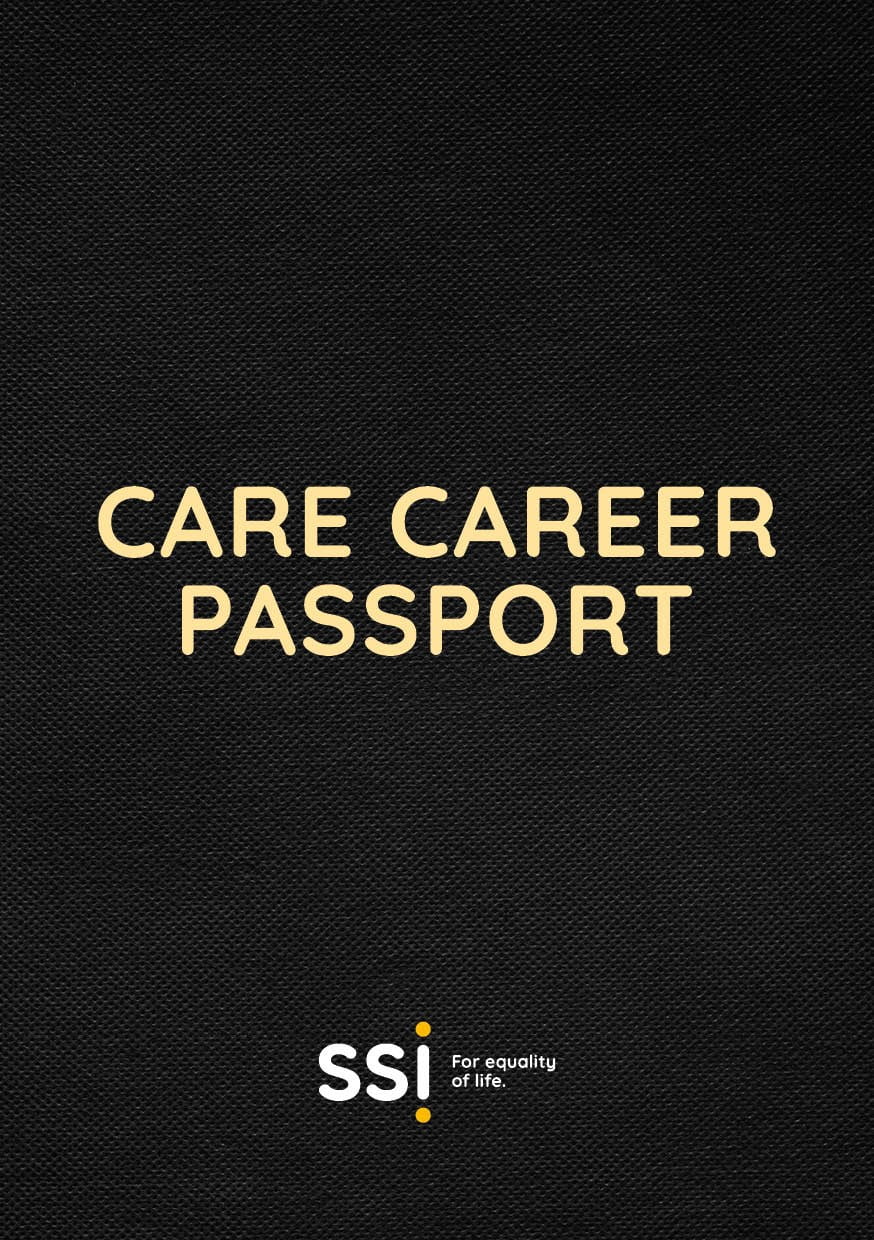 We have developed the Care Career Passport in conjunction with aged care industry experts and Registered Training Organisations, with the objective to help you build a successful career in care.
How does the Care Career Passport work?
The Care Career Passport consolidates in one place your skills, training and certifications, industry requirements, experience and milestones. It is a document that serves as a snapshot of your career journey so far, and provides validation of your credentials to potential employers.
With it, you can keep track of your milestones from when you first joined the Home Care Workforce Support Program to achieving other career goals, such as First-Aid certification or other accredited training.
In summary, the Care Career Passport shows that you are ready, willing and able to deliver high-quality care to seniors.
The Care Career Passport kit
The Care Career Passport is part of a kit designed to accompany aged care workers throughout their career. This kit features a set of materials, including documents and videos, with the information you need to kick start your care career.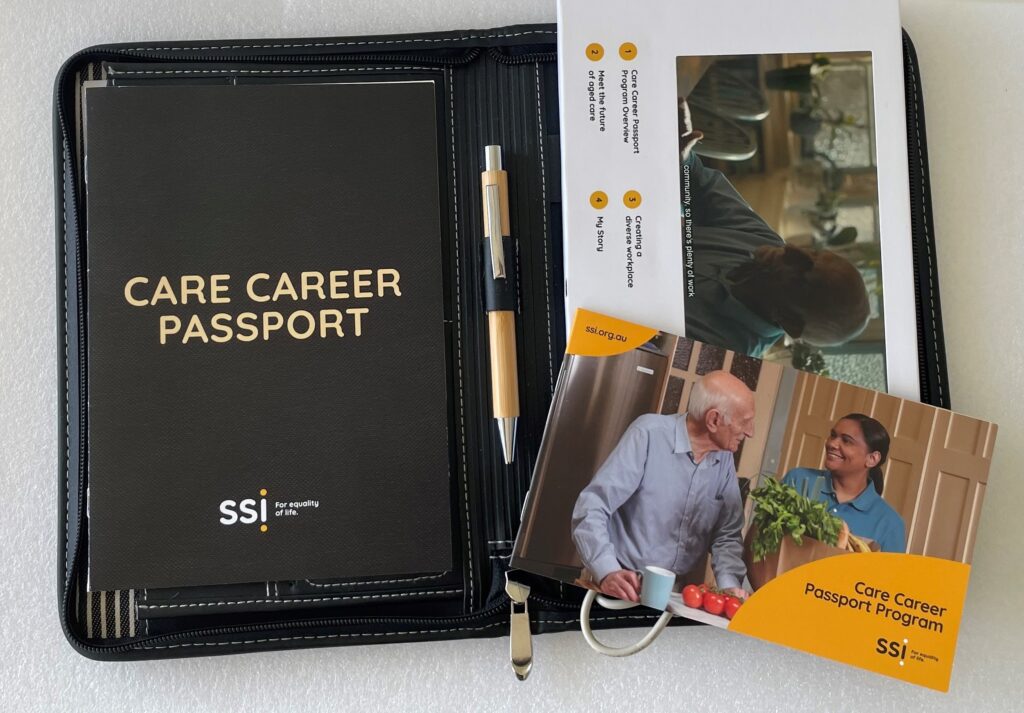 Download the Care Career Passport and explore where a career in aged care can take you: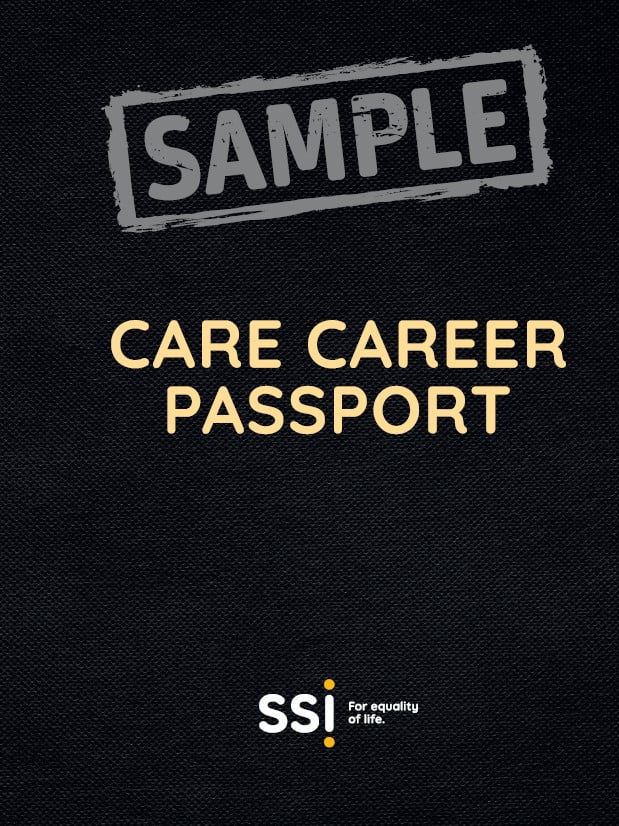 Care Career Passport
Download our sample Care Career Passport.
To learn more about the Care Career Passport, reach out to your Participant Service Delivery Officer or click below to register into the program.
How we support participants
When signing onto the SSI Home Care Workforce Support Program, you get access to a range of benefitsto help you build a career in home care. Through our program, we can help you secure your dream job.
Check out how we can help you: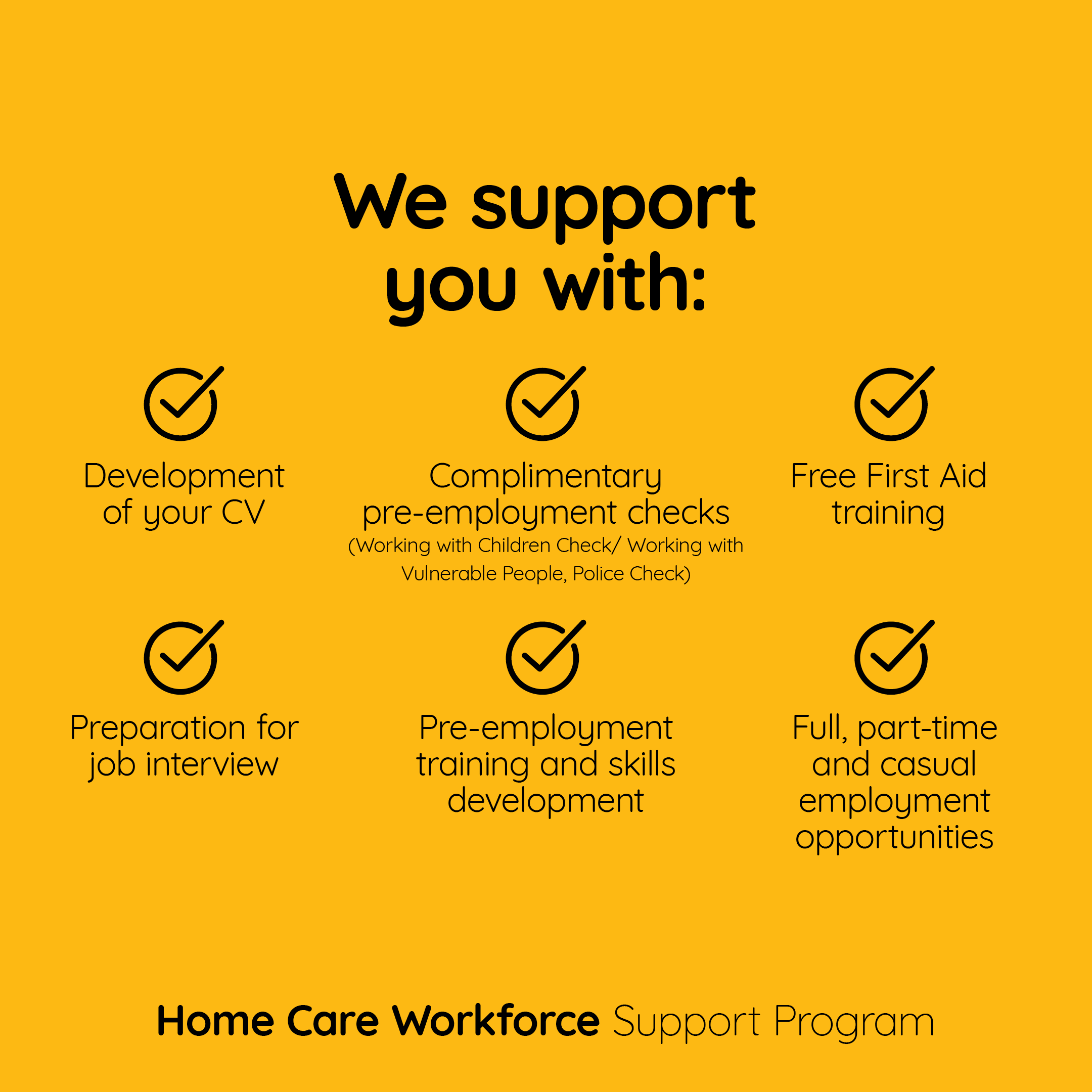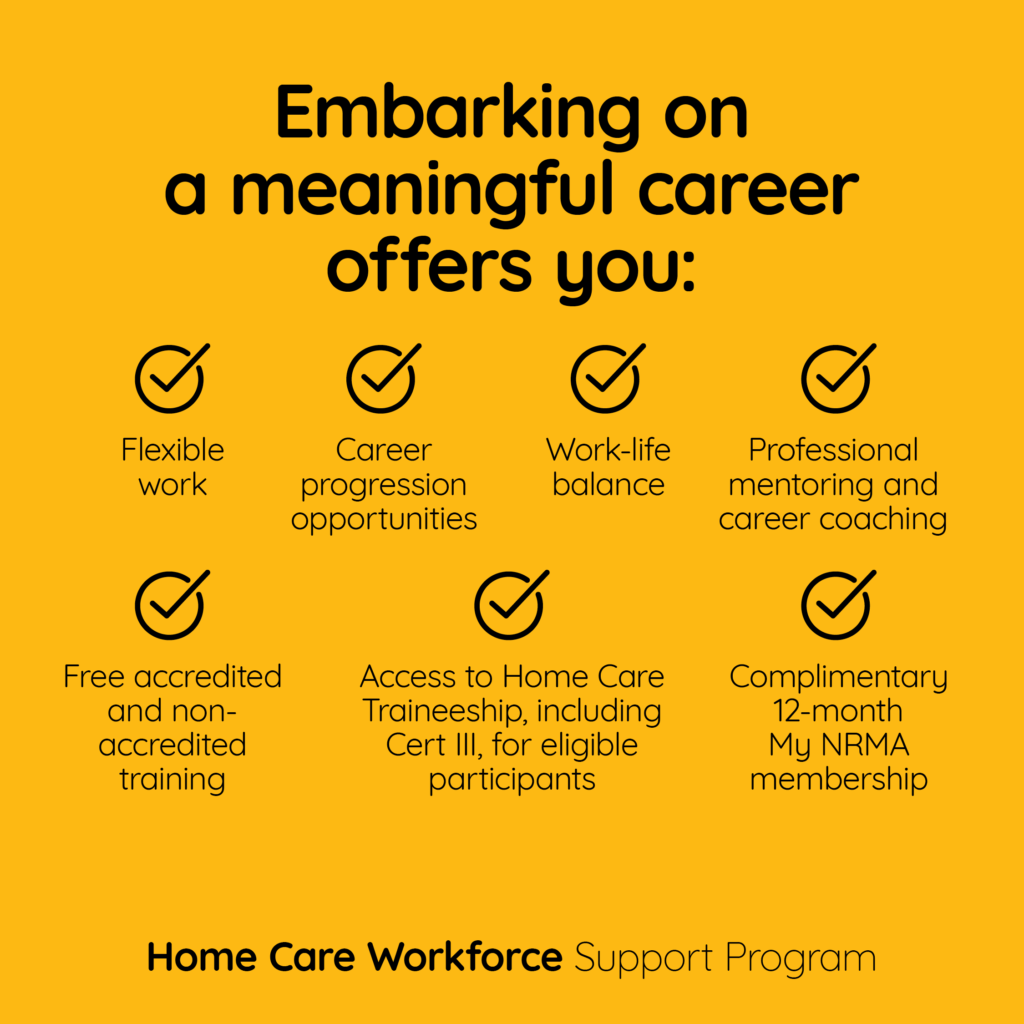 Working Together
We have teamed up with the NRMA to offer all participants in the SSI Home Care Workforce Support Program a 12-month complimentary My NRMA membership. With it, you can unlock exclusive perks across the NRMA family like best price for members and flexible cancellations, as well as thousands of discounts on things like fuel, electricity, dining, movies, insurance and more. Even better, My NRMA helps you explore the best of what Australia has to offer and connects you to communities across the country to get involved and make a positive difference.
Click to learn more about My NRMA
Access in-person support
The Home Care Experience Centre is a purpose-built facility that provides participants with a physical space where they can speak face-to-face with our team of Participant Services Delivery Officers and receive in-person support, including:
Help with CV development and online job applications
Hands-on training, including accredited First Aid training
Workshops
Group mentoring
Peer support
1:1 discussions with your Participant Services Delivery Officer and/or a specialist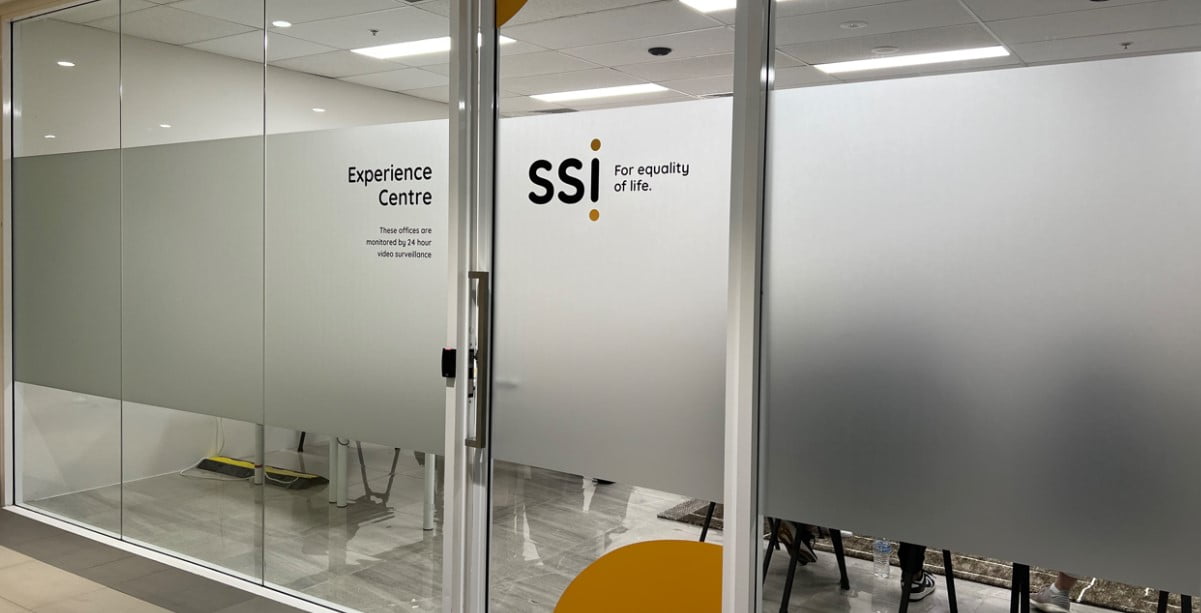 The centre features a Technology Lab where you have free access to laptops connected to the internet to help upload and submit documentation, complete online job applications and undertake e-learning training.
We also offer Digital Literacy lessons at our Technology Lab for participants who might need 1:1 support to help them navigate online to fulfil training or employment requirements or learn how to use smart technology. Our goal is to equip participants with the tools and skills they need to embark on a successful career in support care.
We offer drop-in support at the centre, so you can drop by at any time on Monday to Friday between 9 am and 5 pm. We are located at the Little Saigon Plaza Bankstown on Level 2/462 Chapel Road, NSW 2200.
For more information, ask your Participant Services Delivery Officer about the Home Care Experience Centre or register for the program.
How we support Home Care Providers
As part of the Home Care Workforce Support Program, we support the growth and upskilling of the at-home aged care workforce by connecting Home Care Providers with high-quality talent through our dedicated program business relationship team.
Get in touch to discuss how we can support your hiring needs at hcsupport@ssi.org.au.
Home Care Staffing Support
We can also help home care providers hire verified support workers through our Home Care Staffing Support and offer a subsidy to cover 50% of the wages of the workers hired through this initiative.
Register
Please complete this form to start your career in home care.
Questions marked with a * are required
Fill in your details and one of our Team will contact you with information about how we can work with you.