Through the delivery of the government-funded Home Care Workforce Support Program, we work together with stakeholders including aged care providers and registered training organisations (RTOs), among others, to bring the best outcomes for the sector's workforce and seniors.
We welcome collaboration opportunities that can help grow and upskill the care and support workforce, as well as improve talent retention.
Find out more about how we can work with you in our Partner Brochure:
Home Care Partner Brochure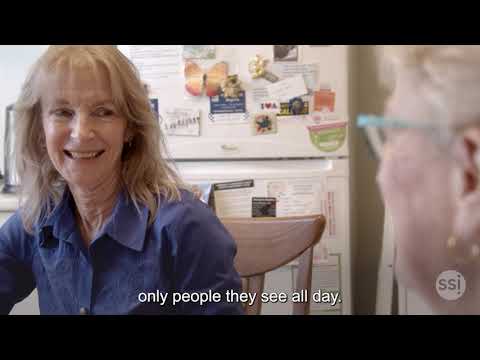 Watch to learn how we are helping Home Care Providers boost their recruitment efforts and navigate the current workforce shortages affecting the aged care sector.
On this video, you will also find out more about how the Home Care Workforce Support Program benefits seniors in NSW and the ACT.
Care Career Passport
As part of delivering the Home Care Workforce Support Program (HCWSP) in NSW and the ACT, we have developed the Care Career Passport with the aim to bring a standardisation tool to the care sector.
With this industry first initiative, we want to help aged care providers identify the level of experience of care workers. Our goal is to help you streamline the recruitment process of new support workers.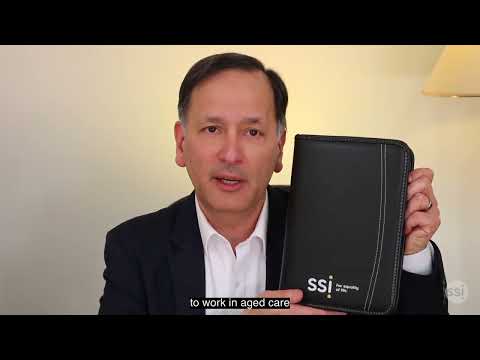 We worked in conjunction with aged care industry experts and Registered Training Organisations to create the Care Career Passport, a document that gives employers a snapshot of experience, credentials, skills, education and industry checks of a potential employee who is part of the HCWSP.
How the Care Career Passport works
The Care Career Passport consolidates in one place the information that potential employers need to know about a support worker, including where they are at on their career journey.
When a HCWSP participant presents a Care Career Passport, you can have the confidence that they have been screened and vetted by our Participant Services Delivery Officers and have met the following requirements:
Right to work in Australia
Police and working with children checks
Necessary vaccinations
First-Aid certification
This document also captures other accredited and non-accredited training, including traineeships and/or Certificate III qualifications. In short, the Care Career Passport shows that a potential employee is ready, willing and able to help deliver high-quality care to seniors.
How the Care Career Passport supports workers
The Care Career Passport has been designed to support care workers throughout their career – from joining the HCWSP to growing into new areas within aged care. It is a document where support workers can capture their career achievements and present it to potential employers.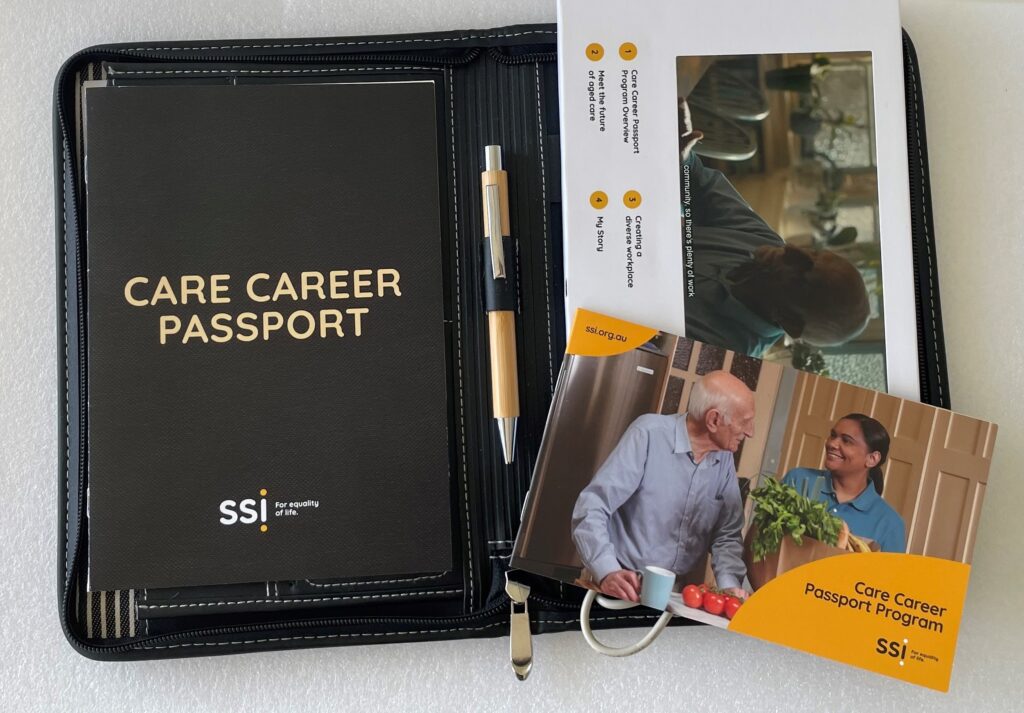 We have included our Care Career Roadmap in this document to inspire workers joining the sector to build a meaningful career by exploring the variety of growth opportunities available.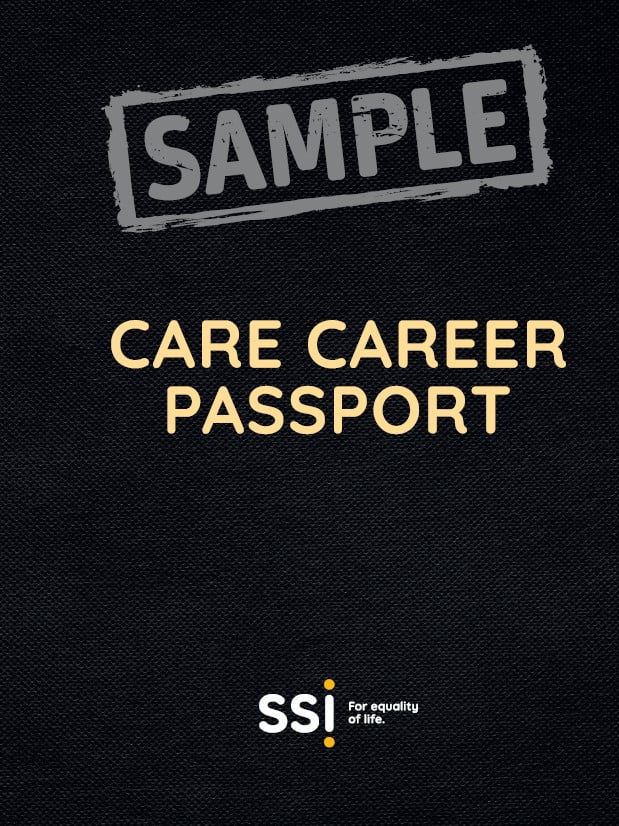 Care Career Passport
Download our sample Care Career Passport.
Home Care Staffing Support
Our Home Care Staffing Support initiative helps eligible Home Care Providers in NSW and the ACT boost their team in an easier, faster and more affordable way. We have joined forces with National Disability Insurance Scheme (NDIS) registered platform Hireup to connect Home Care Providers with Hireup's thousands of trained and verified support workers. Eligible Home Care Providers will receive a subsidy from SSI to cover 50% of the wages of casual workers hired through this initiative.
Boost your workforce
Home Care Providers can now access thousands of verified support workers all in one place.
More workers: Access 9,000+ approved, verified support workers in NSW and the ACT with a range of experience across the care sector.
Affordable solution: Save 50% off Hireup's standard rates when you book eligible workers.
Make an impact: With the support of more workers, you can help more seniors enjoy independent lives at home.

Boosting the home care workforce
FAQ
Who is SSI?
SSI is a national not-for-profit organisation providing life-changing human and social services.

With community at the heart of everything we do, our purpose is to empower individuals, children, families and communities from diverse backgrounds and identities to fully participate in the economic, social, civic and diverse cultural life of Australia, creating a more equitable, resilient, enriched and inclusive society.
Who is Hireup?
Hireup is Australia's largest NDIS-registered platform of support workers. On Hireup, people with disabilities, their families and support teams can find, hire and manage support workers suited to their needs. 

Service providers can access Hireup for Providers to solve their staffing challenges as an alternative to using agency labour.
Why have SSI and Hireup chosen to partner?
SSI has engaged Hireup to help overcome the skills shortage in the at-home aged care sector in NSW and the ACT by launching the new Home Care Staffing Support initiative.

This Home Care initiative helps home care providers boost their workforce by connecting them with verified support workers while saving them 50% of workers' wages.

– Support aged care providers to upskill and grow their workforce
– Give workers opportunities to diversify their skills and experience
– Ensure choice and continuity of support for ageing Australians
– Grow and retain the care workforce 
Why should Providers join the program?
More workers: Access 9,000+ approved, verified support workers in NSW and the ACT with a range of experience across the care sector.

Affordable solution: 50% off Hireup's standard rates when you book workers participating in the program.
 
Make an impact: With the support of more workers, you can help more seniors enjoy independent lives at home.
Registration
How does my organisation sign up for the program?
Eligible home care providers must register with both SSI and Hireup for Providers.

To register with SSI, providers can advise they will be claiming the 50% rebate and we would like a signed Deed of Collaboration in order to participate in the Home Care Staffing Support initiative.

To register with Hireup complete this online application form.
Why do I need to register with SSI and Hireup?
SSI
Providers in signing a Deed of Collaboration with SSI will enable SSI to check eligibility for the program and to be set up in SSI's internal systems to receive the subsidy.

Hireup
Providers must successfully register with the Hireup for Providers service to be able to find, select and book workers on Hireup.
Eligibility
What are the eligibility criteria for Providers to participate in the program?
Providers must be an eligible home care provider in the ACT or NSW

AND

Must be registered with SSI and Hireup.
How can I check if my organisation is an eligible home care provider?
Contact SSI or Hireup to find out if you're an eligible home care provider.

SSI contact: Jose Miranda Garcia or Kamal Kamalaneson at hcsupport@ssi.org.au

Hireup contact: Stephanie Moran at stephanie.moran@hireup.com.au
Obtaining the SSI subsidy
How does the subsidy work?
SSI will provide a subsidy to Providers as an incentive to use Workers retained by Hireup (Hireup Workers). The subsidy will be 50 per cent of Hireup's advertised standard rates, as applicable at the time of the service booking. The subsidy excludes any mileage claims submitted by workers delivering transport, this will be charged at 97c/km.

Unless otherwise agreed between the Provider and Hireup, the Providers are responsible for ensuring Workers register with the SSI, complete SSI's required training and screening for participation in the Home Care Staffing Support initiative and provide any relevant documentation for the purposes of Home Care Staffing Support.
How do I obtain the subsidy from SSI?
You must notify SSI you will be claiming the 50% rebate and be registered with SSI. Provide your invoice to SSI and attach the corresponding Hireup invoice.

SSI will submit for processing the request within 3 working days.


What information is required to obtain the subsidy?
Copy of Hireup Invoice including the support worker's name/Hireup ID;

The date shift was worked.
Using Hireup
What support will I receive to use Hireup?
Once registered, Hireup will arrange an onboarding call with all participating Providers to show them how to use the Hireup Platform, with ongoing support available through the Hireup for Providers team.
Who can I contact at Hireup if I have questions about using Hireup workers?
Hireup for Providers team at providers@hireup.com.au or on 02 8776 3863.
How do I identify workers registered in the program?
There are 2 ways to engage with workers for the program:

Post a job on the Hireup platform stipulating you are seeking SSI registered support workers. Interested workers will then show interest on the platform.

Search directly for workers who have registered with SSI using the keyword SSI in the search filter on the Hireup platform. You can contact these workers directly to discuss and book workers for any available shifts.

To be eligible for the subsidy, Providers must check workers are registered with SSI prior to making a booking. It is the Providers responsibility to ensure that any workers they engage are registered with SSI if they wish to apply for the subsidy.

All of this will be covered in the onboarding process with Hireup.

Hireup recommends including the follow information in your job posts on Hireup:

In the job heading: SSI registered workers for aged care shifts

In the job description field: To be eligible for this job workers must be registered with SSI or be willing to register before the date of the shift.

By registering you'll gain access to more shifts in more ways on Hireup, along with a range of other benefits.

To register, simply complete this quick application form and you'll be notified within 24 hours of your application outcome.

To find out more about this program visit: Home Care Staffing Support Program.
What happens if I engage a worker who is not part of the program?
You can ask the worker if they would like to join the program. If the worker doesn't wish to participate or isn't eligible you may continue to book them on Hireup but will not be eligible for the subsidy.
How do I book workers?
Send workers a booking request on the Hireup platform. In the invoicing notes on the booking include the worker's Hireup ID.
Can I book workers outside of this program?
Yes, however, these workers will not be subsidised by SSI. You may choose to set up an additional account on Hireup to manage SSI workers.
What are the invoicing terms and conditions?
Providers will receive a weekly invoice on a Monday from Hireup. Providers pay Hireup in full for the Workers without applying any subsidy or reimbursement that may be available to a Provider under the Home Care Staffing Support Program.
Home Care Experience Centre
As part of our Home Care Workforce Support Program, we have created a purpose-built facility to provide participants, home care providers and our industry partners with a physical space where they have access to face-to-face support including job application, hands-on training, in-person workshops, a presentation area, a Technology Lab, and everything they need to build a meaningful, long-term career caring for seniors in Australia.
Check out the services available at the Home Care Experience Centre:
Technology Lab
Supports program participants with access to laptops connected to the internet to upload and submit documentation, complete online job applications and undertake e-learning training.
Our Participant Services Delivery Officers offer Digital Literacy lessons at our Technology Lab for participants who might need 1:1 support to help them navigate online to fulfil training or employment requirements or learn how to use smart technology. Our goal is to equip participants with the tools and skills they need to embark on a successful career in support care.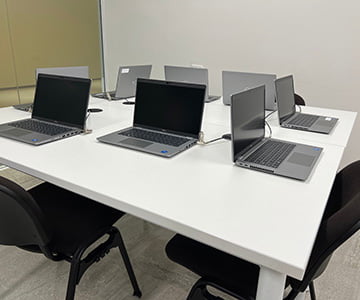 Accredited First-Aid training
Available to program participants and Home Care Providers on request. This training is conducted by the SSI Registered Training Organisation team, who have over 30 years of experience combined and qualifications in training, safety and First Aid.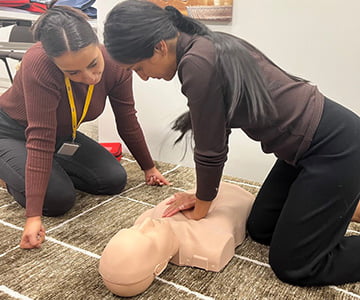 Presentation and training area
A space designed to host face-to-face sessions, including presentations for prospective program participants to learn and ask questions about the support and care sector and best practices to build a career caring for seniors, as well as keynotes with guest speakers such as Home Care Providers and support workers who are already in the care sector.
Group discussions and our peer support offering are also available at the Home Care Experience Centre.
This space is also available to Home Care Providers upon request to support them with their recruitment, onboarding and skills development work. For bookings, please contact us at homecare@ssi.org.au or on 1800 985 028.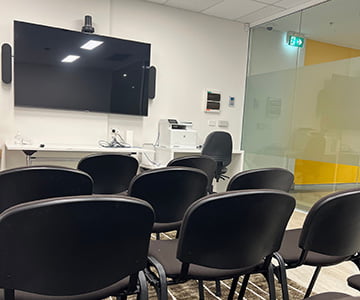 Drop-in support
The Home Care Experience Centre offers drop-in support for talent interested in learning more about the Home Care Workforce Support Program, as well as participants who are already in the program.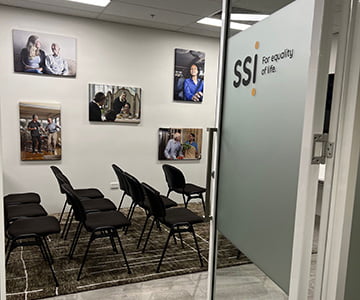 Support lounge
We understand the great value of having in-person conversations, so within the centre, we have a dedicated area for program participants to talk with their Participant Services Delivery Officer or a specialist.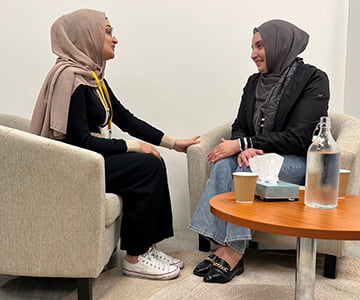 Our partnership with MARSS in ACT
We have partnered with Migrant and Refugee Settlement Services organisation, MARSS Australia Inc., to support the delivery of the government-funded Home Care Workforce Support Program in the ACT.
Through this partnership, we are expanding our reach in the ACT and surrounding areas, including Queanbeyan, to help attract new talent into the Home Care sector and to connect further with local Home Care Providers. Together, we aim to help Home Care Providers offer high-quality care at home to more seniors in the territory.
MARSS' team on the ground is responsible for attracting new talent and placing them with eligible Home Care Providers. At the same time, SSI is focused on training, upskilling, supporting and retaining Home Care Workers.
About MARSS
MARSS Australia Inc. was established in 1980 as the Migrant Resource Centre and incorporated in 1983. Since its inception, MARSS has been managed by a Board of Management comprising of elected nominees from Canberra's ethnic communities and nominated members representing the Local Government.
MARSS has grown to become a vibrant service-oriented organisation, incorporating programs for migrants of all ages to assist with language, welfare, employment, access and equity for people from cultural and linguistic backgrounds.