Reforms to the National Disability Insurance Scheme (NDIS) announced in a major review today are designed to strengthen the inclusion of all people with disability and make it simpler and easier people with disability to navigate mainstream services and the NDIS system, according to non-profit organisation SSI.
(more…)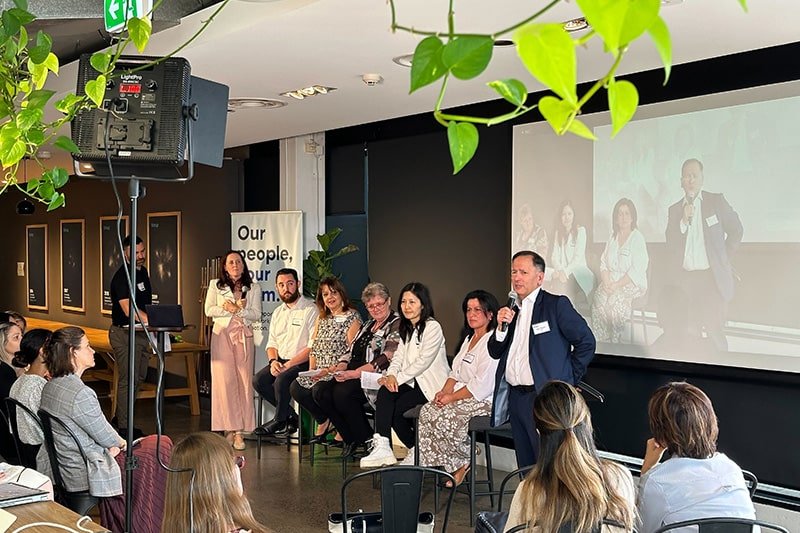 Over 175 workers have been placed into the skills short aged care industry through an innovative partnership between Settlement Services International (SSI) and Hireup, a national support worker platform.
Tasked with delivering the government-funded Home Care Workforce Support Program (HCWSP), SSI partnered with Hireup, Australia's largest NDIS registered platform of support workers, to set up the Home Care Staffing Support initiative (HCSS) aimed at breaking barriers across segments of the care sector to bring new opportunities for both staff and industry.
So far, the partnership has been a success, in part due to the alignment in values between SSI and Hireup and their focus on supporting workers through a commitment to upskilling with paid training opportunities, and the benefits of direct employment.
Sonia Vignjevic, General Manager of Client Partnerships and Business Growth at SSI, celebrated the initiative's results to date, and the opportunities the partnership is offering to individuals and the industry alike.
"The aim of the HCWSP Program first and foremost is to find new solutions that help deliver Australian seniors the care they deserve", said Mrs Vignjevic.
"At SSI, we work closely with people seeking employment and training pathways and understand the complexities faced in regional and remote areas regarding career opportunities".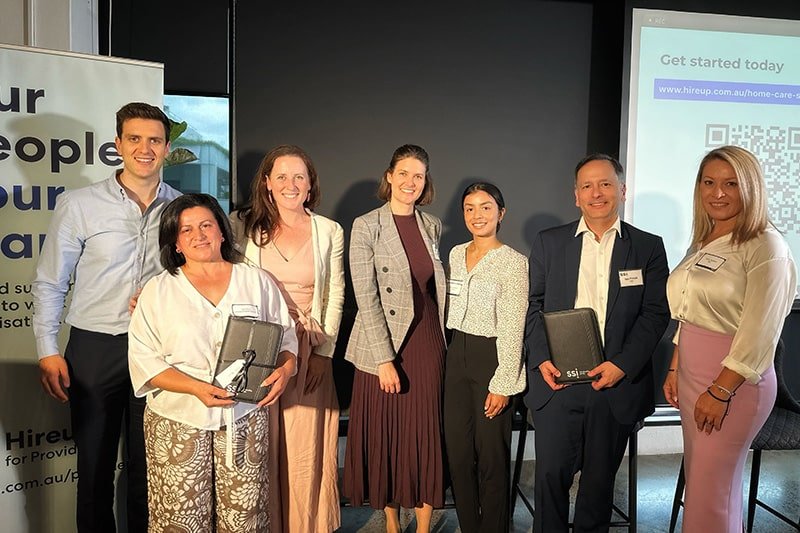 SSI's background as a settlement services provider has also provided Hireup with a deep understanding of the challenges that Culturally and Linguistically Diverse (CALD) individuals and newcomers face when seeking long-term, sustainable employment.
"It is important to provide fair and fruitful opportunities for individuals and we can't do that without partners like Hireup, who stand for the same values. Hireup's support workers are employed directly and are supported through employment, training, good and fair pay, and ongoing support", said Mrs Vignjevic.
The partnership also responds to findings in SSI's recently launched Billion Dollar Benefit report, which outlined key barriers that limit the workforce potential of migrants and refugees and recommended five solutions to unleash their talent by 2025. The proposed solutions include fixing the skills and qualifications recognition system and strengthening the protections of migrant workers.
The HCSS has also helped aged care and home care providers to boost their workforce, and benefit from a 50 per cent subsidy on workers' wages to support aged care providers with the costs associated with attracting new workers. This week, the initiative hit its halfway mark with a total of ​50 home care accessing the services thus far, including Focus Care Australia who signed up to the initiative in July 2023.
"The HCSS has given us optimism that we can overcome the sector's workforce shortages, successfully connecting us to skilled workers who are values-aligned with our organisation, enabling us to continue providing the highest level of support to seniors who trust us and depend on us", said Service Operations Manager at Focus Care, Maria Paul.
"Our hope is that over the next six months, the partnership will support a greater number of aged care providers with their workforce challenges, while also introducing and upskilling more workers to pursue careers in aged care," said Stephanie Moran, General Manager, Hireup Providers.
"Almost 400 Hireup workers have already registered with the program – and are actively seeking and engaging with aged care shifts on Hireup. This number has exceeded our expectations, and over the next six months our goal is to have more than 150 providers engaging with these workers", Mrs Moran added.
This program is available in NSW and the ACT until June 2024. For more information on how to apply to the program, visit the Hireup website.
Wide-ranging ranging reforms put forward by a major inquiry into the Federal Government's system to support disadvantaged jobseekers would create a more equitable system that delivers specialist support and better employment outcomes for migrant and refugees, according to non-profit SSI, which provides employment support to jobseekers across NSW, Queensland and Victoria. 
(more…)
Report finds recognising refugees' and migrants' skills would boost economy.
(more…)
Over the past two weeks, there has been an unprecedented scale of violence in Israel and the Occupied Palestinian Territories, and a rapid intensification of the humanitarian crisis in Gaza and surrounding areas.
(more…)
Dandenong community members will have access to additional local services to improve access and equality following the local office opening of non-profit organisation SSI, which provides life-changing human services to 50,000 people around the country every year.
(more…)
Parallel experiences create a common bond between refugees and First Nations people living in Australia, according to ground-breaking new research released today by non-profit SSI and Western Sydney University.
(more…)
Funding for a specialist multicultural domestic and family violence centre, announced in today's NSW State Budget, will greatly enhance support for some of the state's most vulnerable community members, according to leading non-profit SSI.
(more…)
A collaborative exhibition showcasing the rich cultural heritage and artistic expressions of Armidale's First Nations community is set to kick off during New England's 2023 NAIDOC Week celebration, on Saturday 2 September.
(more…)
Founder of Australia's bestselling rap and R&B publication, Simone Amelia Jordan, is set to join a stellar delegation of culturally diverse women artists at Australian Women in Music Awards (AWMA) to help foster diversity and equality within mainstream music.
(more…)