Helping you create a culturally responsive and inclusive workforce
FREE cultural responsiveness training for disability service providers is now available.

We live in a vibrant multicultural community, with one in four Australians born overseas.
SSI Diversity Training offers learning solutions that support organisations to work with culturally and linguistically diverse (CALD) communities and create more culturally responsive and inclusive workplaces.

Developing a culturally responsive and inclusive workforce creates opportunities for:
Enhancing service delivery
Supporting the recruitment and retention of high performing staff from diverse backgrounds
Nurturing innovative solutions through diverse perspectives
Increasing reach to a diverse client base
Making diversity a competitive advantage
Achieving diversity goals and benchmarks
SSI Diversity Training is grounded in our experience as a leading provider of services to CALD communities.
Delivering these services across a broad range of contexts including settlement, out-of-home care, disability, youth and employment enables SSI Diversity Training to be relevant across industry.
Download Accessible SSI's Impact 2017-2018192.84 KB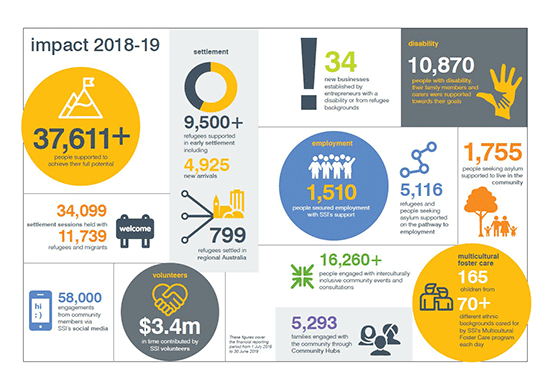 Download SSI's Impact 2018-2019562.36 KB
Our Services
We can:
Come to you (in-house workshops)
Customise training (flexible approaches to meet your needs)
Provide speakers (promoting lived experience voices)
In-house workshops
SSI Diversity Training has a number of workshops that can be delivered in-house. These workshops are designed in line with adult learning principles that are engaging and interactive.
The following are currently available:
Customised training
Our experienced learning and development professionals are skilled in working with organisations to assess your learning requirements and can tailor solutions to meet your identified needs and context. This can include packaging a number of services to maximise outcomes, or developing something new for your organisational needs.
Please contact us to discuss your specific requirements.
Speakers available
SSI Diversity Training can provide lived experience educators which allows disability service providers to build their capacity in responding to the service access needs of people from CALD backgrounds. Our lived experience educators will share their unique insights and expertise as structured learning activities, and can be booked as guest speakers at interagency meetings, seminars and disability focused events.
Contact us
To arrange a discussion with one of our team, email us at This email address is being protected from spambots. You need JavaScript enabled to view it. or call us on 02 8799 6700.

Download our
brochure.
Participant testimonials
"Excellent and respectful facilitators who held trust and inspired cross cultural curiosity."
"I can highly recommend this valuable training to any organisation that is committed to growing a work culture and work force that is culturally aware and responsive to CALD communities and persons from diverse backgrounds."
"Through thoughtful and stimulating processes and activities led by skilled facilitators, participants can expect to become more aware of their own bias and mindful of reflective practices that promote a genuine curious enquiry and engagement with diversity issues that enables further understanding and inclusivity in the face of difference.
"This training exceeded my expectations. Very insightful. I thought I had a good understanding of culture and disability, but this was great to challenge and expand my knowledge."
"I feel more comfortable in being able to appropriately engage the multicultural community."
"Everyone would benefit from this training."